Ohio State Football: The Silver Bullets are a Championship Defense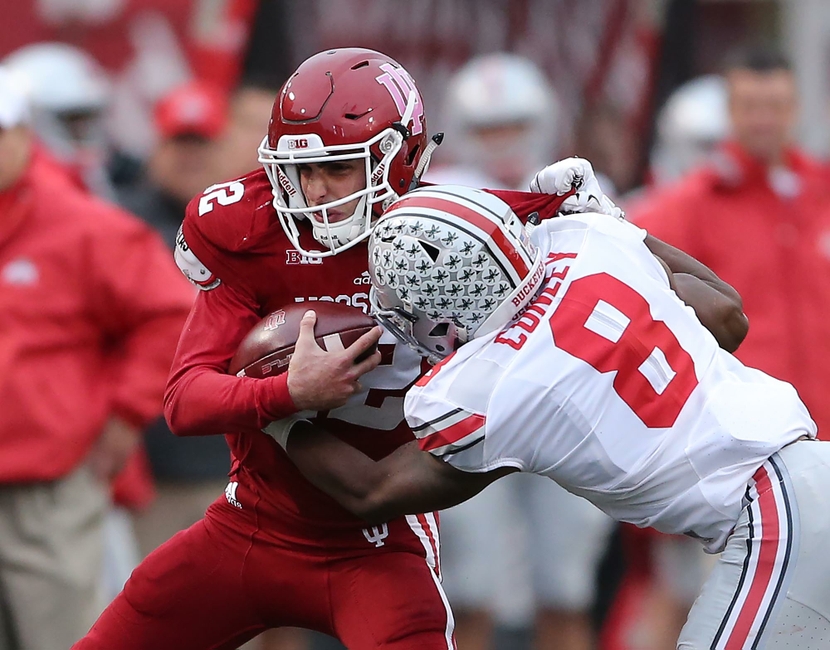 The Ohio State defense is playing at a championship level.
We all know the old saying, "Defense wins Championships." Well, it seems like year after year this proves to be true. I mean, it's been over a decade since a Big 12 team won the title… And we all know about the defense played in that conference.If you want a legitimate chance at playing for NCAA championships, you better have a good defense. Ohio State doesn't have a good defense this season. They have a great one.
When you hear "Ohio State Buckeyes" you think of offensive players like JT Barrett, Mike Weber and Curtis Samuel. Don't get me wrong, they're great, but the bread and butter of this year's team is the defense.
The Buckeyes improved to 5-0 after a win vs Indiana. It took 5 weeks for OSU opponents to outscore the Silver Bullets. Yeah, Bowling Green, Tulsa, Oklahoma, Rutgers and Indiana's scores COMBINED barely outscore the Ohio State DEFENSE. Think about how ridiculous that is.
Ohio State doesn't have a weakness on the defensive side of the ball, or really at all… That's why I truly don't think they'll lose a game this year. The nation's 2nd best defense (statistically) has only given up 4 touchdowns so far this season. Less than any other team.
When people say "Ohio State doesn't have back-ups, they just have more starters." It is meant quite literally. A prime example is the Jerome Baker situation.
Baker is filling in for the injured Dante Booker and is impressing everybody. The sophomore from Cleveland, Ohio is in on every play and has 26 tackles, an interception, a fumble recovery & a touchdown. Not too shabby.
It's time to (fully) unleash the beast. Urban Meyer said in his post-game press conference that Nick Bosa will be seeing the field a lot more starting at Wisconsin. This is bad news for the Badgers and the rest of the Buckeyes schedule.
More from Scarlet and Game
Bosa is younger than almost every other player on the field yet is continuing to make offensive linemen look silly. The Buckeyes defensive line is extremely athletic and that's where it all starts for the Silver Bullets. Hubbard and Bosa on the field at the same time? Good luck, offenses.
Okay, so quarterbacks are done testing Malik Hooker, right? Hooker leads the entire NCAA with his 4 interceptions; not to mention the fact that he has played one less game than most players… Are they going to throw at Marshon Lattimore?
Well, statistically he is not too far from Hooker. Lattimore is tied for second in the NCAA with 3 picks through 5 games and also has a TD.  So I guess offenses will have to throw at Gareon Conley.. NOT.
Conley is looked at as the Buckeyes top cover corner and is arguably a top 10 corner in the NCAA. It's going to be hard for any team to throw against Ohio State.
So I've talked about how good the defensive line and secondary are. Do I even need to go in depth about how outstanding OSU linebackers are? Raekwon McMillan is a true game-changer and might be the most well-rounded player that the Buckeyes have, Jerome Baker is just a stud, and Chris Worley is athletic enough to play safety.
Ohio State's defense truly does not have a weak spot. Something that not many teams can say, if any. Every level of this defense is elite which will make it a tall order for opposing teams to string together TD drives. The scary thing about this defense? They are only getting better…
This article originally appeared on