Ohio State Football: Roundtable and Predictions vs Michigan State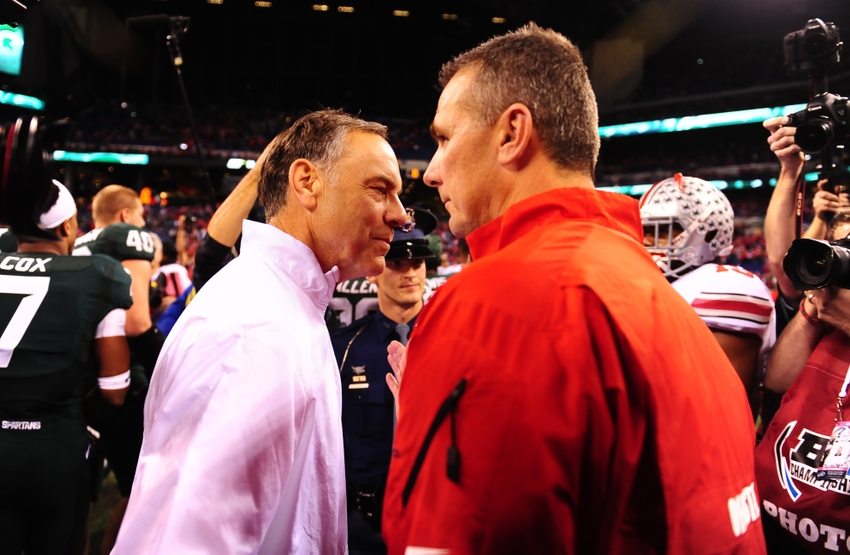 Predictions for Ohio State vs. Michigan State
How will Ohio State play against Michigan State?  Will the Buckeyes continue to roll on offense, and have revenge on their minds? The contributors at Scarlet And Game will share our takes on how the game will play out and our predictions for the final score.
Dillon Davis:  Concerns about Urban Meyer getting his team energized for last week's game were quickly put to rest. He is now tasked with a similar challenge as he must keep his team focused on Michigan State, and not the following week when, supposedly, there is a big game taking place.
That shouldn't be an issue as the Spartans have been the arch nemesis in recent years, and they would love nothing more than to ruin another Buckeye season. Sorry Sparty. You just don't have the guns to compete this year.
Weather is probably going to be a major factor in East Lansing, and the running game will be relied on heavily. Fortunately, it won't just be J.T. Barrett this time.
Combined with Samuel and Weber, the Buckeyes run for over 250 yards and four touchdowns. The Silver Bullets get into the end zone again after taking a week off. Ohio State wins, 35-14, kicking off the best week of the year in style.
Thomas Scurlock:  The path for the No. 2 Buckeyes is clear.  Win the next two games and hope that the precedents set by the College Football Playoff Committee over the last two seasons are broken.
First task at hand for Urban Meyer is beating his nemesis, Mark Dantonio.  The Spartans have denied the Buckeyes two Big Ten Championships and subsequently two national championship possibilities over the last three seasons.  It is time for payback.
This year's game is a little tricky to call.  Michigan State is in the midst of an awful season.  Ohio State is rolling and playing its best football at the right time.  All signs point to a comfortable win. Maybe not.
The weather is supposed to be rainy, windy and cold.  Sound familiar?  Of course this Spartans' team is not even close to the same team as last year, but the conditions can make it easier to compete.
The first quarter will tell us what type of game it will be.  If the Buckeyes start fast like they did against Oklahoma and Nebraska, they will cruise to a big win. If they start slow, it could be a messy, ugly win.
This is where we'll get to see the leadership and competitive spirit of J.T. Barrett.  Winning this game puts the team in position for a special season.  He will keep his team locked in on the mission and exact revenge on the Spartans.
As a side note, Lamar Jackson falling down against Houston on Thursday opens the door is open for another player to capture the Heisman Trophy.  Barrett has a chance to get back into the race with a strong performance.  He'll do it.  
Ohio State wins 31-14.  
More from Scarlet and Game
Dano Opacich:  A tough rivalry game that went south last year. Coach Meyer will not underestimate MSU but they got their confidence back last week with the 49-0 win over deplorable Rutgers. I say 28-21.
Justin Golba:  It will be close at first due to some looking ahead for OSU but after J.T. and Curtis get going they will blow it open in the third quarter and coast the fourth. I think it will be OSU 34-17.
Charlie Lockhart:  Urban Meyer can spew all of the coach speak he wants about the revenge factor not being important in the Michigan State game. Not every player from last year's team is playing in the NFL.
Most are still at Ohio State and remember the sting of the defeat at the hands of the Spartans last season that cost the Buckeyes a chance at defending their national title. I see this as a beatdown in the lines of a 52-10 victory by Ohio State.
This article originally appeared on