Ohio State Football: Ranking the Top Five First-Year Starters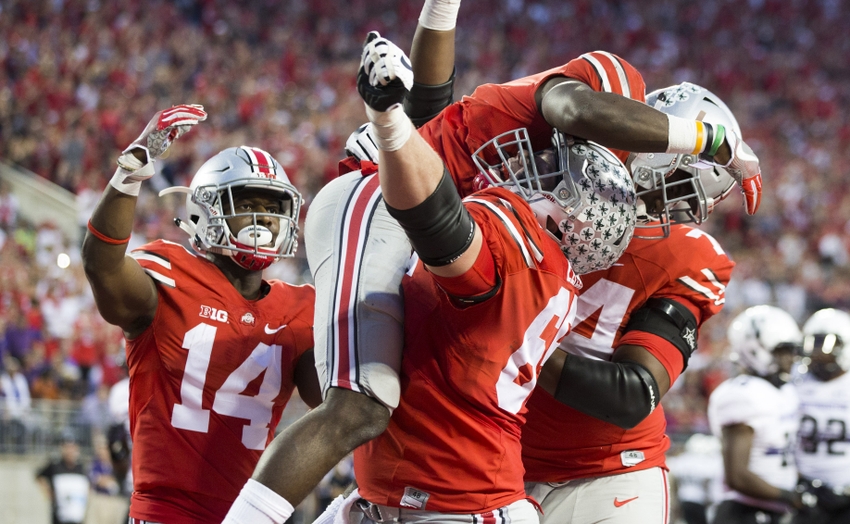 First year starters for Ohio State are having terrific seasons.
Ohio State entered the season needing to replace 16 starters.  Several years of recruiting elite classes tempered fears of a possible down season, but you never know until the players perform in live games whether or not they are going to be stars.
Head coach Urban Meyer's first baton pass after the 2013 season went well, albeit after a slow start, but ended with the team capturing the inaugural College Football Playoff.
This second pass started as good as it possibly could with a hot September, but an up and down October cooled the expectations.  As the offense struggled, doubts creeped into the fans' minds.  Was this team capable of achieving what the 2014 team did?
Not to worry, while there has been growing pains, a 62-3 beatdown of Nebraska revealed the team is just getting started.
No doubt most of the first-year starters are playing well, but a few have separated themselves.  Here are the Top Five that are positioning the team to capture another Big Ten Championship and perhaps more as they are maturing and elevating their play to another level.
I kept Curtis Samuel and Sam Hubbard off the list because both have played significantly prior to this season.
Malik Hooker
We sort of knew this was coming after his Pick Six in the spring game, but few would have predicted the kind of season Malik Hooker is having.
Five interceptions in a season is impressive.  Returning two for touchdowns puts him rare company.  He's tied for No. 2 in the FBS right now and he's also second on the team in tackles with 53.
To provide some perspective, Mike Doss had eight interceptions in three seasons, Donte Whitner had five in three seasons and Kurt Coleman had nine in two seasons.
Jabrill Peppers is getting all of the attention in the Big Ten, but Hooker is having a better season, at least defensively.
Meyer jokingly said he should give him a shot on offense.  Remember Chris Gamble? Why not give Hooker a chance to make some explosive plays on offense?
Giving him a few plays, if nothing else it will force defenses to have to account for him like Peppers.  That can only help. 
Mike Weber
First there was Carlos Hyde.  Then came Ezekiel Elliott.  Now there is Mike Weber.  Meyer is having one of the best runs of success with running backs.
Rushing for 855 yards and seven touchdowns through nine games, we are witnessing why Meyer was so giddy when stole him away from Michigan two years ago.
Weber is a tough, powerful runner that can go inside for a few critical yards or break one outside for long gain.
Most importantly, it is Weber that is going to do the most damage in the Game on November 26 as Michigan will scheme to stop Samuel and Barrett.  He'll have his best game against the Wolverines and that should lead to a victory.
Jerome Baker
Jerome Baker was supposed to be Dante Booker's backup until an injury thrust him into the starting weak-side linebacker position.  He was going to get significant playing time regardless of Booker's injury, but he's making the most of his opportunity.
Like Hooker, Baker demonstrated his amazing athleticism with a one-handed interception in the spring game boosting Buckeye Nation's optimism that losing Joshua Perry would not be too detrimental.
Baker is third on the Silver Bullets with 51 tackles.  Not to be outdone by Hooker, he had the Pick Six against Oklahoma.  He also has one-and-a-half sacks. Not bad for a guy making his eighth start this weekend against Maryland. 
Nick Bosa
Expectations are high for any player coming to Ohio State, but no one had more than Nick Bosa this season.  His big brother left the program arguably as one of the Top 20 players to ever play for Ohio State.  Unfair or not, fans were thirsty for Part II almost immediately
Despite being just a year removed from a torn ACL, he's delivering beyond expectations and budding into a dominant force on the defensive line.  In a backup role, he has 19 tackles and four sacks already.
The comparisons to Joey will always linger, but it is safe to say that Nick is already etching his own legacy and it might end up being better.
Tyler Durbin
More from Scarlet and Game
A kicker is typically an afterthought for a Meyer led team considering he gets paid to score touchdowns, not kick field goals, but it is nice to know the team has a reliable kicker in a season where the offense has been inconsistent.
Like Baker, Durbin was not supposed to be the starter this year, but Sean Nuernberger injured his groin.  He's making the most of his opportunity.
A soccer player who transferred to Ohio State from James Madison, Durbin decided to give football a try.  Lucky for Meyer he did.
He has made 13 of 14 field goals and 50 of 52 extra point attempts for a team high 89 points.  Of course, the blocked kick and missed extra point against Penn State were costly, but otherwise Durbin's been flawless.
This article originally appeared on