Ohio State Football: Michigan Fans Should be Worried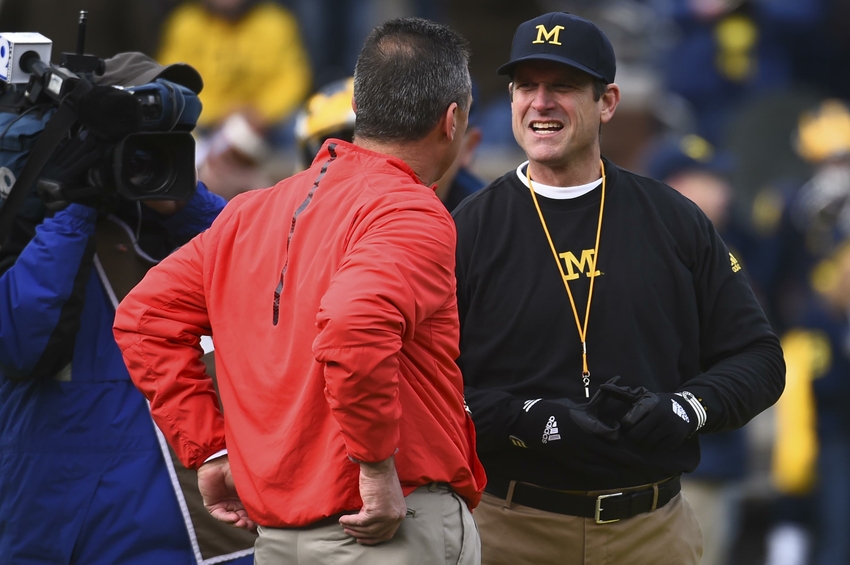 Are Michigan fans worried about playing Ohio State on the road?
For those of you saying that Ohio State should have been rooting for Michigan on Saturday, shut up. Michigan was proven to be a fraud in their game against Iowa. All they have done all year is beat up on inferior opponents – of course they are going to look dominant… And honestly, their defense is dominant. But as a team – they're pretenders.
The Wolverine running game is mediocre, and their QB is pretty average too. In fact – starting QB Wilton Speight suffered an injury in Michigan's loss to Iowa and is out for the year. Now the Wolverines are stuck with the back-up to an average quarterback.
Michigan has been playing cupcakes all year: Hawaii (4-7), UCF (6-4), Rutgers (2-8), Illinois (3-7), and Michigan State (3-7). Sure – Ohio State played Rutgers and will play MSU, but at least the Buckeyes play tough opponents on the road.
Michigan's toughest opponents this year were Colorado, Wisconsin and Penn State. All were played in Ann Arbor. They finally played a sort-of decent team on the road on Saturday, and lost. If I remember correctly, they play a more than sort-of decent team on November 26 on the road…
More from Scarlet and Game
I'm not denying the fact that Michigan has made tremendous strides under Jim Harbaugh – just here to remind people the media jumped the gun on them. They aren't quite there yet. With John O' Korn under center for the Wolverines we aren't quite sure what to expect, but I don't think they'll look much different.
Michigan has good receivers for him to throw to.  Honestly I think John O' Korn is just as good as Wilton Speight – so we won't see too much of a decline on offense from the Wolverines.
As a Buckeye fan, you've got to be feeling pretty good right now. Ohio State looks like it's peaking right now – Michigan looks like they're hitting a wall. Only scoring 13 against Iowa has got to scare the Wolverines fanatics.
The Hawkeyes lost to an FCS school, but beat Michigan… The Hawkeyes gave up 35 points to Purdue, but only 13 to the Wolverines…
It's time to panic in Ann Arbor, but time to smile in Columbus.
This article originally appeared on