Ohio State Football: Important Numbers For J.T. Barrett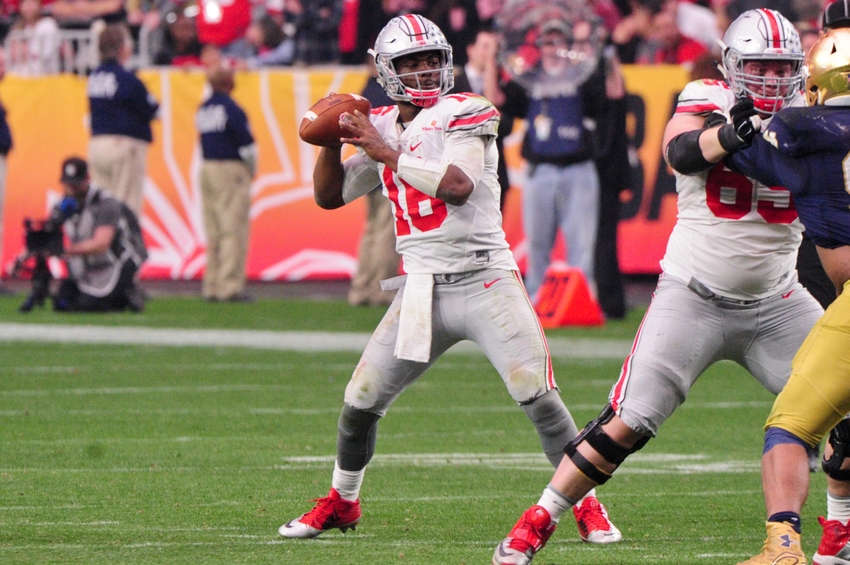 The best Ohio State quarterback ever?
J.T. Barrett continues to rack up numbers in the passing and running game in his third year as quarterback for Ohio State. Now that the regular season is over, let's take a look back at what the fourth year junior has accomplished.
Some of those who have followed the Buckeyes for as long as I have, may not consider J.T as the best pure passer ever to play for Ohio State. They may possibly have Art Schlichter, Joe Germaine or Bobby Hoying at the top of the list.
As a dual threat quarterback, he would be in the mix with Troy Smith or Terrelle Pryor. Most would have him behind Braxton Miller as a pure runner.
But J.T. has quietly moved up the record books in both passing and running. Now, every yard gained, touchdown scored or thrown for, just adds to his career mark in the total offense category.
More from Scarlet and Game
Barrett won't catch the passing or rushing leaders for Ohio State unless he returns for his senior season. However, he has thrown for 6,254 yards and 69 touchdowns, while rushing for 2,467 yards and 31 scores. He now has 8,721 yards of total offense and has passed Braxton Miller moving to No. 1 on the list.
Barrett's seven yard scoring run versus Michigan was the 31st of his career and was his 100th total touchdown. That is easily the most touchdowns accounted for by an Ohio State player and ranks as the second best total in Big Ten history behind Drew Brees' 104.
The two most important stats J.T. Barrett has put up in his time at Ohio State has nothing with the numbers that many use to evaluate a quarterbacks performance. First, in his three years as a starter or a red zone specialist, the Buckeyes are 32-3. The second and possibly more important, he is 3-0 versus TTUN as a starter.
Let's face it, it's hard to put J.T. Barrett into a particular catagory as a quarterback. But there are two things he does in which he has few equals. He can put the ball in the endzone, and he knows what it takes to win football games.
This article originally appeared on