CFB AM: Even Spurrier thinks Ohio State's dynasty is just starting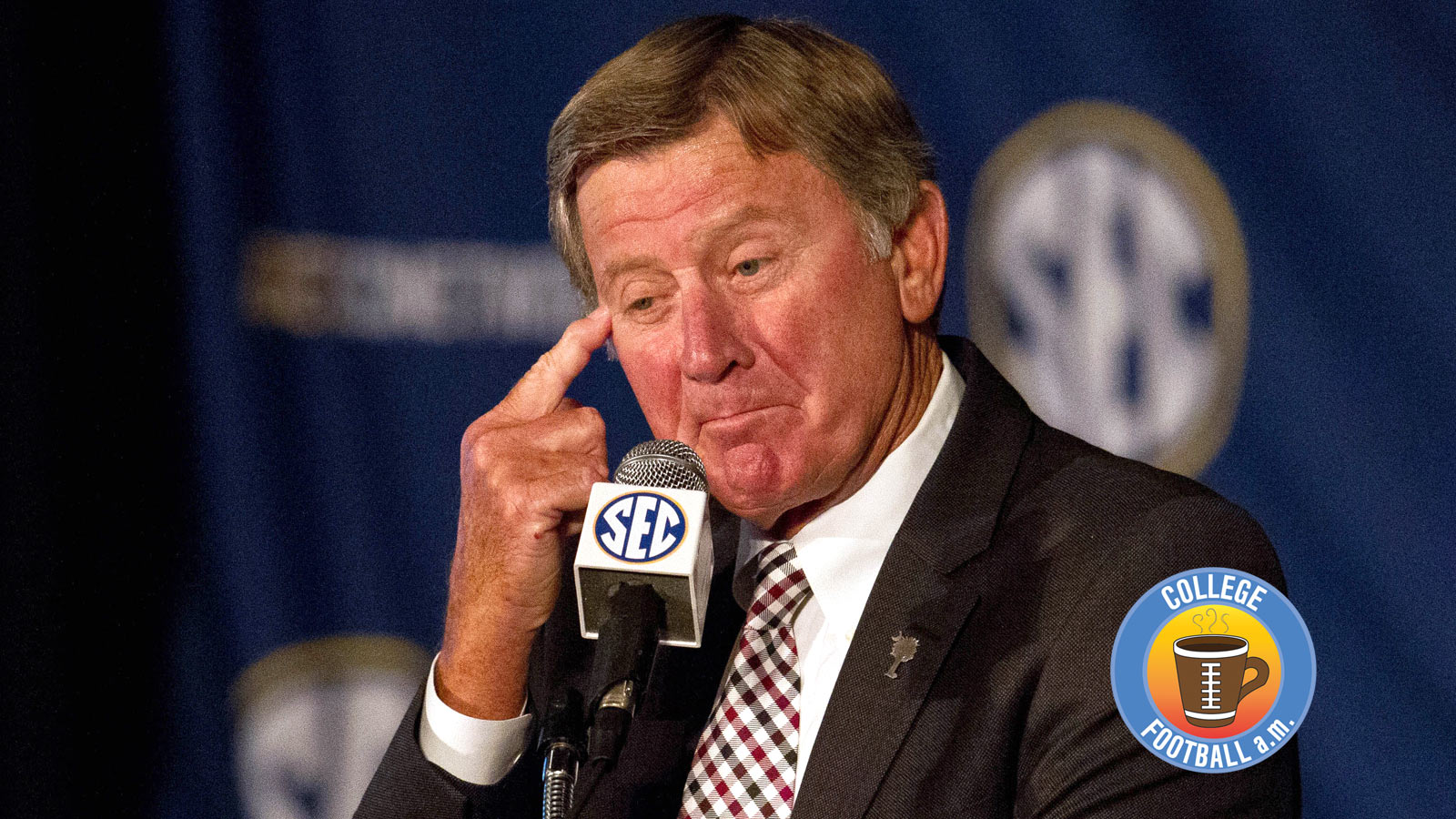 South Carolina coach Steve Spurrier likes to pop up from time to time in offseason interviews, and he spoke to Chris Low about Urban Meyer and Ohio State recently.
A couple interesting things: Spurrier wanted Oregon to win the national title because, "Oregon had never won [a title] and Marcus Mariota is a first-class young man. Ohio State had already won a bunch of them, and Urban had already won a bunch of them. I was fine with Urban winning another one. But since Oregon had never won it, I was sort of for them. "
Makes perfect sense, but Spurrier said he knew it was probably just a wish. "I told somebody, though, that Ohio State would probably win it," he said. "I knew Urban would have those guys so ready to play. In the big games, he doesn't lose many of them."
Spurrier, of course, had a little fun and mentioned the time South Carolina beat Meyer's Florida Gators for the SEC East title in 2010, but the Ball Coach was really using the story to make a point about how revitalized Meyer seems to be.
"He wasn't himself, though, in 2010," Spurrier told Low. "That's after he quit and came back and they'd told him to try and relax and let his assistants do most of the coaching. He wasn't really himself then. But he's back to being himself, and I suspect he'll win a few more."
Yes, even Spurrier knows the Buckeyes have something special going in Columbus and are at the beginning of a possible dynasty.
Speaking of Mariota and Ohio State, the former Ducks QB took a selfie with Buckeyes defensive end Joey Bosa at the Walter Camp Award dinner. If you remember, Bosa was the one who delivered the big hit on Mariota in the title game that got Oregon's offensive linemen all upset. Good to see there are no hard feelings.
— Joey Bosa (@jbbigbear) January 17, 2015
THREE THINGS YOU NEED TO KNOW
1. Urban Meyer and the Buckeyes were honored at the Cleveland Cavaliers game on Monday night. Meyer reportedly spoke with the Cavs privately before the game and then offered a few words to the crowd when they were honored, which you can see here. Cardale Jones also briefly spoke, saying: "When I go out there and play and strap my helmet on, I play for a couple of things. I play for my family, The Ohio State University and most importantly, Cleveland, Ohio. O-H!"
2. Oregon wide receiver Darren Carrington missed the national title game after being suspended for failing an NCAA drug test, but now his father says that his son did not smoke marijuana. See, what had happened was, Carrington was just in a room where others were smoking weed, and inhaling second-hand smoke caused his positive test. Make of that what you wish – maybe it's true – but regardless it's not the right message to send. The positive here is Carrington was a redshirt freshman in 2014 and has a lot of football left to play for the Ducks if he learns from this.
3. Oregon fans have started a petition to get Marcus Mariota's No. 8 retired, which would be the first Ducks number ever taken out of use. I don't think they'll have to wait very long for that to happen.
RT if you think Oregon should retire the No. 8 Fav if you think they shouldn't pic.twitter.com/kOqURmopJk

— Autzen Students (@AutzenStudents) January 20, 2015
THREE THINGS YOU SHOULD KNOW
1. Remember Noah Spence? The former Buckeye is transferring to Eastern Kentucky after missing the 2014 season due to multiple failed drug tests. Spence, a defensive end, has a ton of talent (he's a former five-star recruit), and hopefully this is an opportunity for him to get his career back on track.
2. Ohio State recruit Torrance Gibson said he's going to "Marshawn Lynch" the media since he feels he was taken out of context. Gibson was the lead in yesterday's CFB AM, so I feel obligated to give him his voice here. He took exception with him being quoted in a story saying that his visit to Auburn "changed a lot" about his commitment to Ohio State. Gibson was quoted as saying that in numerous stories, though, so it doesn't seem to be the case of one reporter getting a quote wrong. More likely, Gibson didn't completely articulate what he meant and wishes he had stated it better.
3. Someone who goes by "That Data Dude" has an interesting post about how the players participating in the Super Bowl break down by college conference. The Big Ten, Pac-12 and SEC all have 18 former players on the New England Patriots and Seattle Seahawks, according to this study. Another interesting tidbit in the post: about 31 percent of players in this year's Super Bowl come from non-Power 5 schools. I don't know if that's surprising or not, but it feels significant. That's almost a third of the game's players who were (in most cases) probably overlooked by a lot of bigger schools.
THREE THINGS YOU MAY WANT TO KNOW
1. A former Louisville player is suing the school and former Cards (and current Texas) coach Charlie Strong after he says a promise was broken. Patrick Grant was allegedly beaten by two teammates in 2010 so badly that he almost lost an eye and was forced to quit playing. Grant says Strong promised to honor his scholarship through graduate school but then pulled it so he could offer it to another player. Strong's attorney called the claim "meritless."
2. A few offseason links: Here are five teams on the rise entering 2015, per Athlon Sports' Steven Lassan, and the five biggest QB battles for 2015, per Greg Smith. I also enjoyed this humorous piece from Spencer Hall and Ryan Nanni on why Bill Belichick belongs in college football.
3. Tony Verna, the inventor of instant replay, passed away the other day. What an innovator and visionary.
LASTLY
It's not often we're blessed with FCS smack talk, but this is some gold: An Iowa broadcaster hilariously cracks on North Dakota State and its fans. Watch.
Have a great Tuesday, everybody.
Teddy Mitrosilis is an editor and writer for FOXSports.com. Follow him on Twitter @TMitrosilis and email him at tmitrosilis@gmail.com.