CFB AM: Nike's champions poster perfectly fits Ohio State's season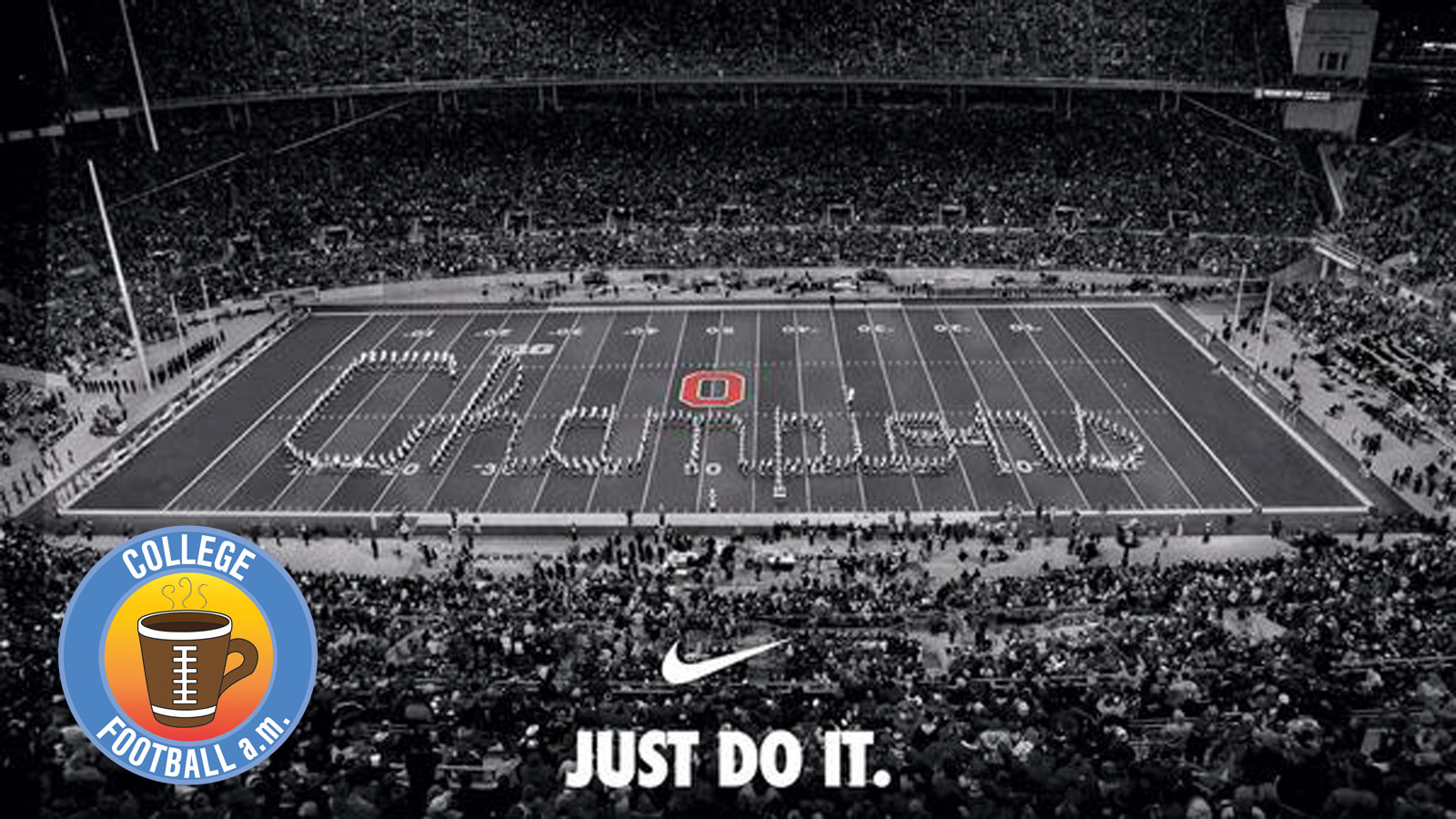 The Ohio State Buckeyes did what almost nobody –€" even head coach Urban Meyer — thought they could do this season.
They became national champions.
After Ohio State's 42-20 win over Oregon, Nike released a fantastic national championship poster for the Buckeyes that perfectly matches the resiliency of the 2014 Buckeyes.
Nike salutes Ohio State's improbable win. pic.twitter.com/pE9pXGyiFI

— Eleven Warriors (@11W) January 13, 2015
If the font is too small to read, here's what the poster says:
They called you lucky.
They called you undeserving.
They called your conference weak and your team untested.
They called the other teams a dynasty, the favorite, unbeatable.
They called your ranking disputable and surprising.
They called you a fourth seed, if that.
They called you an underdog.
But now they call you something else.
And then the poster shows "champions" spelled out in script on the field. Perfection.
THREE THINGS YOU NEED TO KNOW
1. What a crazy season for Ohio State. From losing Braxton Miller before Week 1, to getting embarrassed at home by Virginia Tech in Week 2, to developing backup QB J.T. Barrett into a Heisman contender, to losing Barrett for the season due to injury against Michigan, to then watching third-string QB Cardale Jones go 3-0 in his first three career starts and lead the Buckeyes to a national title … I mean, there's no describing that. Ohio State can thank running back Ezekiel Elliott just as much as Jones for completing its incredible run.
Elliott ran for 246 yards and four TDs on 36 carries to knock out the Ducks, his third consecutive 200-yard rushing game to end the season. "We knew that our O-line was bigger and more physical than their D-line, and we just had to punch them in the mouth," Elliott said after the game.
For Urban Meyer, he fulfilled a dream of bringing a national championship back to his home state, writes Doug Lesmerises. With this title, Meyer jumps Nick Saban as the nation's best coach and has the ingredients to build a dynasty at Ohio State, writes Stewart Mandel. Loved this photo of Ohio State offensive coordinator Tom Herman sporting a Houston hat after the game — Herman has been doing two jobs for a few weeks and today will officially move to Houston to take over as the Cougars' head coach. What a ride for him.
Congrats to @CoachTomHerman! Want to play for a national champion? Come join @UHCougarFB #GoCoogs pic.twitter.com/1YlwQHlh3h

— Houston Football (@UHCougarFB) January 13, 2015
2. The unfortunate part of Monday night's game was that Oregon — a high-class and high-quality program in every way — had to lose and QB Marcus Mariota couldn't enjoy a national championship in what was probably his last game as a Duck. An aside: Would you be SHOCKED if Mariota came back? I would be mildly surprised but not shocked. That was Oregon's best chance to win its first national title and it was wasted, writes Bruce Feldman. Oregon's resiliency finally ran out against the Buckeyes, writes Andrew Greif.
Ohio State showed the Ducks what tough football looks like, writes Paul Myerberg. This quote from OSU tight end Jeff Heuerman says it all: "We knew going into the game that defense was probably their weakest part of the team. We were going to have to attack it. It really came down to our culture versus their culture. Our culture is toughness, and their culture is speed. Deep down, we believe toughness wins games. It showed tonight."
3. Shortly after kickoff, Nike released a sweet coin toss photo that immediately went viral and had people buzzing on Twitter. It turns out the photo was real but staged –€" it didn't come from the actual coin toss Monday night. Nonetheless, the photo is awesome. Look: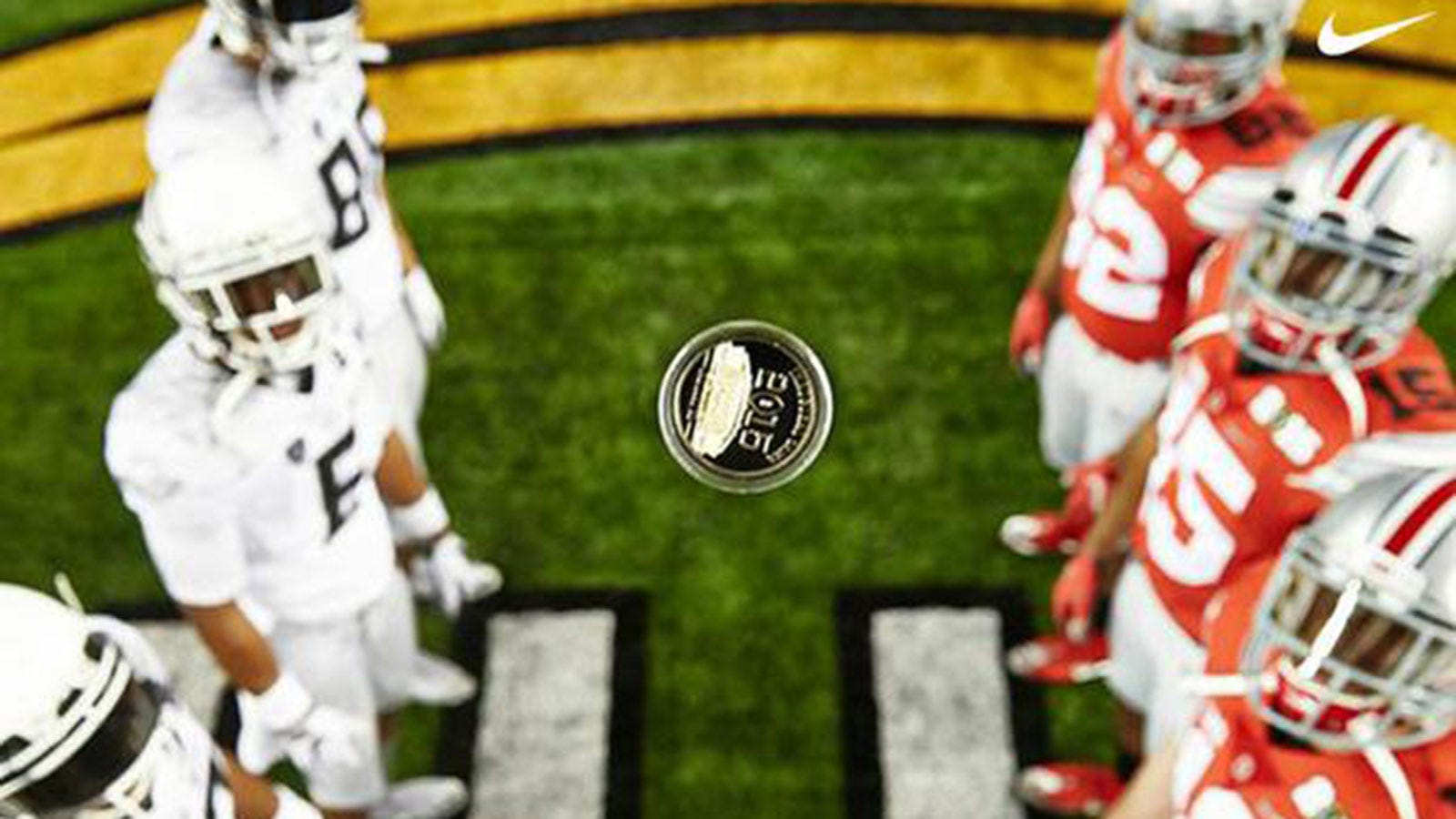 THREE THINGS YOU SHOULD KNOW
1. Ohio State fans couldn't help but stick it to the SEC, as the Buckeyes won a national title and the fans of Southern teams all watched on TV instead of being in Dallas. After winning the title, the Buckeyes had a little dance party.
2. Hey, look who showed up in Dallas to support the Buckeyes: Mr. LeBron James. After the game, LeBron went up to Cardale Jones and told him way to bring a championship back to Cleveland and give the state of Ohio something to rally around, which the Internet turned into a joke about the Cavaliers' struggles this season, because the Internet is full of jerks. On another note, I love this photo of LeBron taking a photo of the confetti:
LeBron James, millennial pic.twitter.com/9boSCc7mkh

— Ben Cohen (@bzcohen) January 13, 2015
3. In Columbus, fans went crazy around campus and police had to use tear gas to control the crowd. Here is some video of the scene.
THREE THINGS YOU MAY WANT TO KNOW
1. An Ohio State cheerleader was run over as the Buckeyes entered the field before the game, but she's fine and lived to laugh about it.
2. This is fantastic: The Empire State Building glowed scarlet and grey in honor of Ohio State's national title.
Congratulations to @OhioState! Our lights are in scarlet and grey for their #CFBChampionship win. #OREvsOSU pic.twitter.com/ssY2KSaeAa

— Empire State Bldg (@EmpireStateBldg) January 13, 2015
3. Cardale Jones had a fumble that looked eerily similar to Jameis Winston's in the Rose Bowl. Did people with spare time on the Internet pass up this shot? Of course not.
LASTLY
So … now what?
Teddy Mitrosilis is an editor and writer for FOXSports.com. Follow him on Twitter @TMitrosilis and email him at tmitrosilis@gmail.com.