CFB AM: Urban Meyer got his own street for bringing Ohio State a title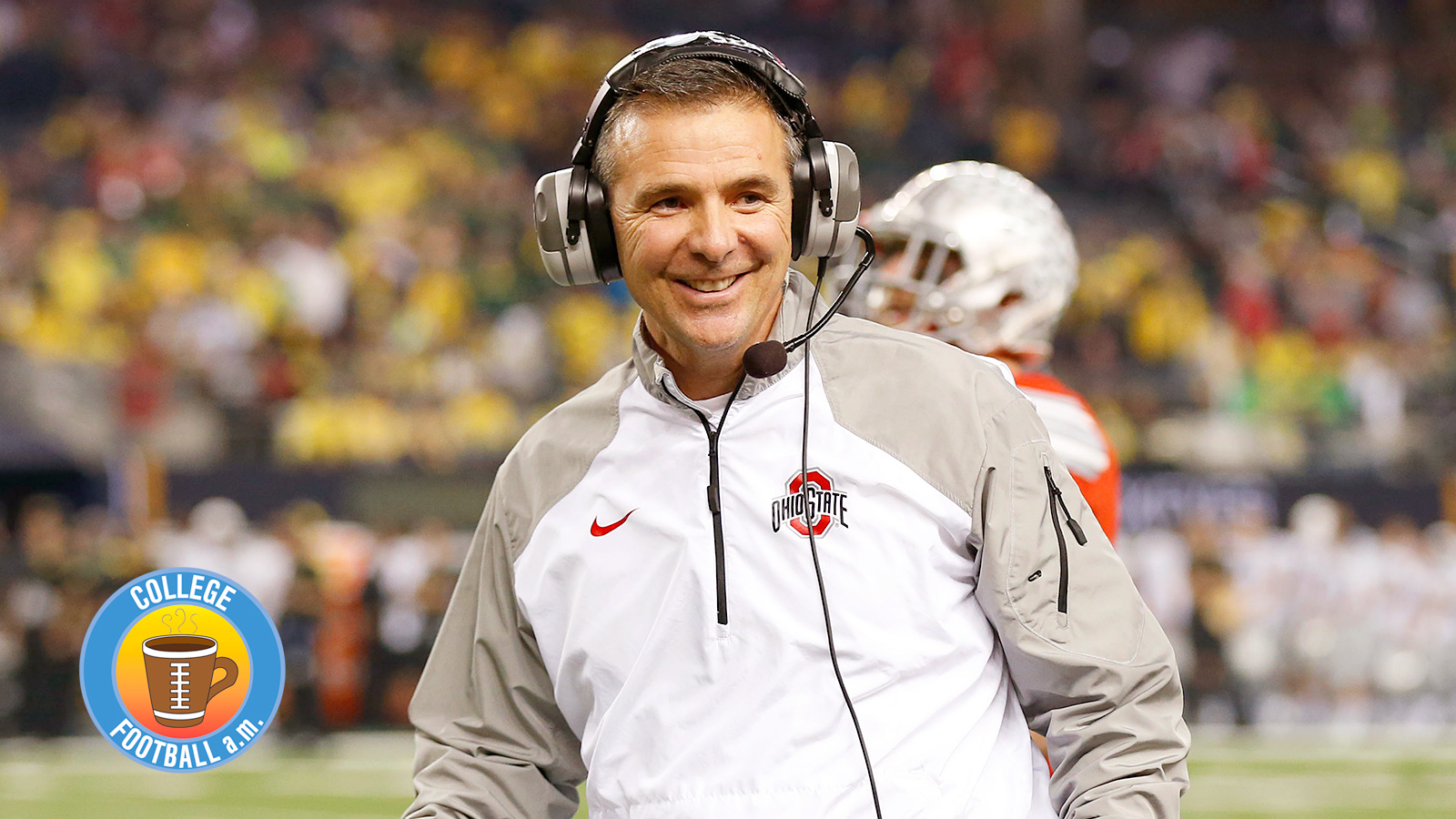 It's been an incredible couple of weeks for Ohio State in the wake of beating Oregon in the national title game on Jan. 12, and all of the joy in Buckeye Nation will come to a culmination on Saturday.
Tomorrow, Ohio State will hold its official national title celebration in Ohio Stadium, and presumably people from all over the state will come out to hail Urban Meyer and the Buckeyes.
It'll be a final topping on a couple weeks that has made Meyer a legend in Ohio.
How happy is the state for bring a national championship back to the Buckeyes?
The city of Dublin changed two different street names to commemorate the 2014 national champs, with Meyer getting one all to himself and thus making him an official local legend.
Dublin officially announced the other day that Bridge Street will become Urban Meyer Way and High Street will become Champions Drive. Here's a photo Dublin tweeted out in celebration:
We're proud to be the place champions call home @OSUCoachMeyer @spinnershells #gobucks pic.twitter.com/ThudbBAucM

— Dublin Ohio (@DublinOhio) January 21, 2015
One other reason Ohio State coaches will have huge grins at the championship celebration tomorrow: The school paid out nearly $2 million in bonuses for winning the Big Ten and national titles. Meyer's total bonus package was $400,000, per Doug Lesmerises.
THREE THINGS YOU NEED TO KNOW
1. It's been a really busy offseason among SEC coaching staffs, and now there is some more movement. Tennessee offensive coordinator Mike Bajakian left the Vols to take the Tampa Bay Bucs QB job, where he'll reconnect with friend and former NFL colleague Lovie Smith.
2. This is wild speculation that I can't possibly see happening, but it hasn't been officially shot down: Seattle Seahawks DC Dan Quinn is expected to become the new head coach of the Atlanta Falcons after the Super Bowl, and he's expected to have interest in Will Muschamp as his defensive coordinator. The two worked together on Nick Saban's Miami Dolphins staff, and Quinn served as Muschamp's DC at Florida before taking the Seattle DC job. Muschamp, of course, was just hired by Gus Malzahn to be Auburn's DC and it's hard to envision him walking out of that job after only a couple months in town. But anything's possible, I suppose.
3. This is the time of year where players have time on their hands and that inevitably leads to trouble. A couple Ole Miss players, including a starting defensive back, were arrested for disorderly conduct. And, while we're here, four West Virginia players were cited for weed.
THREE THINGS YOU SHOULD KNOW
1. Gary Andersen had some interesting comments in an interview with Dennis Dodd the other day, saying that Wisconsin's admission standards were frustrating to him and part of the reason why he left for Oregon State. It wasn't so much that Andersen wanted Wisconsin to change rules, but rather he felt some kids who did the necessary academic work weren't given fair looks, most notably junior college prospects. So now Andersen has moved on to a new challenge, and Wisconsin moves forward with Paul Chryst.
2. This video is 20 minutes long — hey, it's Friday, maybe you're killing time at the office — but it's a pretty sweet all-access piece with Michigan State that wraps up its season by beating Baylor in the Cotton Bowl.
3. Former Oklahoma co-offensive coordinator Josh Heupel, a casualty of Bob Stoops' staff changes, appears to have landed on his feet for 2015. Heupel is expected to be named the OC at Utah State.
THREE THINGS YOU MAY WANT TO KNOW
1. Here are 11 moments that defined Ohio State's national title season, per Braden Gall.
2. Nick Saban was asked the other day if Lane Kiffin will be on Alabama's staff for the 2015 season — Kiffin has been connected to the San Francisco 49ers' OC job, which is still open — and Saban couldn't say for sure. "I can't say that right now because I know Lane is committed to us right now and he's doing the best he can to help recruit and do the things we need to do to have a better team next year," Saban said at Senior Bowl practice. "We're hopeful that will continue."
Listening to Saban speak about these things, it's never a sense of urgency or an impending issue. He'd surely like Kiffin back, but if he decides to leave, well Saban will hire the next guy who has a chance to be a great OC. People take and leave jobs in organizations every day, and it's part of the professional process. That's the feeling you get from Saban – stability.
3. Michael Lev caught up with USC athletic director Pat Haden, who says he's unsure about his future at USC beyond this year. He also turns 62 years old today. Happy birthday, Pat.
LASTLY
It's the first weekend without any college or pro football in a long time. Please get outside or, if you're somewhere cold, reconnect with your families. They deserve it.
Have a great Friday, everybody. Enjoy the weekend.
Teddy Mitrosilis is an editor and writer for FOXSports.com. Follow him on Twitter @TMitrosilis and email him at tmitrosilis@gmail.com.