CFB AM: Ohio State already has a banner up to remind you who's champ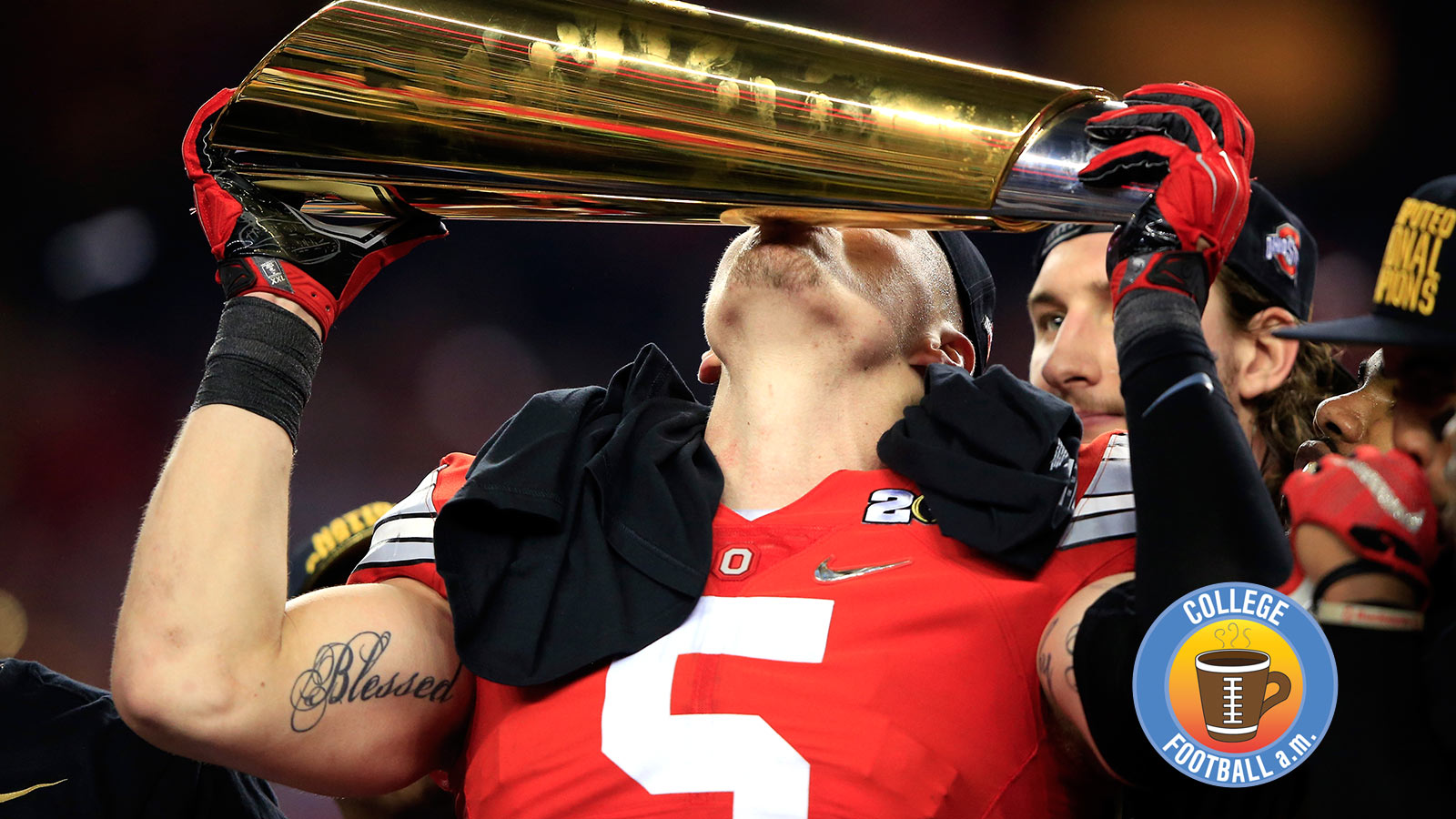 There will be a formal unveiling and one huge party at The Shoe next fall, to be sure.
There will be the presentation of the national championship rings and probably an awesome highlight video to entice 100,000-plus fans into another celebration.
But Ohio State couldn't wait until next fall to start showing off its 2014 national championship.
One week after beating Oregon to win the title, the Buckeyes already had a banner hanging up in their football facility for anybody who needs to be reminded who the champs are:
Looks good pic.twitter.com/HFRDEtpwdP

— Stephen Collier (@S13Collier) January 19, 2015
There are two really good reasons for this, other than just wanting to rightfully brag about what OSU accomplished in 2014:
1) It gives players some gratification and motivation as they enter winter workouts and begin the long haul towards trying to do it again. They can look up in the Woody Hayes Athletic Center and instantly be reminded that the work is worth it.
2) Urban Meyer is doing everything he can to capitalize on recruiting momentum, and this is surely a part of that as top prospects swing through Columbus in the remaining days leading up to Signing Day on Feb. 4. There's no better sell to a top recruit than simply pointing at a national championship banner.
Somewhere, surely, Jim Harbaugh is hard at work plotting how to reverse the Buckeyes' run of great fortune.
THREE THINGS YOU NEED TO KNOW
1. Now that the NCAA has decided to restore Joe Paterno's 111 vacated wins and make him the leader in all-time victories again, former Florida State coach Bobby Bowden wants his 12 vacated wins back as well. Bowden lost the victories as punishment for an academic fraud case at FSU in 2006-07, although Seminoles coaches weren't implicated in the case. "The NCAA has been very inconsistent about how they take away victories," Bowden told the Orlando Sentinel. "It's not like we were trying to cover up anything. We did everything in our dad-gum power to get to the bottom of the situation."
The guess here is Bowden won't get his wins back and we'll continue to move forward in a world where the NCAA thinks vacating wins is a viable punishment for arbitrary infractions. The games were played and the money was made, fellas.
2. Remember the big fight between Memphis and BYU at the end of the Miami Beach Bowl? Here's a refresher:
Well, Memphis announced it will discipline a dozen Tigers for their role in the altercation. Discipline for Memphis players will include missed practices and scrimmages and up to a two-game suspension next season, although which players will miss games in 2015 won't be announced until the season. BYU isn't announcing how many Cougars will be disciplined or how. Players from both schools will also "formally apologize" on a conference call.
3. Former Vanderbilt players testified in the ongoing case that charges four former players with rape, two of whom are being tried this week. According to testimony, at least four teammates knew a young woman was in trouble but failed to help. There are more disturbing details.
THREE THINGS YOU SHOULD KNOW
1. Jim Harbaugh hired his son Jay as the tight ends coach at Michigan after Jay spent the past three seasons working as an offensive quality control coach for the Baltimore Ravens, where uncle John Harbaugh is the head coach. "It is an amazing opportunity and privilege to coach football at one of the premier universities in the world," Jay said in a statement. "I'm ecstatic about being in Ann Arbor, and to be a part of building something special with the great people in our program."
The real good news is that it's likely father and son share breakfast together more often now, which means the possibility of Jim pouring Gatorade into his cereal.
2. This doesn't mean much, but interested parties are talking about it: Ohio State QB Braxton Miller has enrolled for the spring semester after completing his communications degree in December. He's free to leave anytime during the spring or after the current semester and still be eligible to play in 2015 for another program because he has his undergraduate degree. So this does NOT guarantee anything about Miller being with the Buckeyes in the fall.
3. Bruce Feldman ranks the top 10 teams hit hardest by underclassmen leaving for the NFL. Florida State is a pretty clear No. 1, and losing Jamies Winston is just the beginning of it. The defense loses a ton.
THREE THINGS YOU MAY WANT TO KNOW
1. Here's an odd story: Oklahoma's mascot was fired for reportedly harassing Oklahoma State fans at a basketball game, including the wife of OSU head coach Travis Ford. The mascot reportedly blocked the fans' vision of the game, taunted them and poured popcorn on them. OU did not identify the person who was wearing the mascot costume during the OK. State game (several students serve as the mascot at athletic events throughout the year).
Maybe OU coaches can recruit a new mascot while they're out on the road chasing prospects in their sweet ride:
Back in the Ville with @LincolnRiley. About to roll in the Chevy. #wegettinitdone pic.twitter.com/Z70WjQotsH

— Cale Gundy (@OU_CoachGundy) January 20, 2015
2. If you have some time to kill at work this week, may I suggest Bill Connelly's impressive list of the top 100 games of 2014? Nice job by the SB Nation staff sprucing up the design while maintaining a clean and user-friendly presentation.
3. The SEC's hottest new recruiting rivalry is Auburn-Florida, writes Barrett Sallee, and Will Muschamp is already making a difference at Auburn. The Tigers are in the running for three blue-chip recruits who could be a package deal.
Speaking of Auburn, it's reportedly in conversations with Georgia Tech to resume the series between the programs that's been on hold since 2005. There's some scheduling work that needs to be done, though, as neither team wants to play a road game in the series and a road game at Georgia in the same season.
LASTLY
* Enjoyed this Jeremy Crabtree piece on how Clemson's Jeff Scott became a great recruiter.
* Former Auburn QB Nick Marshall decided to switch to cornerback during Senior Bowl practices this week and will now enter the NFL Draft as a defensive back. It's an interesting move considering he'll now be a developmental project at DB, but most pro evaluators are saying it's the best decision for his long-term NFL career.
Good luck, Nick. We'll always have this:
Have a great Wednesday, everybody.
Teddy Mitrosilis is an editor and writer for FOXSports.com. Follow him on Twitter @TMitrosilis and email him at tmitrosilis@gmail.com.