CFB AM: Ohio State band honors legendary TV shows at halftime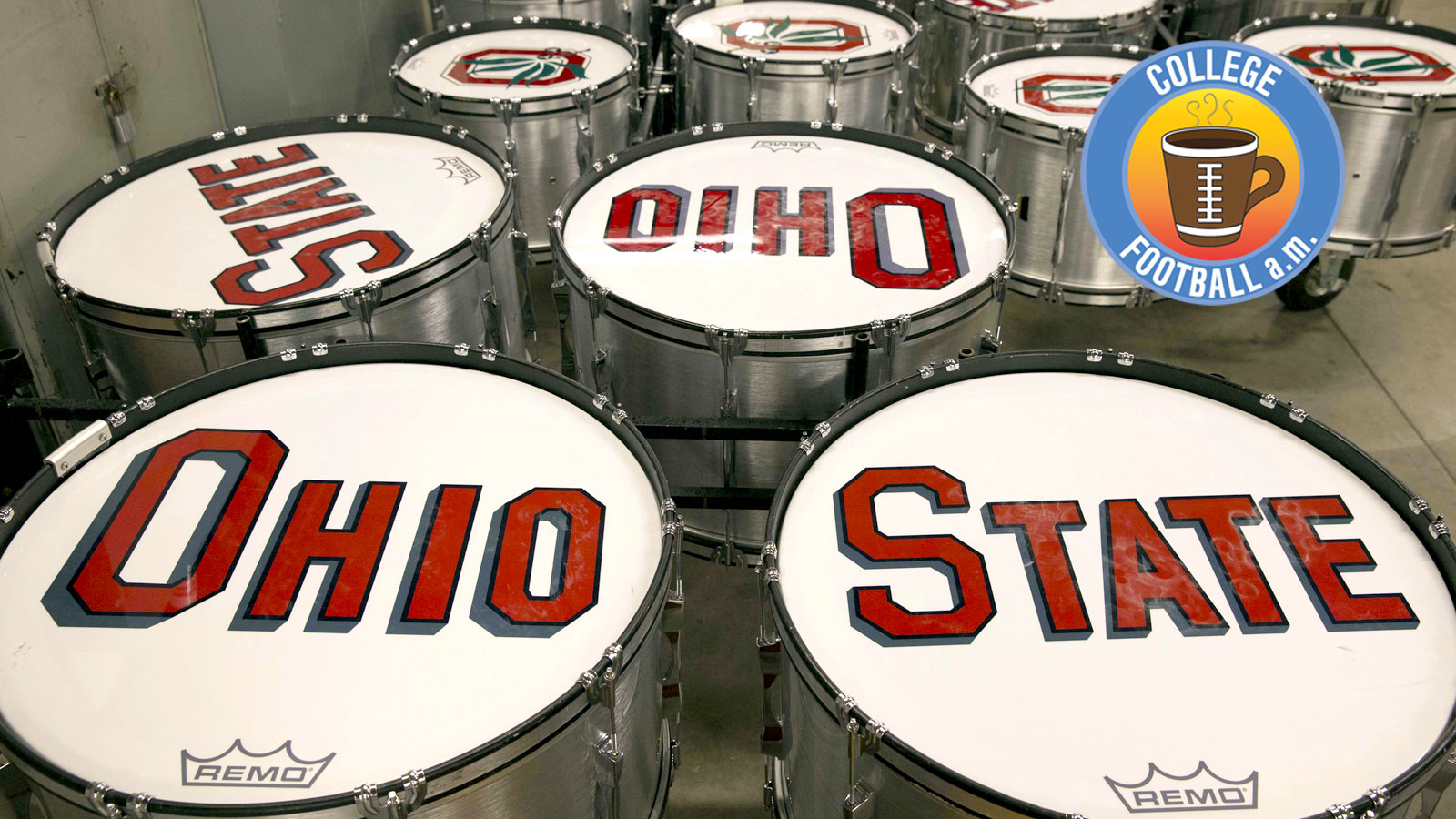 No, Saturday night did not go as planned for Ohio State.
The No. 8 Buckeyes were upset at home by Virginia Tech, sparking most to presume the Big Ten's playoff chances are finished for the season after only two weeks.
Yet, an incredible Ohio State moment did actually unfold on the field at The Shoe, which we need to talk about now.
In its first halftime performance of the 2014 season, the Ohio State marching band put on an all-time great show. The band performed a "TV Land" theme and honored legendary TV shows in its nine-minute routine.
In the performance, the band paid tribute to "Batman," "The Simpsons," "Brady Bunch," "The Addams Family," "Game of Thrones" and "The Office," among others.
My favorite parts: At the 3:05 mark, they create the Batmobile and "drive" it down the field, and at 8:35, they form a perfect horse and make it trot before lifting it on its hind legs! Maybe I'm too blown away by this, but here's the video – you decide how incredible this is. The whole thing is worth your time.
Last week, we gave some love to Southern's band, which performed a stellar rendition of Queen's "Bohemian Rhapsody."
Now the Buckeyes give us a performance truly befitting its self-proclaimed "Best Damn Band in the Land" nickname. If these two videos raise the stakes and encourage other bands to send us awesome videos, we'll have to regularly highlight a college football band in this space. We'll have no choice.
Let's actually just extend that offer now. Band members/directors: If your band has a superb performance on video, email me (tmitrosilis@gmail.com) and we'll feature it here. But Southern and Ohio State have set the standard pretty high, so be creative.
THREE THINGS YOU NEED TO KNOW
1. The usual warning: Polls don't matter at all now in the playoff era, so just relax. With that said, new AP and Coaches polls came out on Sunday. In the AP, Oregon jumped Alabama to No. 2. As for the Coaches? They still have Ohio State ahead of Virginia Tech.
My analysis: HAHAHAHAHA.
2. USC athletic director Pat Haden made news on Saturday at Stanford after he came down from the press box to speak with the officials – during the middle of the game – about an unsportsmanlike conduct penalty head coach Steve Sarkisian received. Haden caught a lot of grief for the move, with some even believing he should resign from the College Football Playoff committee.
On Sunday, Haden issued a statement apologizing for what he did:
I apologize to Commissioner Scott, to the game officials, to Stanford and to the fans for any distraction I might have caused during Saturday's football game. In retrospect, I should not have approached the game officials. I should have waited until after the game and gone through the appropriate channels. In the best interests of our team and our coaches, I will stay off the sidelines for our next two games.
3. On a somber note: Today marks one year since former UCLA football player Nick Pasquale died in a car accident. In June, I profiled his older brother A.J., who's working for the UCLA football program as a full-time operations and quality control intern. If you have a few minutes, please read about a tough family that's grinding through unspeakable pain as well as anyone could. If you don't have time to read the story – it's a longer piece – that's fine, too, but please keep A.J., his parents Mel and Laurie, the extended Pasquale family and the UCLA program in your thoughts. They're good people who hurt deeply every day.
THREE THINGS YOU SHOULD KNOW
1. Victor Hill, The Citadel's starting right guard, posted on Facebook after playing Florida State that the goal entering the game was to "contribute to the injury list." Three FSU defensive linemen suffered injuries during the game, and while all of the injuries weren't directly related to vicious cut blocks, the intent behind that stated mission is disgraceful. Thankfully, the player's head coach lashed out publicly and said he would be disciplined for these comments. The player issued an apology, for which I give him almost zero credit, as it was incredibly PR-heavy and lacked the authenticity of his Facebook post, in which he bragged about "going for knees from the first play to the last." We can only assume Hill's Facebook post was written for attention, so here's your 15 minutes. Enjoy.
2. Bruce Feldman's Week 2 Big Picture column posted Sunday night. Good stuff on how the Ducks have been even a little bit better in certain areas under head coach Mark Helfrich than they were with Chip Kelly, how Notre Dame QB Everett Golson improved during his year off, what Virginia Tech's defense did to pressure Ohio State QB J.T. Barrett in an upset of the Buckeyes and more.
3. Couple injury notes coming out of Week 2 and heading into Week 3: Florida lost tight end Jake McGee for the season with a broken leg.
According to reports circling the Internet, Oklahoma State QB J.W. Walsh will be out 6-8 weeks with a broken foot. Daxx Garman is the next guy up there.
The best game next weekend is easily Georgia at South Carolina, and the Bulldogs are unlikely to have wide receivers Malcolm Mitchell and Justin Scott-Wesley for that game.
THREE THINGS YOU MAY WANT TO KNOW
1. A Michigan State writer initially wrote after Saturday's game against Oregon that the Ducks were piping artificial noise into Autzen Stadium to make it more difficult for the Spartans. An Oregon official refuted that claim on Sunday and said that the high level of noise is most likely due to the reverberations that come from the stadium's overhang (although this is just a guess). Of course, the level of noise may not have sounded any different to those who visit Eugene regularly. Autzen is widely regarded as one of the loudest and best atmospheres in college football.
2. Legendary Mississippi State voice Jack Cristil passed away on Sunday at 88. Having not grown up in the South or as a Mississippi State fan, I admittedly, and unfortunately, don't have much knowledge of Cristil's work with the Bulldogs. But this 11-minute video gets anyone up to speed who wasn't a regular listener. What a great voice and a reasoned one – no manufactured emotion.
3. Oklahoma awarded walk-on linebacker Caleb Gastelum with a game ball and a scholarship after shining against Tulsa. Very cool.
LASTLY
* On Saturday, our officiating guru Mike Pereira wrote about an error by the replay official in the Kansas State-Iowa State game. On Sunday, the Big 12 announced it's suspending the replay official and replay communicator for one game.
* Enjoyed this Lars Anderson piece on Buddy Davidson, an Auburn lifer who's attended 657 consecutive Tiger football games. To do that, he's traveled more than two million miles over the last seven decades. Still going strong at 74 years old. Amazing.
* Here's a video of a Rhode Island lineman losing his helmet and then taking a direct hit to his unprotected face. I've watched it 10 times and now have both hands covering my nose.
* Notre Dame crushed Michigan 31-0 last Saturday in the last scheduled game between the two teams, and the Irish students sent the Wolverines packing by singing goodbye to them. Props for the volume and clarity of the taunt, Notre Dame students. You've clearly practiced.
Have a great Monday, all.
Teddy Mitrosilis is an editor and writer for FOXSports.com. Follow him on Twitter @TMitrosilis and email him at tmitrosilis@gmail.com.