Notre Dame vs Virginia Tech Live Stream: Watch Irish vs Hokies Online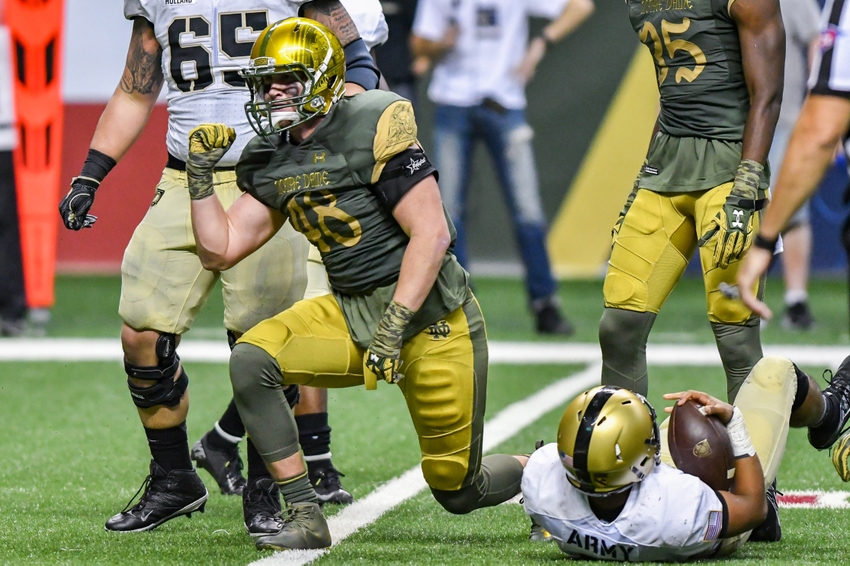 Notre Dame is hoping to keep their bowl dreams alive as they head into Senior Day in South Bend. Here's how to watch Notre Dame vs Virginia Tech online.
As the 2013 recruiting class takes the field at Notre Dame Stadium one last time, the Irish will be hoping to stay bowl eligible with a win over Virginia Tech. Against a high-powered Hokies offense, the task may be harder said than done.
The Irish's biggest task will be slowing down Virginia Tech quarterback, Jerod Evans. Evans is one of the most dynamic players in college football. With 3,133 total yards and 28 touchdowns, this junior has taken college football by storm in his first starting season.
Notre Dame is going to have to play just as well, if not better than they did against Army's offense in order to stop Evans and the Hokies. If they don't this could turn into a shootout between the offenses.
For the Irish, besides slowing down Evans, their focus will be on DeShone Kizer. If Notre Dame wants to outscore the Hokies, they're going to need to put the ball in the hands of their quarterback.
Kizer has proven he's one of the best players in the NCAA. It's no secret that Notre Dame's gameplan is to let Kizer make plays. How well he'll perform knowing they're on the brink of bowl ineligibility is going to make a major factor in the outcome of this game.
When it's all said and done, the Irish have all the potential to beat Virginia Tech. If their defense can find a way just to slow down Jerod Evans, it'll go a long way in their success.
By no means will this game be a blowout for either team. These two are about as close statistically as any two teams in college football. Neither defense is going to be able to stop the other team's offense. Lucky us. We should be in for one of the best quarterback battles of the 2016 season.
Want your voice heard? Join the Slap the Sign team!
Here's how to watch Notre Dame vs Virginia Tech:
Date: Saturday, November 19
Start Time: 3:30 PM EST
Location: South Bend, IN
Venue: Notre Dame Stadium
TV: NBC
Live Stream: NBC Live
This article originally appeared on