Notre Dame vs Virginia Tech: Irish Fall to Hokies Despite Late Game Lead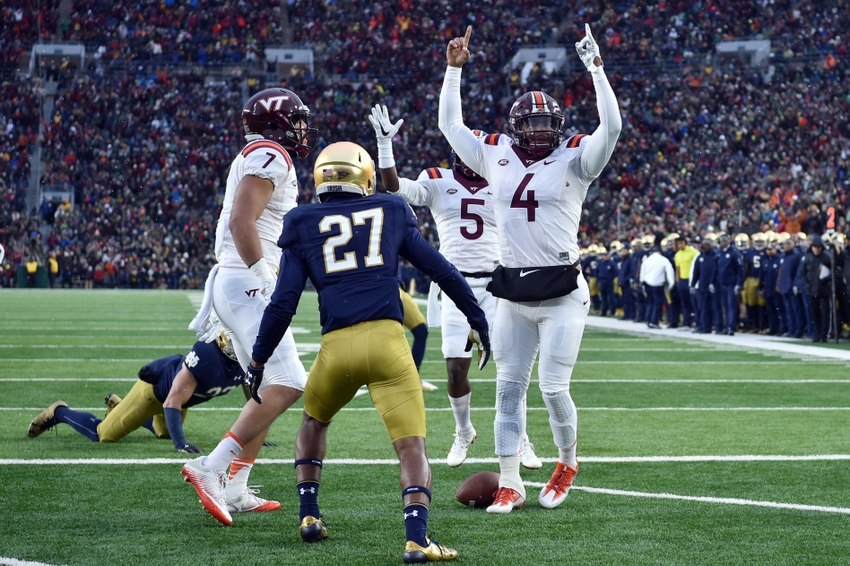 Notre Dame drops their seventh game of the 2016 season, losing to Virginia Tech in Week 12.
VS.
| | | | | | |
| --- | --- | --- | --- | --- | --- |
| | 1 | 2 | 3 | 4 | T |
| Fighting Irish | 10 | 14 | 7 | 0 | 31 |
| Hokies | 0 | 14 | 7 | 13 | 34 |
In a game that at one point was well in hand for Notre Dame, the Fighting Irish fell once again. With a 17-0 lead in the first quarter, Notre Dame had all the control of this game. It didn't last long, though, as the Hokies began building momentum in the second half, leading to a late game comeback.
Going 16-33 with 235 yards and two touchdowns, Notre Dame quarterback DeShone Kizer proved once again why he is one of the best in college football. Complimenting the warrior QB was running back Josh Adams, who ran for 100 yards and two touchdowns.
Unfortunately, the high-powered Notre Dame offense wasn't enough to beat the Hokies and keep their bowl dreams alive.
Virginia Tech quarterback, Jerod Evans did what every Notre Dame fan feared in the second half. Finishing with 267 passing yards, 67 rushing yards, and three total touchdowns, Evans took complete control of the Irish defense late in the game.
With less than five minutes remaining in the game, Virginia Tech received a very controversial pass interference call that put them in the red zone, eventually leading to their go-ahead field goal. No one knows for sure whether this call had that big of an impact on the outcome of the game. It was likely that Virginia Tech's momentum would have carried them into the end zone either way.
Either way, this is just another mark in the loss column. This season, Notre Dame has proven that they are one of the most disappointing teams in NCAA. Now that they are eliminated from bowl contention, the Irish should begin to look to the future.
Their defense showed the nation that even with a commanding lead, they are one of the worst units in the country. Therefore, the first place Notre Dame should begin to look this offseason is the defense.
Whether or not Brian Kelly should remain Notre Dame's head coach is one of the biggest questions in South Bend. Kelly has had some of the most promising teams in college football over the last six years, yet continue to find ways to disappoint.
Want your voice heard? Join the Slap the Sign team!
There are many problems to solve for the Irish, none of which will be addressed this season. It's time to wait and see what changes happen in Notre Dame after the season. For right now, fans should stay optimistic and hope for the best in 2017.
This article originally appeared on