Notre Dame vs USC Live Stream: Watch Irish vs Trojans Online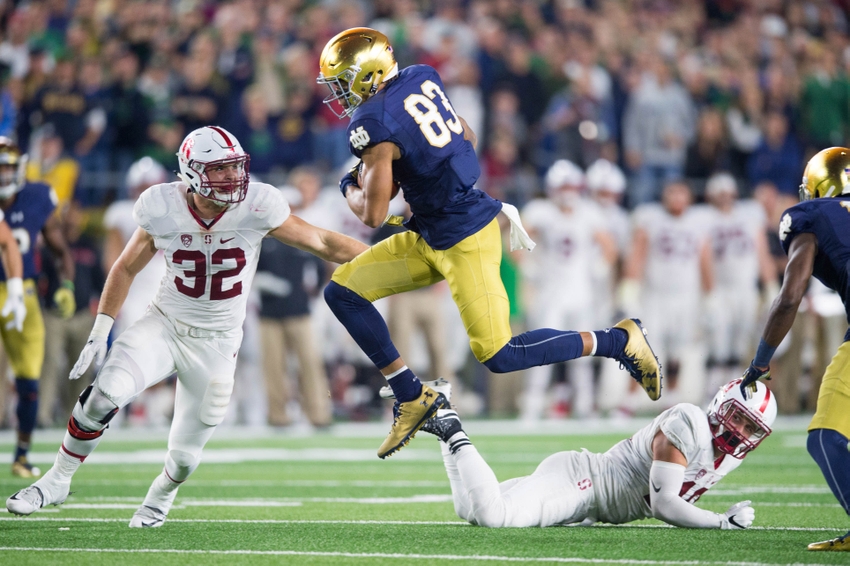 As Rivalry Week takes shape, Notre Dame heads to The Coliseum to face USC. Here's how to watch Notre Dame vs USC online.
Notre Dame travels to sunny Los Angeles with nothing left to lose, but a lot to win. With bowl hopes gone, the Irish face USC with a chance to end the Trojans College Football Playoff hopes.
As 18-point underdogs, Notre Dame will play for the first time this season with nothing hanging in the balance. Although that's never a position a team wants to be in, it allows the Irish to come into The Coliseum and pull out all the tricks.
In what may be DeShone Kizer's final game for the Fighting Irish, the quarterback is hoping to end his college career with a bang. And there's no better bang than ending your season with a win over Southern Cal.
As much as this game will consist of stopping USC's offense, a lot of the outcome will rely on how well the Notre Dame offense can score. It's no secret that the Irish defense has struggled this season. There's no way they'll be able to stop Sam Darnold and Ronald Jones II, but they may be slow them down.
If they can stop the Trojans for some of this game, Kizer and the Notre Dame offense will need to produce. There can't be empty drives in this game if Notre Dame wants to win.
This will also play as the last audition for Kizer. As a projected top 10 NFL draft pick in the spring, Kizer will have a final chance to prove why he's the best quarterback in the draft. If he could end his career with a win over USC, it'll catch a lot of eyes from NFL scouts.
One of the biggest concerns for the Irish in this game will be Torii Hunter Jr. The senior has 521 yards and three touchdowns on the season, despite missing three games this season.
It's still unknown whether or not Hunter will see action in this game. If his knee injury allows him to play, he should have one hell of a final outing.
When it's all said and done, Notre Dame is going to need a lot to beat USC. Right now, the Trojans are playing like one of the best teams in the country. That doesn't mean that Notre Dame can't beat them, it just means it's going to take some effort.
No matter how lopsided the spread for this game is. Don't expect this one to be a blowout. They may not always be tight games, but never expect the expected when it comes to Notre Dame and USC.
Want your voice heard? Join the Slap the Sign team!
Here's how to watch Notre Dame vs USC:
Date: Saturday, November 26
Start Time: 3:30 PM EST
Location: Los Angeles, CA
Venue: Los Angeles Memorial Coliseum
TV: ABC
Live Stream: WatchESPN
This article originally appeared on