Notre Dame vs USC: 5 Things We Learned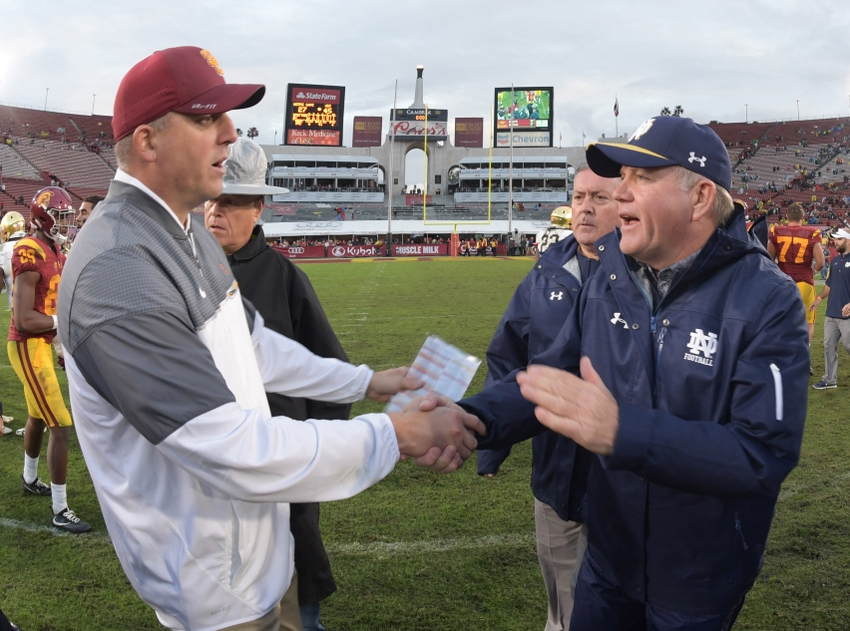 As Notre Dame finishes their season 4-8, there is a lot to take away heading into the offseason.
In a game that should never be remembered, Notre Dame proved why they are the laughing stock of the NCAA this season, losing 45-27 to USC. Besides a few moments, this game was nothing but an embarrassment for the Irish.
It's clear that there are parts of this team that needs immediate change. Notre Dame has a long history of success and the elements currently in place aren't leading the Irish to victory.
Heading into the offseason, there needs to be a full evaluation of this team. Some people need to be replaced. Others need to be told they're on the hot seat. But after a season this disastrous there can't be anyone feeling comfortable about their role on the team.
This entire season was disgraceful. Everyone involved knows that and so does the rest of the NCAA. When a team has so much potential and has such a terrible season, there are a lot of questions. Although there were some positive takeaways from 2016, it still doesn't make up for a 4-8 record.
Against USC, it was the cherry on top of this miserable season. There's no worse way to end a season then losing in humiliating fashion to USC.
This game had everything it needed to be a close game. Notre Dame came out hot and could've continued to keep this game close. But like all season, they shot themselves in the foot time and time again. Two special teams touchdowns and a pick-six is the perfect way to lose.
You could tell that this team gave up. As the game went on, they just gave less and less energy. For the first time in the Brian Kelly era, he completely lost control of the team.
There isn't anything Notre Dame can do right now, but moving forward they need to fix this program.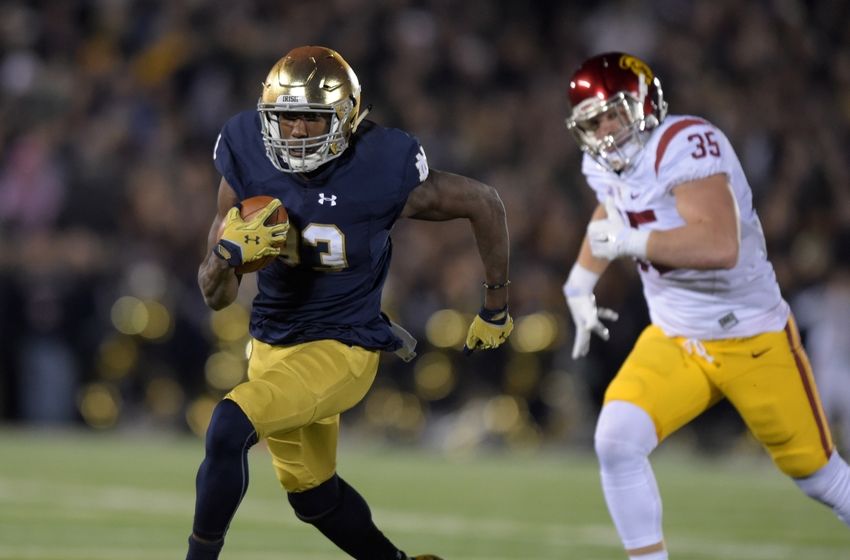 5. Josh Adams is good. Really good.
On a day where Notre Dame's offensive line looked horrid, Josh Adams tore up the USC defense. This back is going to be one of the best in college football next season.
His 180 yards against USC was one of the only positive takeaways from this game. Adams proved he's going to be a major contributor for this offense for the last time in 2016. With this performance, Adams claimed his spot as a leader in 2017.
Notre Dame is going to make changes this offseason. No matter how big they are, things are going to be different. Josh Adams is something that isn't going anywhere. This man is just getting started.
Maybe his entire 2016 season was as successful as the end. It doesn't matter, though. Adams worked his way into being a dominant running back. If there's anything to be excited about next season, Adams is it.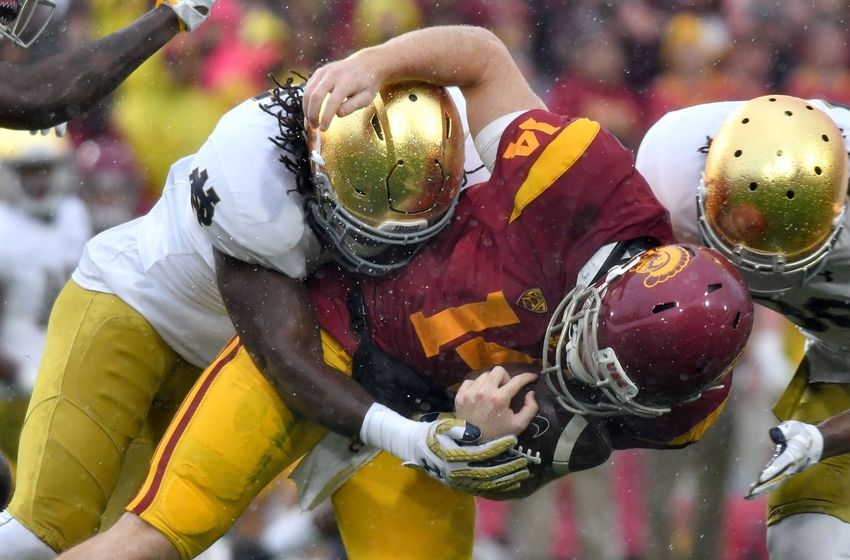 4. The defense isn't terrible when they don't want to be
Notre Dame's biggest issue this season was their defense. Allowing 45 points doesn't help their case. But if you watched them play USC, you'd see that they really played well.
The Irish defense really only gave up 24 points to the Trojans. 24 isn't great, but it's much better than 45. Compared to their entire season, 24 is incredible, especially against one of the best offenses in college football.
They weren't perfect throughout the game. Like usual, there were big plays and dumb mistakes. All-in-all, though, this defense played well. They shut down Sam Darnold for most of the game, throwing for only 205 yards and two touchdowns. It wasn't a complete shutdown. If Notre Dame wanted to stay in this game they needed to slow down the Trojans' offense, and that's exactly what they did.
This is one of the biggest concerns for the Irish during the offseason. They need to find a true defensive coordinator and some secondary help in recruiting. This unit has a lot of work to do, but they showed some light in their final game.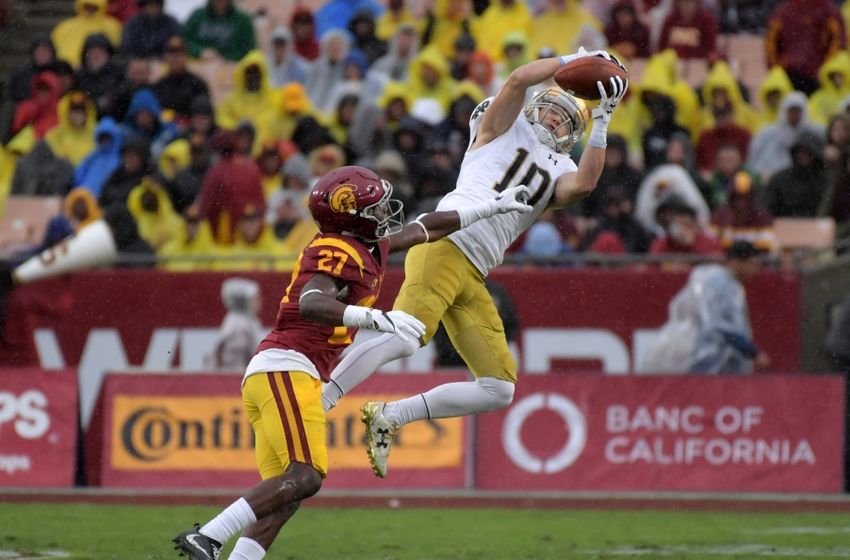 3. Notre Dame has some wide receivers to be excited about in 2017
If DeShone Kizer decides to return in 2017, he's going to have a lot of quality options. Corey Homes, Chris Finke, Kevin Stepherson, and Equanimeous St. Brown played some of their best football in Week 14.
These guys cover each aspect of a wide receiver core a team would love to have. St. Brown looks more and more like Will Fuller each week. Finke is finally getting involved and proving to be a great set of hands. Stepherson and Holmes are just all around playmakers.
Each one of these players is a top receiver on most teams. Notre Dame has been known to have great receiving units, but this one could end up being the best. They're all young, and over the next two years, they should develop into one of the best groups in the country.
When Kizer decides what he's going to do next season, he should take this unit into consideration. If he returns, this offense could be the best in college football.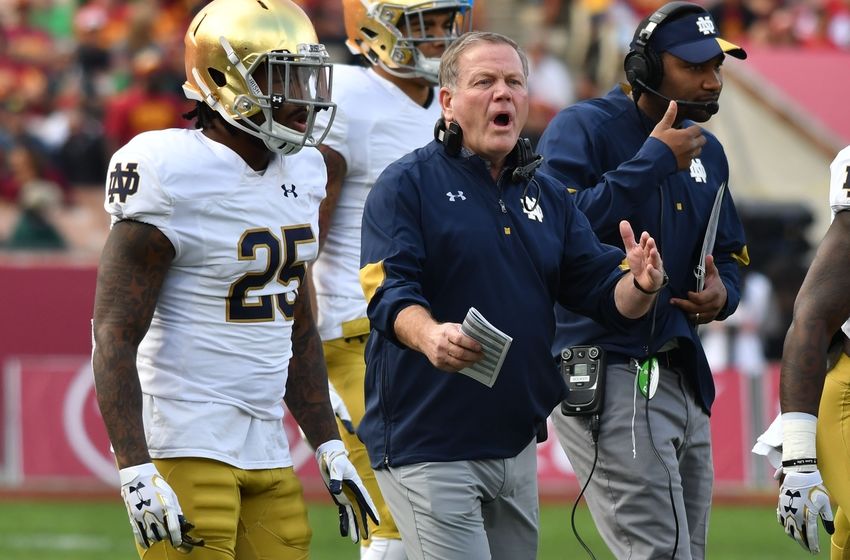 2. It's time for a coaching change
Brian Kelly has to go. You know it. I know it. Everyone knows it. It's a shame it lasted this long. Every problem the Irish have stems from the head coach, and Kelly has not done anything to solve them.
He's not worthy of a head coaching job, and it's been apparent for years. He's a terrible play caller and has never been able to control a team. Some people want to put the blame on the defense and Kizer, but it's Kelly. Nothing goes this wrong with a football team without the head coach being the problem.
If Notre Dame didn't have a strong defense and lost a few games because of it, it would be understandable. But this team has lost week after week because of overall team play. Notre Dame doesn't deserve to be 4-8. They had so much talent heading into the season and such an easy schedule. This is all on Brian Kelly, and the school needs to fix it before it's too late.
There are options out there to replace him. Notre Dame can't wait to move on from the Brian Kelly era.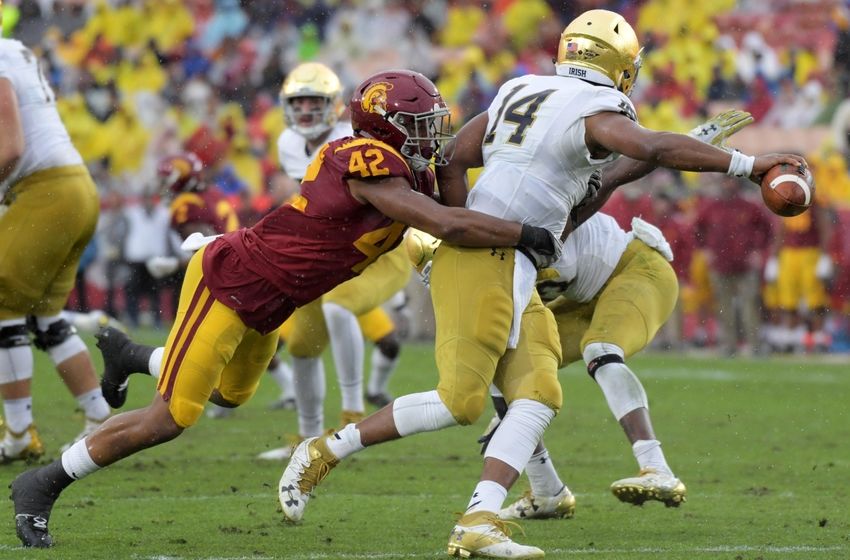 1. DeShone Kizer is NOT NFL ready
DeShone Kizer showed us once again that he's not mentally prepared for the next level. He has all the physical attributes an NFL quarterback requires. When it comes to decision making, though, he isn't there yet.
This could be because of his lack of teaching over the last two seasons. Brian Kelly has produced some good quarterbacks, but none that were NFL players. Kizer needs to stay at Notre Dame and hope they hire a coach that can develop him into the great passer he can be.
He's a projected top 10 draft pick, and we all understand if he wants to take that opportunity before it's too late. He's going to get better and stay up on people's draft boards. Right now, he needs to finish developing before he gets to the NFL and isn't able to adapt.
His interception in this game was his fault. Some of Notre Dame's worst offensive plays were his fault. He showed throughout the entire game that he isn't ready to make in-game decisions. Give him another year, and he's going to be one of the best players in the NCAA. But if he leaves early he's going to regret it.
This article originally appeared on