Notre Dame vs Army Live Stream: Watch Irish vs Black Knights Online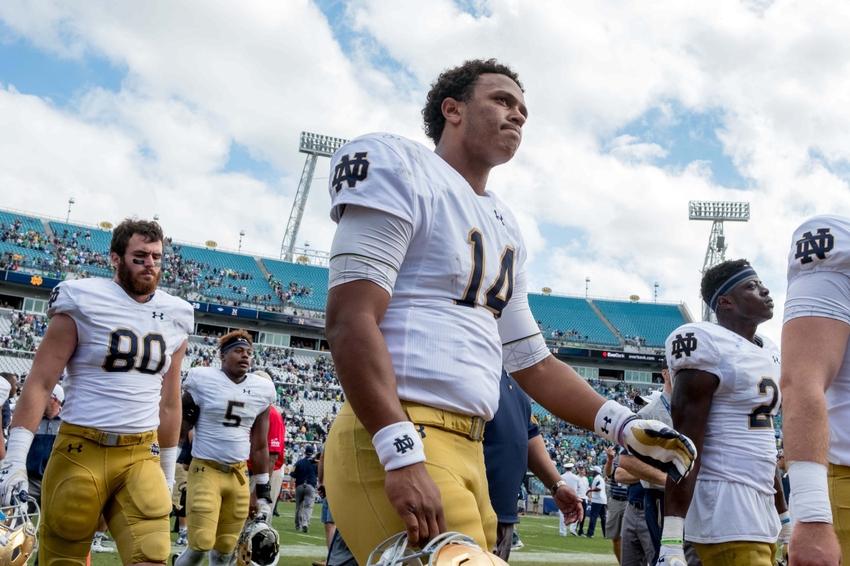 Here's how to watch FBS Independents matchup, Notre Dame vs Army, online.
In what is already known as one of the most disappointing seasons in Notre Dame history, the Irish look to bounce back from a Week 10 loss in their Week 11 matchup with Army. As quarterback DeShone Kizer looks to continue his impressive season, his hopes will be to keep bowl contention alive for the Irish.
With 2,261 passing yards and 26 total touchdowns in his stat book so far this season, the junior gunslinger is hoping to turn this Irish season around with three games remaining. Alongside him in the backfield, is sophomore running back Josh Adams. Adams leads the Irish with 538 yards and two touchdowns while averaging 5.2 yards per carry.
On the other side of the ball, Notre Dame's defense is looking to finally show some light this season. As a unit which averages 27.7 PPG to opposing teams, this defensive squad knows they need to step it up if they want to win these last three games.
Even with trailing Army by two games, Notre Dame is 14 point favorites heading into Week 11. Even with the Irish's lackluster defense, it seems the spread has Notre Dame pulling out a victory. This could be because of Army's inability to pass the ball. Army's 2,881 total rushing yards and 544 carries make it's pretty easy to detect the Black Knight's game plan. This is a team that lives by the triple option, and who rarely tries anything down the field.
Being able to focus on one element of an offense instead of the entire package may benefit the Irish defense. If they're able to go up early and force Army to throw the ball, they should be in good shape.
This game isn't over yet, though. At 3-6, Notre Dame has been a guessing game all season. It's nearly impossible to say this team will win easily, as they've shown all season they can't. On paper, this 3-6 vs 5-4 battle doesn't look appetizing. Don't count it out, though. The Fighting Irish and the Black Knights rarely seem to upset. Look for this game to be one of the most competitive matchups of Week 11.
Want your voice heard? Join the Slap the Sign team!
Here's how to watch Notre Dame take on Army:
Date: Saturday, November 12
Start Time: 3:30 PM EST
Location: San Antonio, TX
Venue: Alamodome
TV: NBC
Live Stream: NBC Sports
This article originally appeared on