Week 3 picks: UCLA ends BYU magic; will Auburn rebound at LSU?
Week 3 of college football is upon us, and our picks are in.
Each Thursday, FOX Sports' panel of Stewart Mandel, Bruce Feldman, Joel Klatt and Jim Ross will make the calls on who'll win the weekend's most intriguing matchups.
You can also find predictions for every Division I FBS game for the coming week here, courtesy of WhatIfSports.
In addition, Mandel and Feldman will dive a little deeper into the games with their picks against the spread.
Without further ado, here are this week's straight-up picks: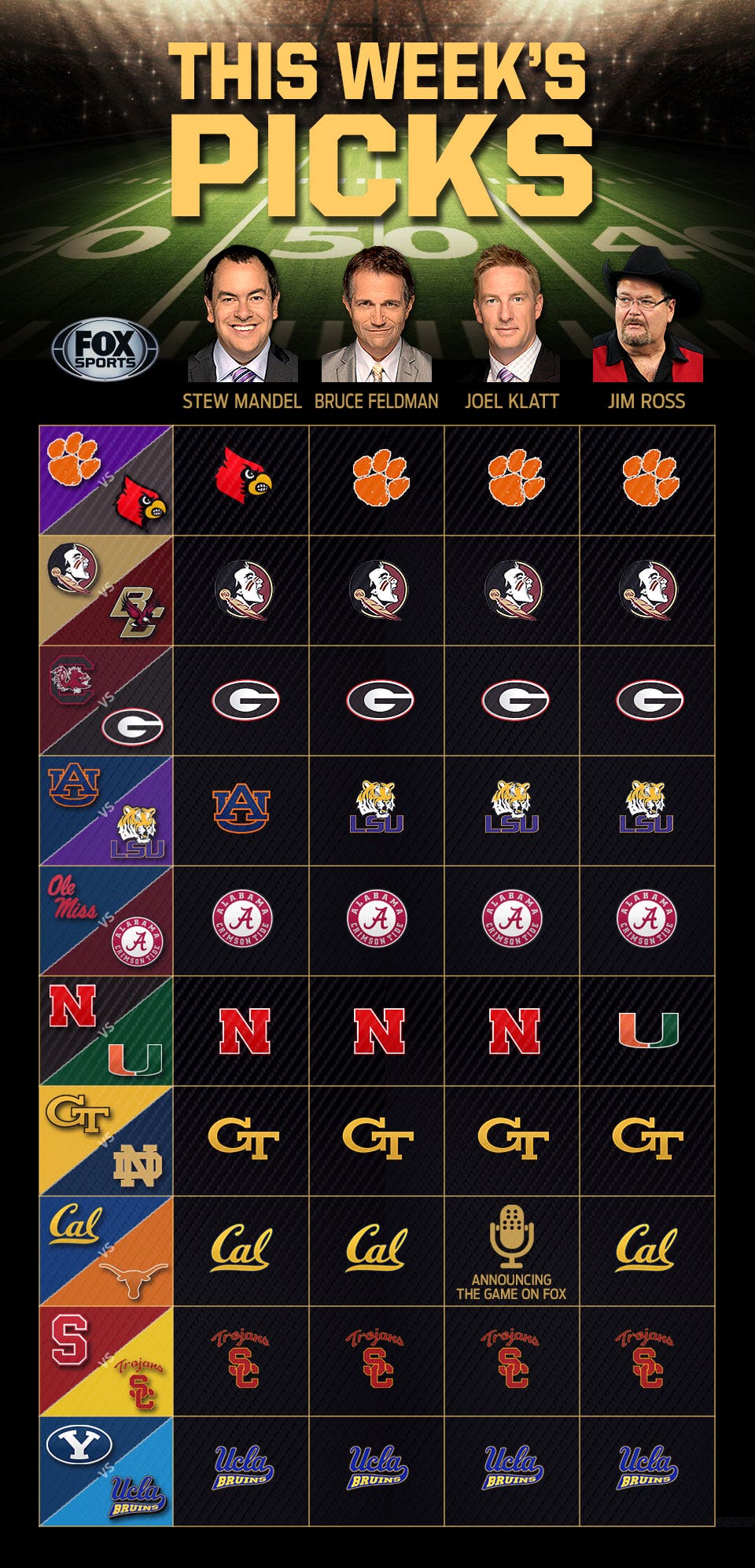 PICKS AGAINST THE SPREAD
SOUTH CAROLINA (+17) at GEORGIA
Mandel: Georgia is the better team and playing at home, but the Dawgs never seem to make it easy against Steve Spurrier's squad. At least their defense will dominate. Georgia 16, South Carolina 6
Feldman: Nick Chubb will be the best player on the field while Steve Spurrier's team doesn't have enough on offense to keep up. Georgia 34, South Carolina 20
AUBURN (+7) at LSU
Mandel: LSU QB Brandon Harris threw for just 71 yards against Mississippi State. That lack of balance is not going to cut it against Auburn's talented defensive front. Auburn 21, LSU 16
Feldman: Auburn QB Jeremy Johnson has been dreadful, but my hunch here is that he'll be a lot sharper this time around. Still, I'll go with Leonard Fournette being the difference in the fourth quarter. LSU 28, Auburn 24
OLE MISS (+6.5) at ALABAMA
Mandel: The Rebels' offense will come back to earth against 'Bama, especially if tackle Laremy Tunsil does not play. The Tide will start slow before pulling away. Alabama 26, Ole Miss 14
Feldman: Hugh Freeze will try to exploit his receivers against the 'Bama secondary, but I think Nick Saban's D can hold up. Also, look for the Tide to wear down the Rebels' D in the second half. Alabama 23, Ole Miss 13
NEBRASKA (+3.5) at MIAMI
Mandel: Through two games Miami has converted just 6-of-24 third downs. While its offense sputters, Nebraska's Tommy Armstrong Jr. looks noticeably improved. Nebraska 31, Miami 24
Feldman: I was tempted to pick Miami because I think the 'Canes have the edge at QB with Brad Kaaya, but the 'Canes' run defense looked very shaky against FAU last week, especially with the Owls playing with their backup QB. And RB Terrell Newby ran wild for the 'Huskers, who have a better O-line than the Owls did. Nebraska 21, Miami 20
GEORGIA TECH (-2.5) at NOTRE DAME
Mandel: Notre Dame has the athleticism on defense to slow down QB Justin Thomas and the Jackets, but new Irish QB DeShone Kizer will struggle in his first career start. Georgia Tech 27, Notre Dame 24
Feldman: DeShone Kizer came through to help rescue the Irish last week, but Tech is a much better team than what ND faced last week at Virginia. Georgia Tech 21, ND 13
CAL (-6.5) at TEXAS (7:30 p.m. ET Saturday, on FOX)
Mandel: Texas' offensive resurgence against Rice was a bit of a mirage – it scored 42 points on 277 yards. Jerrod Heard will not be able to keep pace with Jared Goff. Cal 42, Texas 20
Feldman: Expect a fired-up Texas at home, but ultimately Cal has the much better triggerman in Jared Goff and the more dangerous receivers. Cal 24, Texas 21
STANFORD (+10) at USC
Mandel: Not only is Stanford's offense a work in progress, but its inexperienced defense is not brimming with pass-rushers like years past. Cody Kessler could go off. USC 35, Stanford 20
Feldman: The Trojans face a much tougher test than what they had in the first two weeks, but Cody Kessler and a solid O-line should be more than up to the task. USC 34, Stanford 17
BYU (+17) at UCLA (10:30 p.m. ET Saturday, on FS1)
Mandel: Tanner Mangum's story is a lot of fun, but this is where the joyride ends. BYU's defense will not be able to stop the combo of Josh Rosen and Paul Perkins. UCLA 41, BYU 23
Feldman: The Cougars have been on a wild emotional ride the past two weeks, but expect the Bruins to put them in too deep a hole to get out of this week. UCLA 31, BYU 20
CLEMSON (-6.5) at LOUISVILLE
Mandel: The Cardinals are 0-2 and struggling offensively, but Clemson has not faced real competition and must travel after a four-day week. Louisville 27, Clemson 24
Feldman: The Cards' D has been shaky and Bobby Petrino's offense hasn't been able to generate any big plays. I'll go with Deshaun Watson and the more explosive team. Clemson 34, Louisville 24
Final score: Clemson 20, Louisville 17
FLORIDA STATE (-7.5) at BOSTON COLLEGE
Mandel: BC has allowed just 102 combined yards so far – to Maine and Howard. FSU has its issues but should fare much better. Florida State 21, Boston College 14
Feldman: First real test for Everett Golson as a 'Nole. I think he'll respond pretty well, but BC will keep it tight. Florida State 23, Boston College 17
Final score: Florida State 14, Boston College 0
UPSET SPECIALS:
LOUISIANA TECH (+9.5) at KANSAS STATE
Mandel: Bill Snyder's team is still finding its identity with new QB Joe Hubener. Louisiana Tech comes to town with veteran Jeff Driskel and a host of offensive weapons. Louisiana Tech 27, Kansas State 20
FLORIDA (-3.5) at KENTUCKY
Feldman: Last week, the 'Cats snapped their five-year road losing skid at South Carolina. This week, they'll end another drought by displaying more firepower, led by RB Boom Williams, than the Gators. Kentucky 20, Florida 14
SEASON RESULTS:
Mandel: 19-3 (including upset picks)
Feldman: 16-6 (including upset picks)
Klatt: 13-5 (minus games he called on FS1)
Ross: 11-9