Notre Dame Football: Why I'm Optimistic About The Irish In '17 – Part 2 – Offense
Kevin Sinclair/FanSided via Slap the Sign

Fansided
The Notre Dame offense has what it takes to win big this year.
Many important pieces return to provide elite talent. Staff has done a great job in terms of building depth as well as bringing in enough "stars" to be successful.
I predict Notre Dame will field a more talented squad who will be deployed in more a suitable fashion in '17.
Offense
Let's start with Brandon Wimbush.
All indications are that this kid is going to be a good one. Wimbush has displayed a big arm, elite running ability and leadership qualities.
In '16, Wimbush ran Kelly's offense in scout team which they provided him with game week type preparations in order to get him ready to take the wheel this season.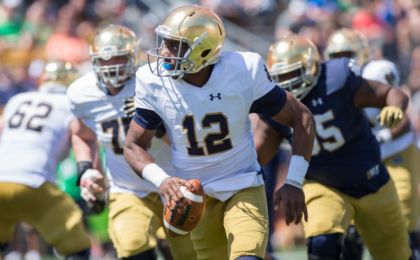 Alize Jones was one of his main targets in scout as he was academically ineligible to play last year. He will remain a top target as well as other tight ends in Chip Long's new offense.
Long likes to utilize multiple TE's and Notre Dame happens to have 5 former high school All-American's at that position.
Equanimeous St. Brown should take another step forward and become a big name in college football. I expect him to reach the 1,000 yard mark in '17.
He has a lot of talent around him. Stepherson, Chase Claypool and a healthy McKinley provide a loaded X WR spot. I expect a bit of a rotation here as they're all too talented to keep off the field. I'd be surprised if Chase Claypool didn't make several big plays in '17.
C.J. Sanders started last season with a bang but disaperaed later in the season. I expect him to find his game and get back to making plays. He's a threat to points on the board every time he catches the ball.
The offensive line may do a bit of a juggle by moving Alex Bars inside to guard and let Eichenberg, whom I predict will get the nod, and Kraemer to earn the star at right tackle.
However they end up lining up, they will have their best 4 starters from '16 on their starting unit with an upgrade at the 5th starter spot. This line will boast a lot more experience in terms of starts in this league as opposed to last year. They also have very good depth if injuries arise.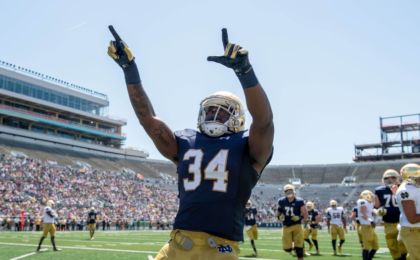 Josh Adams was banged up last year but will be returning healthy with a lot of considerable experience to lead a run-play action offense which Long has expressed he will run.
As well as the run first emphasis, Long likes to lineup in two-back sets and get them involved in the pass game. Kelly also referenced this in a recent press conference.
With Folston no longer around, Dexter Williams will be counted on to provide a nice spark to the offense.
Dex showed some elite skills in his slightly limited carries last season. I expect him to truly emerge as a dynamic running back. He put in a ton of work last off season and I expect him to do the same during this one.
I'm anxious to see Tony Jones jr. Coming from IMG Academy, possessing great size and receiving praise from Kelly last Summer are all good indications that he could be a great player for Notre Dame when called upon.
Click here to watch Tony Jones Jr.'s Hudl Highlight film here
With important players; Brandon Wimbush, Alize Jones, Equanimeous St. Brown, Josh Adams and more, all being upperclassmen who now have good cohesion and familiarity with one another, I expect this offense to play fast with confidence and good rhythm.
Chip Long's run-play action offense provides a great fit for a team with such strength up front as well as an embarrassment of riches at the tight-end position.
This offense has the talent, balance, depth and scheme that fits, to be one of the best in college football.
This concludes Part 2. Stay tuned to SlapTheSign.com for Part 3 and follow up articles on Notre Dame's 2017 recruiting class.
This article originally appeared on