Notre Dame Football: Shamrock Series Uniforms to be Worn Against Army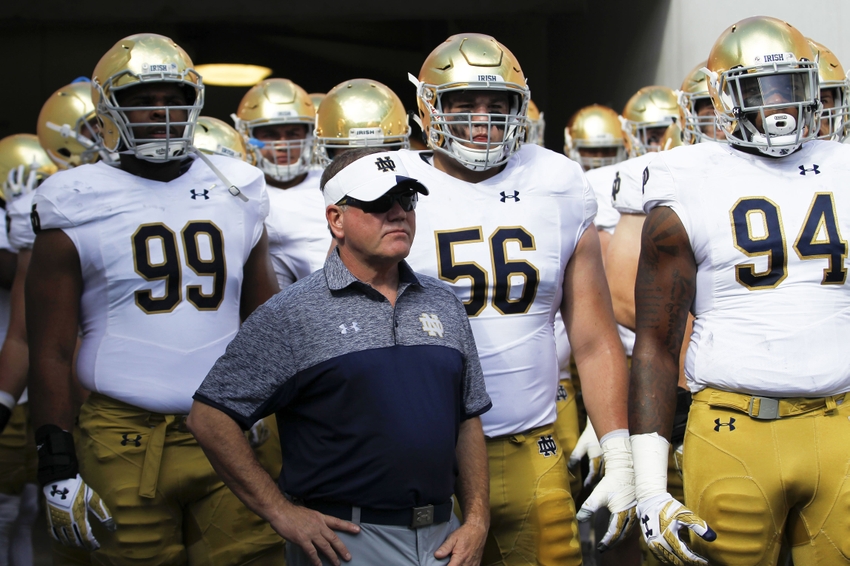 Since 2009, the Shamrock Series uniforms have become tradition for the Notre Dame Fighting Irish.
This season, the Fighting Irish will display their 2016 Shamrock Series uniforms in Week 11 against Army in San Antonio.
As Notre Dame tries to turn this season around one last time before being eliminated from bowl contention, they will wear their most spirited uniforms yet. This season, Notre Dame's Shamrock Series, created by Under Armour, feature a helmet hand-painted with the illustration of motif above Basilica doorway.
A CLOSER LOOK: The Helmet

The #ShamrockSeries helmet is hand-painted illustration of motif above Basilica doorway. pic.twitter.com/BRTmbol9nP

— Notre Dame Football (@NDFootball) July 22, 2016
As usual, the rest of the Shamrock Series uniform is designed with unique shades of green and different fonts.
As Notre Dame looks to bounce back from their loss to Navy, they'll be playing in style. With a rough season under their belt so far, the Irish are hoping their Shamrock Series uniforms will bring them luck.
In this week's "Style Guide" presented by Campus Insiders, Notre Dame's Shamrock Series is one of the top four uniforms of Week 11 in college football. If the Irish can play as good as they'll look, South Bend should be a happy place on Saturday.
This article originally appeared on