Notre Dame Football: Irish face NCAA Sanctions, Lose 2012-2013 Wins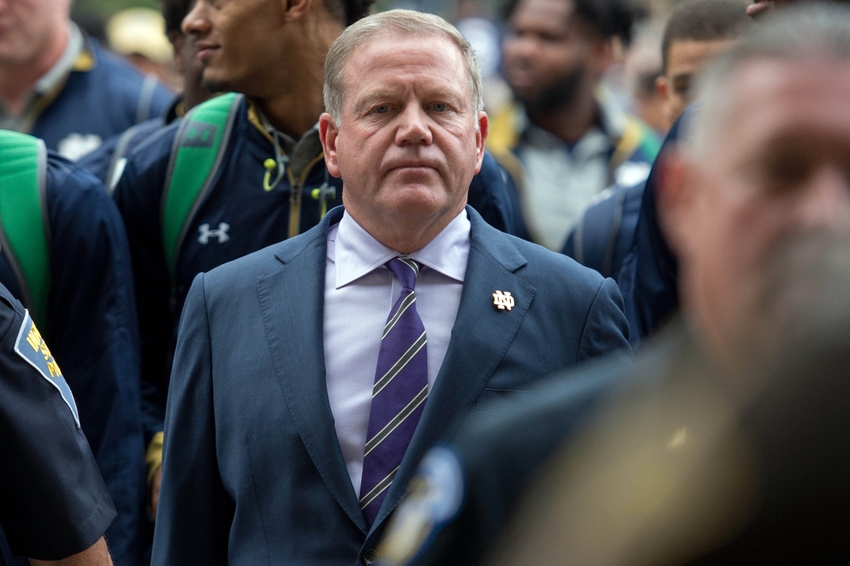 Today the NCAA showed no mercy to the already struggling Notre Dame team.
According to the NCAA, a former student athletic trainer for Notre Dame violated NCAA ethical conduct rules. She committed academic misconduct for two football players and provided "impermissible academic benefits."
On top of those one football player had committed academic misconduct himself.
Because of the misconduct, athletes competed during the 2012-13 and 2013-14 season while being considered ineligible.
The athletic trainer is claimed to have provided academic assistance while she attended the University and after she graduated.
We do not have the full details of what happened and we probably never will, but this sounds as if the athletic trainer was only helping the students with school work. Whether she was just helping, tutoring, or doing the work for them, we don't know.
The NCAA says, "She signed documents outlining that she should not complete academic work for student-athletes, but the panel noted she provided the assistance and did not ask the university's compliance representatives if her actions would violate university and NCAA rules."
Who knows if she knew she was in violation of the description or not. Never the less the NCAA caught her doing what she couldn't, and they're not holding back.
Some of the major penalties issued by the NCAA are:
One year of probation from November 22, 2016, to November 21, 2017.
A two-year show-cause order for the former student trainer. During that time, if any NCAA school hires her they must appear with her before a committee on Infractions panel.
Until November 21, 2018, the former student trainer may not accept assistance in recruitment of prospects or support to student-athletes. She cannot receive any athletic benefits or privilege that is not available to the public. The University must ensure that she is not involved with the athletics program.
The records in which the ineligible student-athletes participated must be vacated. (2012-13 and 2013-14 seasons).
A $5,000 fine.
Brian Kelly's reaction
In today's press conference Brian Kelly said that he feels the NCAA has been too harsh on the university. He also said that he's not quite sure what goes along with the
He also said that he's not quite sure what goes along with the one-year probation. As of now, Notre Dame will not lose and scholarships or bowl eligibility.
Kelly also said that the University would appeal the current penalties because they believe they are excessive.
Of course coming during his worse season at Notre Dame, some believe this could be what causes the separation of Kelly and the Irish, so WNDU's Angelo Di Carlo asked.
I asked Brian Kelly if he thinks he will return next season as Notre Dame's head coach: "I have no reason to believe that I'm not."

— Angelo Di Carlo (@angdicarlowndu) November 22, 2016
The rumors will fly but Kelly seems to still be confident that his relationship with the university will continue.
This article originally appeared on