Notre Dame Football: Fighting Irish Should Keep Brian Kelly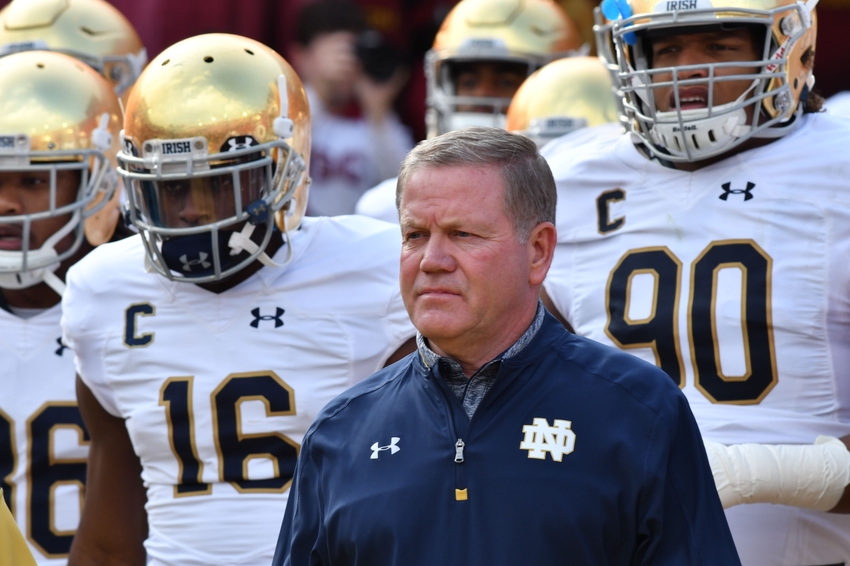 Notre Dame has just completed one of its worst football seasons ever. Now, the Irish's coaching situation is one of the biggest questions in college football.
They suffered their first losing season since 2007 and questions about head coach Brian Kelly have been in the news for weeks. Some people think Kelly should be fired.
I believe Brian Kelly should continue as Notre Dame's head coach. This is the first losing season Kelly has had in his seven years of coaching the Fighting Irish. Just four years ago, he had the 2012 team go undefeated during the regular season before being soundly defeated by Alabama in the National Championship game.
The fact is he had the team in the running for the National Championship. Also, he guided the 2015 team to a 10-2 regular season record before losing to Ohio State in the Fiesta Bowl.
Kelly has recruited well. Because of Notre Dame's strict academic requirements, Notre Dame will never be able to recruit like Alabama and other SEC schools who have top five classes year in and year out.
Kelly's recruiting classes are usually in the top fifteen every year. These classes give the Fighting Irish the opportunity to have very successful teams.
Notre Dame has a very god recruiting class ready to sign this coming February. One of the dangers in firing a head coach is the potential for recruits to leave their verbal commitment and attend other schools.
Most Notre Dame recruits pick Notre Dame because of the school and all it represents. But it only takes losing three or four key recruits to minimize a recruiting class. If Kelly stays at Notre Dame, just about all the recruits look to remain with the Irish.
The greatest amount of problems with the 2016 team was the defense. Brian VanGorder, who was a defensive coordinator with the Atlantic Falcons and the Georgia Bulldogs before coming to Notre Dame, ran a much too complex defense. Countless players were quoted as saying the defense was very complicated.
I believe Van Gorder's defense made defenders have to think rather than react. He needed to simplify the defense and never did. After the loss to Duke, Kelly finally fired Van Gorder and named Greg Hudson as interim defensive coordinator.
The defense improved but not enough to change the season. I think the defense's self-confidence was shot because of the early losses. Brian Kelly has stated he will look in-house and externally to find a new defensive coordinator. Kelly's selection will determine how successful Notre Dame will be in the next few seasons.
Hopefully, Brian Kelly will review his entire program and the people in it. In a way, not playing in a bowl game may be a positive point for Kelly and Notre Dame. He can concentrate on hiring a defensive coordinator, put the final touches on the 2017 recruiting class, and review and maybe improve on his current practices and procedures.
This bad 2016 season can really be the beginning of a successful 2017 season. One where the Fighting Irish successfully compete for a playoff berth.
This article originally appeared on