Notre Dame Football: A Look Back at 1966 National Championship Team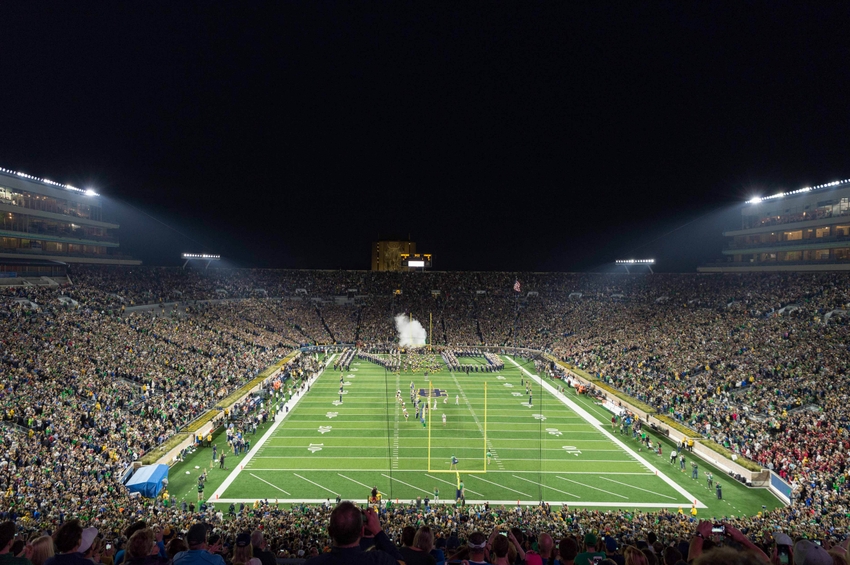 In 1966, Notre Dame had one of the greatest teams in football history. Slap the Sign takes a look back at one of the best Irish teams of all-time.
This is to honor one of the greatest, if not the greatest football team in Notre Dame history. That is the 1966 team, coached by Ara Parseghian. The 1966 team won the National Championship with a 9-0-1 record, and the journey they made was remarkable. Let's take a look at this tremendous team and their season.
First, we need to review that football era. In those days, the freshman did not play on the varsity. Colleges had freshman teams who played a limited schedule. In those days, teams ran the ball much more than pass it. The offense had five offensive linemen, and after that, there were great differences. The quarterback took direct snaps and had three running backs behind him – two halfbacks and a fullback. There were only one wide receiver and a tight end. On defense, most teams ran a 4-4-3 and that was the defense Notre Dame used.
The Fighting Irish started their season against Purdue, who would go on to play in the Rose Bowl. Notre Dame introduced sophomore quarterback Terry Hanratty and sophomore wide receiver named Jim Seymour. In the Purdue game, who were led by future NFL Hall of Famer Bob Griese and All-American halfback LeRoy Keye, Hanratty completed 13 passes to Seymour for 276 yards and two touchdowns. Seymour would go on to catch 48 passes for 1,247 yards and eight touchdowns that season. Notre Dame would go on to win the next seven games show below:
Notre Dame 35 – Northwestern 7
Notre Dame 35 – Army 0
Notre Dame 32 – N Carolina 0
Notre Dame 38 – Oklahoma 0
Notre Dame 31 – Navy 7
Notre Dame 40 – Pitt 0
Notre Dame 64 – Duke 0
After the November 12 win against Duke, the Fighting Irish were undefeated and were about to play 8-0 and number two ranked Michigan State in East Lansing who were also the 1965 National Champions. Throughout October and early November, this game was building up in the national media. The game was played on November 19, 1966 and was nationally televised.
The game was considered the game of the century. Notre Dame played the game without three starters. Quarterback Tery Hanratty, top rusher Nick Eddy, and center George Goeddake. The Irish fell behind 10-0 in the first half even though they killed a field goal to make it 10-3 at halftime.
The quarterback was Coley O'Brien a diabetic who threw a 31-yard touchdown pass to backup running back Bob Gladieuax. The game was 10-10 with a minute and a half to go and Notre Dame on their own 31-yard line. Michigan State was number two in the country and could not play in the Rose Bowl because they had played in it in 1965, and were not allowed to repeat a bowl.
Notre Dame had one last game at Southern Cal. Ara Parseghian made the decision that if N.D. had a tie, they were already number one and could defeat Southern Cal to solidify a National Championship. Notre Dame ran the ball and the game ended in a tie and national media heavily criticized Parseghian.
The next week Notre Dame trounced a good Southern Cal team 51-0. The following week the AP and the coaches poll voted Notre Dame number one. Coach Parseghian was vindicated and Notre Dame had its eighth National Championship.
Notre Dame scored 362 points and gave up only 38 points in 10 games with six shutouts! Their giving up 38 points in a season will probably never be duplicated.
Let's hope future Notre Dame teams learn the history of this great team. If they do and play the same way, maybe Notre Dame fans will be celebrating another National Championship season soon.
This article originally appeared on