Notre Dame Football: 5 Players, Not Named DeShone Kizer, Who Could be Drafted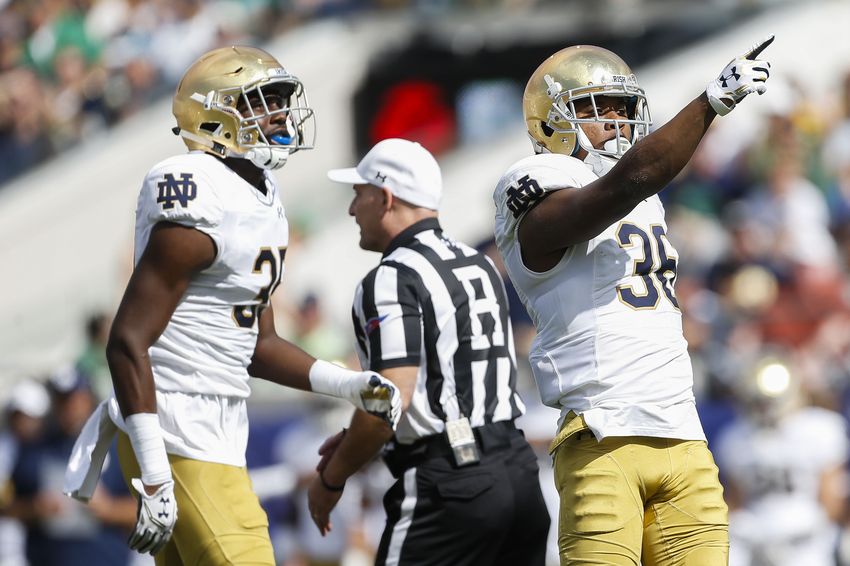 Notre Dame football has always been a large contributor to the NFL draft. Year after year they send quality athletes to the pros that have long and stable NFL careers.
From Joe Montana and Jerome Bettis to Zack Martin and Harrison Smith, the Fighting Irish are one of the largest manufacturers of NFL talent. This season shouldn't be any different.
The biggest name coming from South Bend this April will be DeShone Kizer, possibly. If the junior play caller decides to go pro a year early, he'll be considered a top 10 draft pick.
For the rest of Notre Dame, there are a few faces that may make their way to the NFL draft. They may not be a top prospect, but in seven rounds a lot can happen. The Irish always have multiple draft picks, and this year will be no different.
A terrible season is upsetting to fans, coaches, and players. But to NFL scouts it's not as big of a concern. A team can have a bad year and still have good players. Just because the entire team as a whole was a disappointment doesn't mean each player was. There are a lot of quality players on this team that were suffocated by a bad season.
Everyone is concerned about DeShone Kizer's decision and whether or not he will enter the draft. Meanwhile, the Fighting Irish have two other early-round projected draftees and others who are hoping to get their chance in the NFL.
Maybe all of these players won't get their chance through the draft. That won't stop them from living their dream in the NFL. With the atrocious season, Notre Dame had, having players succeed at the next level is a positive everyone can look forward to.
If Kizer decides to leave early and pursue his career in the NFL, he'll be drafted. There are other players out there that could quickly make themselves a household name in April 2017.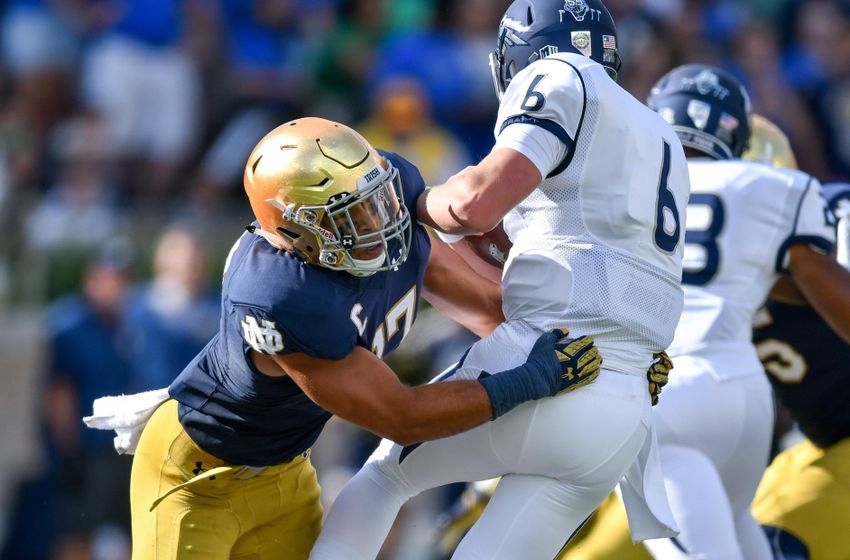 17
James
Onwualu
Linebacker,

Notre Dame
James Onwualu is everything you want in a leader. The senior standout made most of his noise on special teams throughout his career but was one of the lone bright spots in the Notre Dame defense this season.
Onwualu is slightly undersized for a linebacker, and without top round potential could struggle to make it into the seven rounds. That doesn't mean he isn't going to make it in the NFL. Onwualu has everything a coach wants. He's one of the hardest working players in the NCAA, and no matter what, shows perseverance and determination to keep his team on the right track.
He finished his senior season with 122 tackles, three sacks, and three forced fumbles. Coming into the season, he was thought to be nothing more than a captain because of his mentality. But he's proven he has star capability on the field as well as off.
His value at the next level is a special teams captain. He's a born leader and has held this Notre Dame team together better than most of the coaching staff. If he can continue to play as well as he did in 2016, he could easily find himself in an NFL defensive unit next season. If not, he's still got a high ceiling as a backbone for an NFL franchise off the field. A value that goes farther than thought in the pros.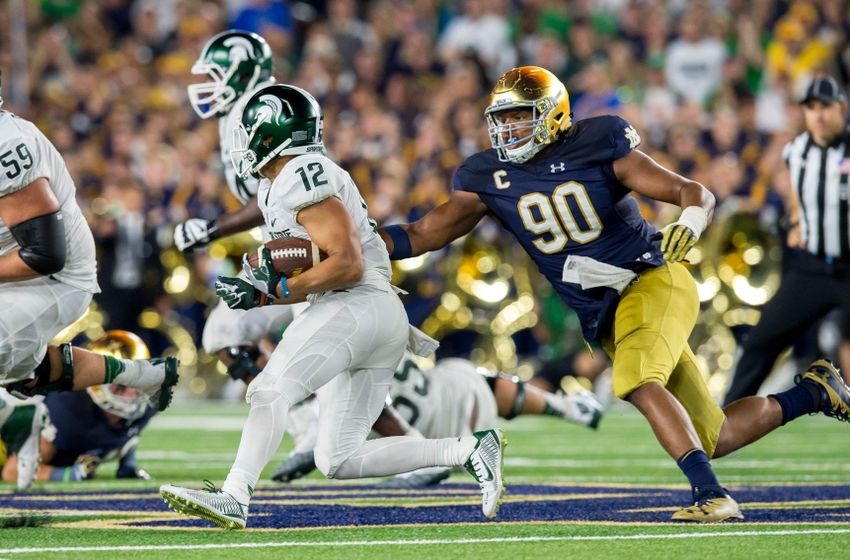 90
Isaac
Rochell
Defensive Lineman,

Notre Dame
Notre Dame's defensive captains may not have been first-round talents, but they were still excellent football players. At 6'3″ 290 pounds, Isaac Rochell is considered a small defensive lineman. His small size makes it hard for scouts to place him as an inside or outside lineman in the pros, which hurts his draft stock.
What Rochell is is a run-stopper. He has the strength to clog up the lane against any team. Throughout his entire Notre Dame career, he's shown that he can manhandle most offensive lineman. He may be a tad too slow to chance down quarterbacks, but when the ball comes up the middle, he's right there to stop it.
Unlike Onwualu, Rochell has the potential to be a third or fourth-round pick in April. Many believe that once he bulks a little more, he will be a solid defensive lineman. Some think that once he hits the next level, Rochell will convert to a defensive end. His best shot may be in a 4-3 scheme, where he has the option to rush inside if needed.
His constant improvement has gotten him to where he is now. If he continues to work, he should find himself being one of the first Notre Dame players off the board.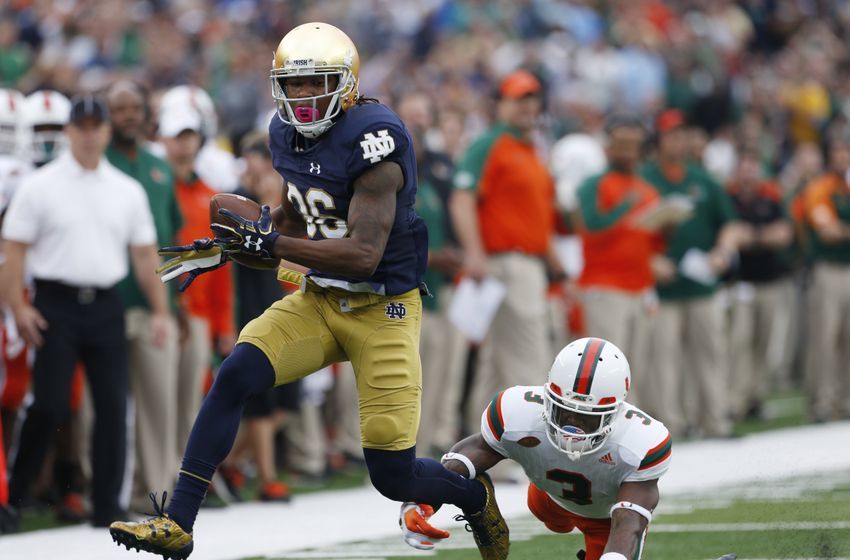 36
Cole
Luke
Cornerback,

Notre Dame
Cole Luke has impacted the Notre Dame defense for four straight seasons. Although he flew under the radar for most of his college career, he's competed well against some of the best wide receivers in the NCAA.
Luke is the typical cornerback. He's a strong cover corner, but when needed he can make an open field tackle. At 5'11", with decent speed, he's the perfect candidate for an early round draft pick. It's hard to say he'd be a first-rounder, but if enough teams are in need of secondary help, he could find himself drafted on Day 1 of the draft.
He has all the potential to one day be a Pro Bowl caliber cornerback. His experience is what is most intriguing about him. When scouts profile this senior defensive back, they're going to see him against players like Mike Thomas, Ty Montgomery, Jalen Strong, and more.
His resume is deep, and he's succeeded at Notre Dame. This past year the Irish's secondary was one of the worst in the nation, but it wasn't on him. When six players are arrested, and you're the only veteran alongside freshmen cornerbacks, teams tend to shy away from your side of the field.
Cole Luke is one of the best Notre Dame players in this year's draft. Depending on NFL teams' circumstances, he could find himself being picked as early as the first-round. More than likely, he's a fourth-round draft pick at worst.
94
Jarron
Jones
Defensive Lineman,

Notre Dame
For a Notre Dame defense that struggled in 2016, they have a few guys who are likely to hear their name in April. Jarron Jones may not have started the season strong, but he finished it as well as anyone.
The 315-pound interior lineman was considered a first-round pick before the start of the 2015 season. That all ended when Jones went down with a season-ending knee injury. With a healthy 2016 behind him, though, Jones could make his way back into the top-round discussion.
He's versatile, has a massive frame, and is athletic. Everything you need in a football player comes with Jones. In the NFL, he may be pushed farther outside to help him rush the passer more. He's quick for his size, which will help his future. In the NFL, he'll cut more and begin to work on being more of a powerful edge rusher or defensive end.
Jones is one of the Notre Dame players guaranteed to hear his name called early. He could go as early as late first-round, but likely won't drop below the second. He's NFL built. In the upcoming years, Jones could be one of the best Notre Dame alums in the National Football League.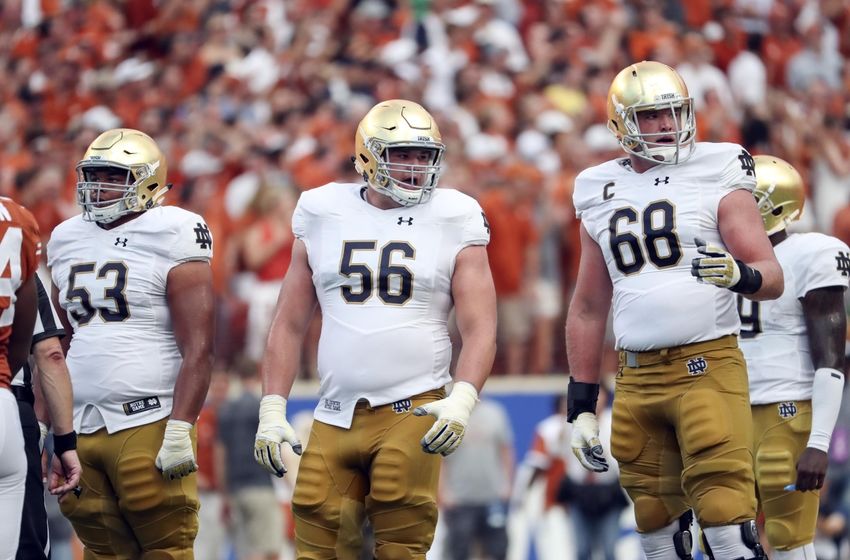 56
Quenton
Nelson
Guard,

Notre Dame
Notre Dame could have had two offensive linemen go within the first two rounds of the draft. Mike McGlinchey chose to stay in South Bend for another year, while Quenton Nelson decided to skip his senior season and go pro.
Nelson is the fourth-ranked guard on Sports Illustrated's NFL Draft Rankings. At 6'5 325 pounds, it's no surprise that he's a projected second-round pick.
Nelson was a major part of the 2015 Notre Dame offensive line that was a finalist for the Joe Moore Award and averaged 5.63 yards per carry. In 2016, the Fighting Irish continued their strong running attack by averaging 4.5 yards per rush, and who's leading rusher, Josh Adams, averaged 5.9 YPC.
If this future Sunday player stayed for another season, he'd likely be viewed as the top guard in the 2018 draft. It's hard to say leaving early is a bad idea, though, when you're projected to go within the first two rounds.
DeShone Kizer will easily be a first-round pick, and possibly a top ten selection. After him, Nelson is hoping to be the next Notre Dame player headed to the pros. He has a ton of upside. If pre-draft workouts and the NFL Combine go well, Nelson could work his way into the first-round of the 2017 NFL draft.
This article originally appeared on