How Brian Kelly locked in Notre Dame's biggest recruits of 2015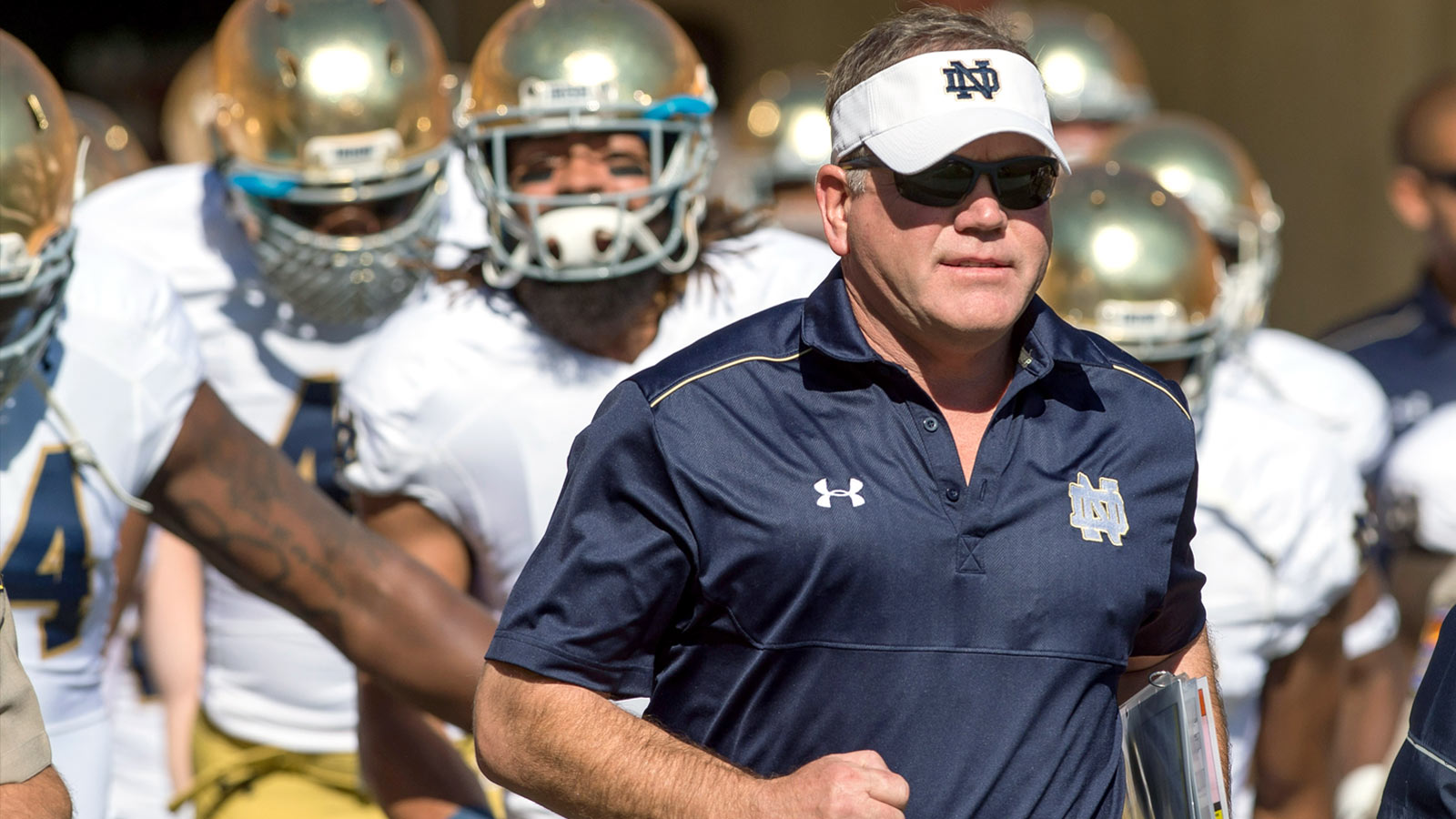 The most important recruiting trip Brian Kelly took this winter actually happened during the NCAA's mandated dead period, the time when college coaches aren't allowed to have face-to-face interaction with prospects or their parents.
Kelly wasn't breaking any rules, though. He was just being very proactive on Jan. 6, when the Notre Dame head coach, O-line coach Harry Hiestand, an ND academic adviser and Fighting Irish AD Jack Swarbrick flew to Las Vegas to do a very significant home visit with a touted offensive tackle tabbed as a four-star talent by most of the online recruiting sites. Kelly already knew the guy was about as much of a "can't miss" player as any he — or any other college coach — would sign this winter.
That's because Kelly's target, Ronnie Stanley, had already started 26 consecutive games for the Fighting Irish, including all 13 games in 2014, at left tackle and won ND's Offensive Lineman of the Year award. The 6-foot-5, 315-pound Stanley faced many of the nation's top D-linemen — with USC's Leonard Williams, Stanford's Henry Anderson and Louisville's Lorenzo Mauldin among them — and surrendered just one sack all season and registered 16 knockdown blocks. Stanley had such a strong season that many in NFL circles were expecting him to leave South Bend a year early to jump into the 2015 draft. Former NFL scout Daniel Jeremiah, now a draft analyst for NFL Network, called Stanley the best offensive tackle he studied all year.
"I've had great success keeping Michael Floyd here, keeping Tyler Eifert here, keeping Manti Te'o here and then last year I was disappointed about one of our players not staying," Kelly told FOX Sports. "I was not going to leave it up to fate anymore that somebody would understand from my perspective that you should stay for these reasons. I was gonna get on the road and make sure we did this."
Kelly's competition in these kind of recruiting battles aren't the powers of the Pac-12, Big Ten or SEC, but agents armed with reasons why a guy should leave college now. Kelly said it's a little like countering a rival school making its own pitch against you and "now there isn't that dead period because the dead period means re-recruiting your own guys."
Like any great recruiter, Kelly had a very well-thought out plan. That's also why he didn't come alone. ND's academic person explained why it would make more sense for Stanley — on schedule to graduate in May 2016 with a major in management-consulting — to stay in South Bend for one more season rather than try to get his degree later.
"They hear, 'Well, the NFL will pay for it,' but that's one part of it because there's really only so many things you can do off campus," said Kelly. "You have to physically come on campus for X amount of hours left in your degree. There are some specifics there that the academic adviser can talk about and there's a plan that we talked about. If you take these hours this semester, you take this in the summer and you take this in the fall, you have your degree.
"And then there's some little things in addition to [that]. You're able to get into OTAs because you'd already have your degree. You don't have to be in school. You can get a jumpstart on some other players that can't be part of an OTA practice in April and May. We can lay out an academic plan to have their degree before they start working out and getting ready for the combine."
Hiestand, a former NFL O-line coach with the Chicago Bears, walked Stanley and his family through the football side of what his focus would be. Kelly also had former ND star Zach Martin, who left South Bend after staying for a fifth year and just completed a standout rookie season for the Dallas Cowboys, call Stanley while they were all in Vegas.
"What we were trying to get from there is, what is that transition like? Zach taking his fifth year here was able to give our players a great perspective on how important that fifth year was in preparing him for the rigors of the NFL," said Kelly. "For Zach, it was a 20-plus-game season — four preseason games, a 16-game season and two playoff games. And they're not used to that. Everyone is talking about what this (college) season was like, but that isn't anywhere near what the NFL season is like."
Another key to Kelly's pitch came from Swarbrick, the school's AD. Notre Dame, as a few other programs had done for some top talent returning to school, was going to foot the bill for Stanley's loss of value insurance. Swarbrick explained how the loss of value works, Kelly said, and talked about "the university's willingness to continue to help and promote him anyway possible and show the institutional commitment to him from the highest level."
Stanley, though, wasn't Kelly's only stop on the recruiting trip. The ND contingent also flew to Indianapolis to recruit Fighting Irish D-lineman Sheldon Day, the anchor of their defensive front. As was the case with Stanley, Swarbrick also said the school would cover Day's loss of value insurance. However, with Day, the rest of the pitch was different since he was just a few classes from earning his degree. Kelly brought ND strength coach and defensive line coach Mike Elston to see Day and his family.
"Our strength coach was with us on that one because we wanted to look at some numbers from the Combine that we wanted to make him aware of," said Kelly. "We felt like we wanted to get him into (former Pitt All-American) Aaron Donald's numbers. It was, 'Right now let's say four teams really like you. If you start hitting these physical numbers, we think 20 teams are gonna really like you, and that's the net benefit for you.'"
Day said the process leading up to this decision was difficult, but ultimately his decision to return was easy: "I love this school, my teammates and this coaching staff," he said in a statement. "I just felt it was in my best interest to play another year for Notre Dame."
The one aspect Kelly didn't have to sell either guy on was that ND was in position to challenge for a spot in the College Football Playoff in 2015. Even though the Irish, depleted on defense by injuries in the second half of the season, lost their last four games of the regular season, they did defeat LSU in the Music City Bowl.
"We knew where we were after the Florida State game," Kelly said. "We felt like we had closed the gap physically in so many areas and then to lose some games the way we did was certainly disappointing. I think (beating LSU) was more of validation of where we were. Even though we had a number of setbacks, it was a validation of knowing we had made the progress that we thought we did. It clearly was a confidence builder for a lot of our younger guys."
The Irish return almost every starter from 2014 and also hope to get back star CB KeiVarae Russell and DE Ishaq Williams, two former starters who missed all of last season because of academic issues. The team even got a boost last Monday night watching Ohio State win the national title after defeating Alabama and Oregon in the playoff. Kelly says: "Any time an SEC school sees another SEC school win a national championship, it inspires them just as it does when a Midwestern team wins one. I do think it inspires those team that are geographically in the area."
That point was underscored when Stanley made his decision to stay at ND for the 2015 season official the day after the Buckeyes won their national title.
"This was a difficult decision," Stanley said in a statement. "My dream isn't just to play in the National Football League. I want to win a national championship. I've waited to this point so I could watch the actual game and see if I felt any emotion, and I felt a great deal. I am a competitor. I want to play on the top stage so I've decided that I'm returning to Notre Dame for my senior year. We've got a chance to have a special season next year. Many of my teammates are returning and I've made strong bonds with lots of them. If all of them weren't coming back this year it would've made it an easier decision to leave."
Bruce Feldman is a senior college football reporter and columnist for FOXSports.com and FOX Sports 1. He is also a New York Times Bestselling author. His new book, "The QB: The Making of Modern Quarterbacks," came out in October 2014. Follow him on Twitter @BruceFeldmanCFB.