Notre Dame is the trump card for the ACC Network's future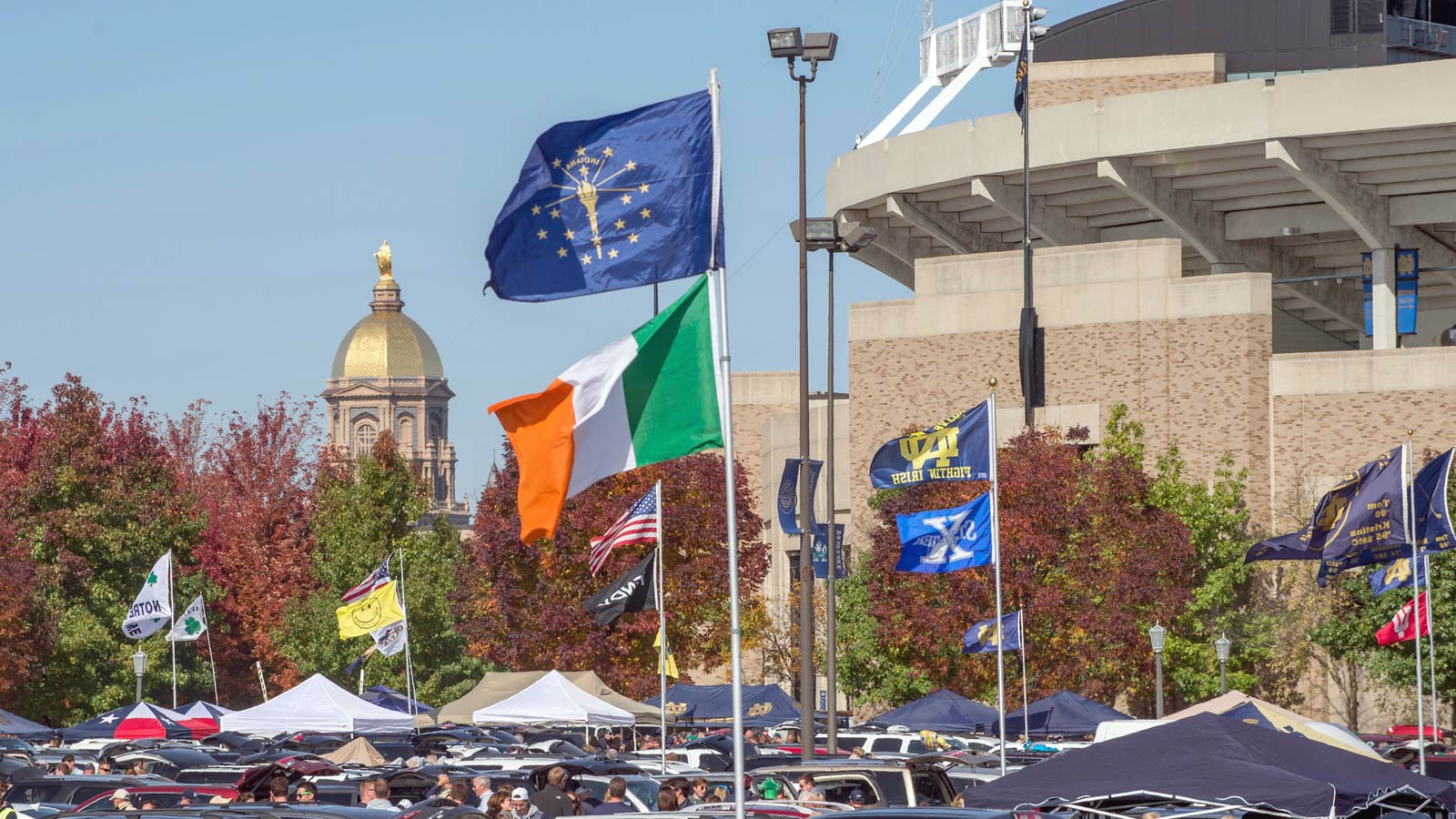 For years, whenever talk of a possible ACC Network came up, I mostly shrugged it off as a pipe dream. Why would a major entity invest hundreds of millions to build a channel devoted to a conference with a modest-at-best football following?
Even earlier this year, as buzz about an impending ACC-ESPN venture gained steam, I figured, well, it will probably be a new-fangled digital or over-the-top offering. No way is ESPN, having already lost several million subscribers to cord-cutting, going to try launching another traditional cable channel.
But here we are, days after the conference officially announced an honest-to-goodness linear network coming in 2019. Clearly, ESPN —€" which will fully own the network — believes it can be successful. And after talking to several sources with knowledge of the venture, my skepticism is waning.
Part of that is due to some wonkish cable details. ESPN strategically delayed the channel's launch to coincide with several of parent company Disney's expiring carriage deals with major providers. When it comes time to renegotiate, it can include the ACC Network as part of larger bundles with ESPN, ESPN2, etc.
This speaks to the unique appeal of ACC basketball, what with heavyweight brands like Duke, North Carolina, Syracuse and Louisville. ESPN networks carried 21 UNC regular-season games last year. Come 2019 it could shift a large number of those to ACCN. Folks in the state of North Carolina aren't going to storm their cable company over a UNC-Georgia Tech football game, but Tar Heels hoops? That's a different story.
Most important, the ACC holds one particular trump card that could eventually prove to be extremely lucrative: Notre Dame.
As soon as the ACC news broke earlier this week, speculation immediately turned to college sports' eternal question: Will this force the Irish to finally join a conference in football.
The short-term answer is no.
ACC schools will be getting a sizeable bump from forthcoming network revenue, and Notre Dame will receive a full share, commissioner John Swofford told the Daily Press. Deep-pocketed Notre Dame is not nearly as dependent on TV revenue as most programs, but even middling Power 5 programs currently receive more than the Irish's combined annual take from NBC ($15 million) and the ACC's ESPN deal ($6.2 million). Another $5-$8 million a year from the conference network will help it close the gap.
And as much as the skeptics roll their eyes, university leaders and alumni still value the exposure that comes from playing an independent schedule. This season, the Irish visit Texas, New Jersey, North Carolina, Florida and Southern California. Every other year includes a trip to the Bay Area, and recent seasons have seen them play games in Arizona, Colorado, Chicago and Ireland.
But as the years go by in college football's rapidly changing structure — one where a four-team playoff and a selection committee have supplanted polls and bowls in importance —€" Notre Dame may eventually conclude that independence is no longer a viable route. Especially given one of the committee's primary points of emphasis is … winning your conference.
And if and when that day comes, one conference essentially holds exclusive rights to the Irish.
Along with the network details, the ACC announced last week that its 15 members (including Notre Dame) extended their existing Grant of Rights agreement until 2036. Notre Dame's other sports aren't going anywhere for at least the next two decades. So if it at some point it wants to plant football in a conference, it's almost certainly going to be in the ACC.
"Obviously," Swofford said, "there's an open phone line for that to take place."
Much to its haters' chagrin —€" and in large part because of them — Notre Dame remains one of the sport's most consistently watched programs. According to Sports Media Watch, five of its games in 2015 —against Stanford, Clemson, Texas, Virginia and Temple — were among the three highest-rated college football broadcasts that week. Three others (USC, Pittsburgh and Georgia Tech) made the top five.
Were Notre Dame to join, suddenly the ACC Network would hold the rights to as many nationally regarded football brands — Notre Dame, Florida State, Miami, Clemson and, to a lesser extent, Virginia Tech —€" as any conference network, the SEC's included. That's likely to be desirable content no matter what direction the cable industry takes.
"I believe sports rights will continue to be the most valuable content," ESPN boss John Skipper said, "and I believe they will continue to appreciate in value."
If ESPN and/or the ACC is holding out hope for Notre Dame football, it's going to have to be a long play. Three years ago, the school extended its contract with NBC through 2025. Theoretically, the Irish could start playing a full ACC schedule before then, but the ACC Network would not hold rights to their home games. Not to mention NBC is paying for a national schedule.
Perhaps coincidentally, perhaps not, the CFP's 12-year contract runs through 2025 as well. Any major changes for both parties would likely take place then.
In the interim, ESPN figures to use Notre Dame to its advantage. Under the school's current agreement, the Irish play five ACC opponents a year. NBC gets the home games, but don't be surprised if ESPN starts shifting the road games to the ACC Network — starting perhaps Sept. 2, 2019, when the Irish visit Louisville.
Even a couple of Notre Dame games per year might help drive up subscriber fees.
As for distribution, don't underestimate the school's relationship with the nation's largest cable provider, Comcast — NBC's parent company. Its No. 1 market is Notre Dame alumni hub Chicago, and its coverage areas include ACC states Florida, Georgia, Virginia, Pennsylvania and Massachusetts.
Ultimately, the ACC will get a check regardless of the network's success. It's not likely to be an instant cash cow like the SEC Network, which secured near-nationwide distribution by its August 2014 launch and turned profitable less than a year in. #GoACC does not engender nearly the same passion as S-E-C, S-E-C.
But "Wake Up the Echoes?" Those words still resonate with millions of Golden Domers and infuriate millions of others. Which is exactly what makes Notre Dame football such a coveted asset —" one the ACC and ESPN are presumably betting will be well worth the wait.