Notre Dame blocks Malik Zaire transfer to Michigan State football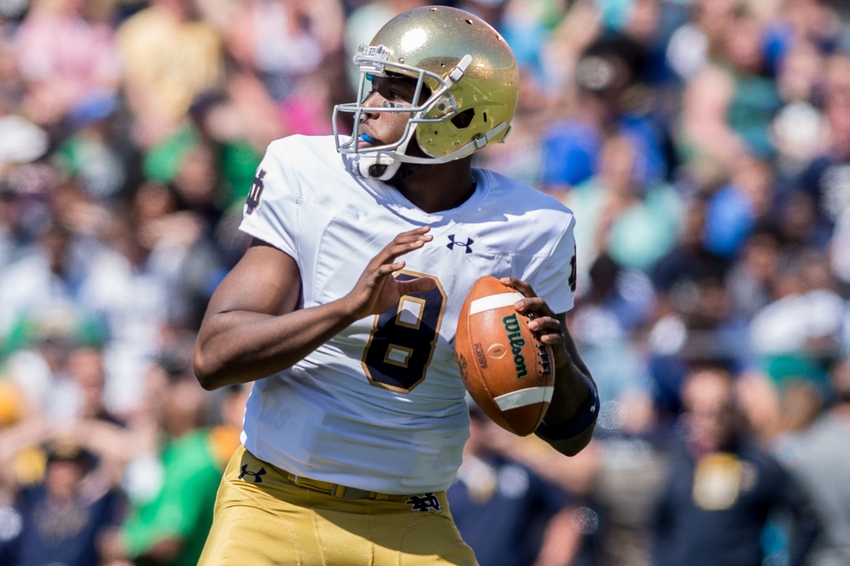 Notre Dame has blocked a potential transfer from quarterback Malik Zaire to Michigan State football.
Rumors circulated on Tuesday night about the potential transfer of Notre Dame quarterback Malik Zaire. Michigan State football was listed as one of the programs in the running to land the former four-star dual-threat, but on Wednesday, Notre Dame blocked that idea.
Must Read: MSU Recruiting: 5 bold predictions for November
It's not unusual to see programs grant releases from a program, with restrictions. Notre Dame blocked the transfer of Zaire to any program on its schedule for 2017. Hence the removal of Michigan State from the running.
Notre Dame has BLOCKED Malik Zaire from transferring to Michigan State, as the Spartans' play the Irish in 2017

— Sean Merriman (@MerrimanTweets) November 30, 2016
The restriction wouldn't affect the other three teams, though. Florida, Pittsburgh and Wisconsin are all listed as potential landing spots for the graduate transfer and he would have an instant impact, well he'd have to, at each one of those schools.
This is somewhat good news for Michigan State. The Spartans are getting younger at the quarterback position in 2017, most likely. Unless Damion Terry miraculously wins the starting job over Brian Lewerke and Messiah deWeaver, then the Spartans will have a freshman or sophomore at the helm.
Zaire would stunt the growth of the two young quarterbacks if he were to transfer to Michigan State. If he won the job, Lewerke would lose a valuable year of starting experience while deWeaver would also be fighting for reps.
Expect to see Zaire at either Florida or Wisconsin, though. The Gators are in desperate need of a quarterback while Wisconsin probably wants to avoid starting Alex Hornibrook next season.
This article originally appeared on