Notre Dame blocking Everett Golson's transfer options
By Matt Lombardi.
Former Notre Dame quarterback Everett Golson won't be lining up under center for the Fighting Irish in 2015, and according to Fox Sports' Bruce Feldman, he won't be lining up on the other side of the field from them either. Feldman is reporting Sunday night that Notre Dame is not granting a release for Golson to play at any of the schools on the team's 2015 schedule, along with "several" Big Ten teams.
What does that really mean? It means Golson won't be transferring to Texas, which was on everyone's list of potential destinations for the signal-caller. The Irish open with the Longhorns on September 5. He also can't play at Virginia, Georgia Tech, UMass, Clemson, Navy, USC, Temple, Pittsburgh, Wake Forest, Boston College, Stanford, and a few unnamed Big Ten schools.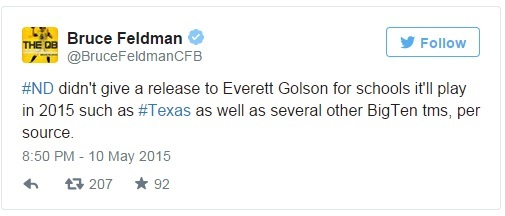 Golson hasn't tipped his hand in the time since his transfer announcement, but it's been reported that he has heavy interest from both South Carolina and Georgia. Many have also speculated that he could land at Florida, Florida State, LSU or even Alabama. While we aren't much closer to knowing where he'll end up, it's clear that you can cross the Longhorns off the list.
More from College Spun: