Northwestern's Kyle Queiro hauls in absurd one-handed interception vs Indiana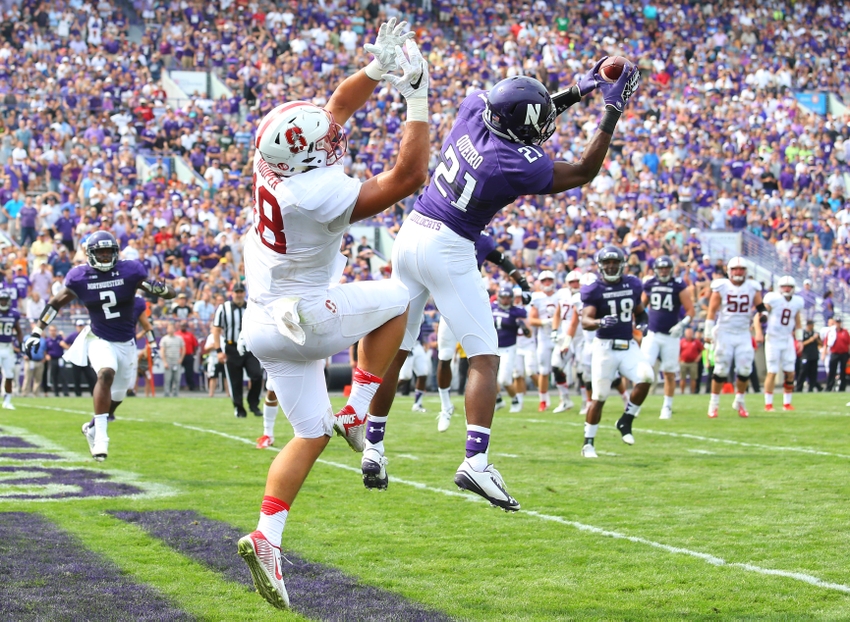 Northwestern Wildcats safety Kyle Queiro hauled in one of the best interceptions you'll see all year on Saturday against the Indiana Hoosiers.
If you thought that Michigan's Jourdan Lewis had the best interception of the year in the Big Ten, there might be a new candidate after Saturday.
In the fourth quarter of Saturday's game between Northwestern and Indiana, the Hoosiers were trying to drive and make a big play to keep the game close. Instead, Indiana quarterback Richard Lagow went deep and threw into double coverage.
Instead of just an incompletion, Northwestern safety Kyle Queiro kept running back and reached up with one hand for an absurd interception. That pick was huge, as it gave the Wildcats the ball late in the fourth quarter while holding onto a 24-12 lead.
It was awfully similar to Jourdan Lewis' pick, but arguably might be more impressive. Which pick was better? You decide by checking out Queiro's play in the video below.
Holy cow!@NUFBFamily's Kyle Queiro just out-did @JourdanJD's INT.

More video » https://t.co/Afb2pFbefb https://t.co/igOEAFZnss

— Northwestern On BTN (@NUOnBTN) October 22, 2016
The Hoosiers and Wildcats aren't exactly the cream of the crop in the Big Ten, but this was still an important game for both teams. Both sides came into Saturday's game at just 3-3 and are still trying to keep their chances of being eligible for a bowl game alive.
It's not the biggest win if the Wildcats can pull it off, but a victory over the Hoosiers will keep Northwestern in the running for a bowl game, which is huge for them after a slow start to the season.
This article originally appeared on