NFL Week 4 Fantasy Picks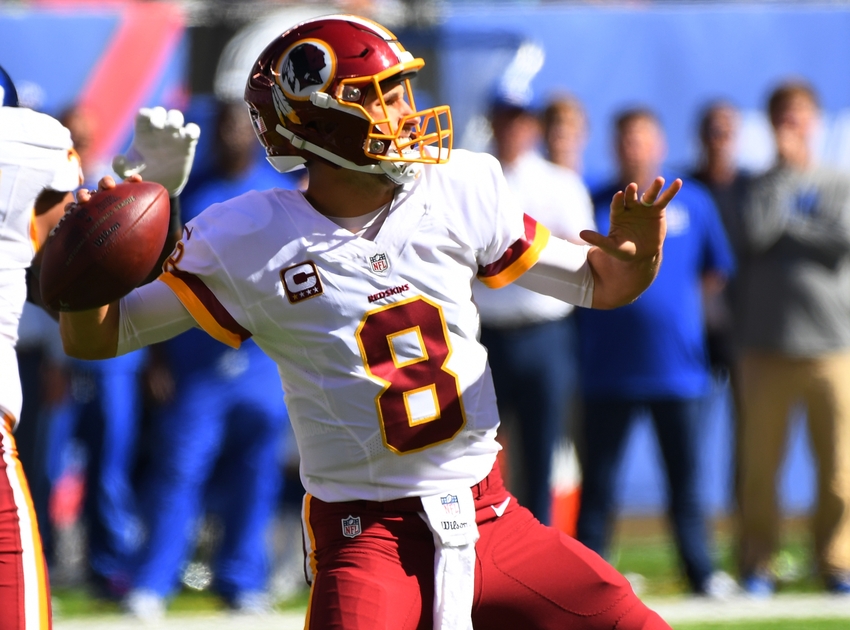 Weekly NFL fantasy picks.
After a rough week 3 I am looking to bounce back with my NFL fantasy picks with a solid week 4, which presents some interesting match ups to look at.
QB
My first pick at quarterback this week is Redskins quarterback Kirk Cousins($6,500). Cousins has caught some media attention for not playing quite like he did last season. He has gotten better with each game however, and is facing a Cleveland defense that is 11th worst in passing defense in the league.
Not only is Cleveland one of the worst passing defenses in the league, but they are also a little banged up, with 3 devensive backs listed as questionable for this weekend, including former pro bowlers Joe Haden and Tramon Williams.
My second play at quarterback this week is Joe Flacco($5,900). Flacco is facing an Oakland Raiders defense, who despite keeping Marcus Mariota and the Titans in check last week, are still the worst pass defense in the league.
The Raiders are giving up an average of 340 passing yards per game so far this season. With Steve Smith looking like old Steve Smith last week, the Ravens offense could be set up for a big week against the Raiders.
RB
Isaiah Crowell($4,400) is one of the running backs I will be on this week. Browns head coach Hue Jackson has a ton of faith in Crowell, which will likely show this weekend against the 8th worst rush defense in the league in Washington. Washington is giving up an average of 123 yards per game on the ground. The Redskins have also allowed a total of 7 rushing touchdowns so far this season, which could set Crowell up for a high scoring week in fantasy.
My second pick at running back this week is LeSean McCoy($6,700). McCoy is the full time back in Buffalo, and some might be steered away from him this week due to his match up. New England is giving up the 24th most fantasy points to running backs and although I think they will likely pull out the win despite the quarterback situation, McCoy could be set up for a solid fantasy score.
WR
Travis Benjamin($5,900) is the first receiver I am interested in this week. Benjamin is in a favorable match up this week against New Orleans pass defense.
I believe that nearly every pass catcher facing the Saints' defense week in and week out has a chance to rack up fantasy points. And with the high upside we have seen with Benjamin in the past, I will likely have a lot of exposure to him this week.
The second receiver I like this week is partly due to an injury. Dez Bryant is out for the Dallas Cowboys so I will be on Cole Beasley($3,900). Beasley has already seen a decent amount of targets this season with Dak Prescott at quarterback.
With Bryant out, he could see even more this week. Beasley is facing a San Francisco defense that isn't all that bad, but also isn't anything special.
This article originally appeared on