NFL Week 13 Recap for Former Vols: Eric Berry's Historic Performance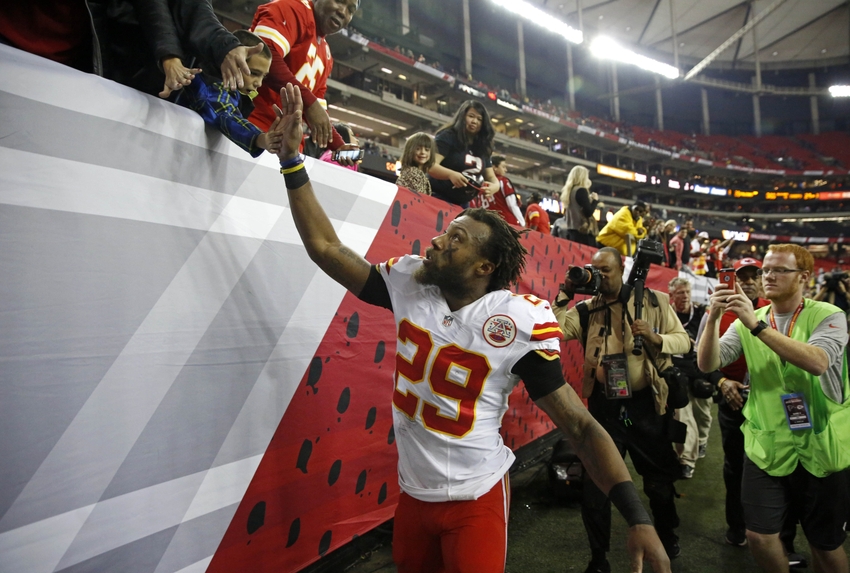 Kansas City Chiefs Safety Eric Berry led all former Tennessee Volunteers professionally with a historically great day during the NFL Week 13 games.
Tennessee football players still know how to star in the professional ranks, and it was no different for the NFL Week 13 slate of games.
A former Vol had arguably the greatest performance a player could ever have at his position on Sunday in single-handedly carrying his team to victory, and another one had a breakout game for this season.
As we get set to recap the former Vols who performed in the NFL during this past week, we'll be sticking to the same formula. That means recognizing three standout performers, calling out the three worst performers, naming other players who saw significant or limited action, and giving you updates on everybody else.
One cool fact is that two former Vols were activated this past week and actually got to enjoy some action.
Both of them are rookies.
But there was some bad news for a couple of Tennessee football stars in the league, as they had a down period.
Overall, 20 guys from Tennessee saw action in the league, three were inactive or on practice squads, one had a bye week, and four are still not members of an NFL roster.
But the big story for the week is one former Vol who might have been the best player of the week period. And we start with him, as our first page is star players.
Here are the top NFL Week 13 performers among former Vols in the pros.
Star Performers
Eric Berry, Safety, Kansas City Chiefs
Talk about a historic day! In front of his mom and his hometown crowd in Georgia, Eric Berry single-handedly carried the Kansas City Chiefs to victory over the Atlanta Falcons Sunday. It was all extremely unlikely as well. He gave the Chiefs their first lead in the game with less than 40 seconds left, intercepting a Matt Ryan pass and taking it into the end zone.
A pick-six would have been enough to get him on the list, especially when you add in his two tackles and pass deflected. But then he made the play of the year late in the fourth quarter. The Falcons scored a touchdown to go up 28-27 and went for two to take a field goal lead. But Berry intercepted Ryan again on that play and ran it back for two the other way. All of a sudden, on a crazy two-point play, Berry gave the Chiefs the lead back. And it was the difference, as they held on 29-28.
Forget being the Vols' top performer. Eric Berry is the star of NFL Week 13 among all players.
Robert Ayers, Defensive End, Tampa Bay Buccaneers
The Tampa Bay Buccaneers have gone on a four-game winning streak ever since Robert Ayers returned to health. And he may have carried his team to a 28-21 victory on Sunday by getting inside of Phillip Rivers's head.
The veteran defensive end had one sack, one and a half tackles for a loss, two solo tackles overall, and laid two huge hits on Rivers. He helped force Rivers's first interception in the game, which was returned for a touchdown, by hurrying his throw. Then, his sack came on the final drive, and that forced Rivers to take a deep chance downfield later, which also resulted in an interception. So Ayers was nearly on Berry's level as a star during NFL Week 13.
Mychal Rivera, Tight End, Oakland Raiders
Mychal Rivera was working on moving back into the passing offense as a tight end, but it had not yet come to fruition. That all changed on Sunday, as he helped lead the Oakland Raiders to another victory and possibly the top seed in the AFC.
Rivera had three catches for 57 yards, and he remained a staple in the offense as a blocker and a decoy on top of that. Forcing teams to respect him opened up the offense even further, and it's exciting to see where he can go from here. But Sunday was a great breakout game for him.
NFL Week 13 Disappointing Outings by Former Vols
Cordarrelle Patterson, Wide Receiver, Minnesota Vikings
He did have a 80 yards on three kick returns, but Cordarrelle Patterson did not come through the way the Minnesota Vikings needed him to against the Dallas Cowboys. After a couple of pro-bowl caliber weeks, only a 35-yard kick return made him look good on Sunday.
Patterson had a very quiet two receptions for 10 yards. He then had two carries for just six yards. On top of not being a big-play guy, which is why the Vikings count on him, he also had a fumble. That fumble is what puts him on this list. NFL Week 13 was a disappointing outing for Patterson, but he is still having a great season overall.
Jason Witten, Tight End, Dallas Cowboys
Jason Witten did play a role in helping the Cowboys block for Dak Prescott and Ezekiel Elliott as the team finished with five yards a carry on the ground. But he was disastrous in the passing game on Sunday, which is why he was forced on this list. After all, that passing game almost cost the Cowboys against the Vikings.
For starters, Witten was a factor in the Vikings sacking Prescott three times on Sunday. On top of that, his 130-game streak of making a catch came to an end. No catches combined with poor pass blocking nearly cost this team. Witten is still the best tight end in the NFL, but he had a rough outing on Sunday. That has to improve.
Alex Ellis, Tight End, Jacksonville Jaguars
The good news is that the Jacksonville Jaguars actually activated Alex Ellis. And as a guy who played sporadically with no catches and no real impact, we would have just put Ellis on our list of players who saw limited action this week.
The bad news, however, is that Ellis embarrassed himself in the limited action he did see. With the Jaguars trailing 7-3 late in the first half, they were still in the game. But after a great punt, Ellis committed a 15-yard unnecessary roughness penalty that put the Denver Broncos near midfield. It allowed them to go for a field goal before the half, and they succeeded. It may not have seemed like much, but it affected the flow of the game the rest of the way with the Broncos winning 20-10.
Ellis deserves blame for that, so his first real outing in the NFL was a terrible one.

Other Former Vols Who Saw Significant Action During NFL Week 13
Zach Fulton, Offensive Guard, Kansas City Chiefs
While Eric Berry did the dirty work to carry the Kansas City Chiefs to victory, Zach Fulton had a solid day for the Chiefs up front as well. His line only allowed one sack, gave Alex Smith enough protection to go 21-25 for 270 yards and a touchdown with no interceptions, and helped the Chiefs rush for 123 yards on the ground with a collective average of over five and a half yards per carry.
Ramon Foster, Offensive Guard, Pittsburgh Steelers
Yes, Ramon Foster's offensive line did allow Ben Roethlisberger to get sacked twice. But they also allowed him to throw for over 280 yards and complete 67 percent of his passes while paving the way for 118 yards rushing by Le'Veon Bell. So he still belongs on this list.
Chris Scott, Offensive Guard, Carolina Panthers
As bad as the Carolina Panthers played on Sunday in their 40-7 loss to the Seattle Seahawks, Chris Scott was one bright spot. Joining a makeshift offensive line, they actually didn't allow any sacks on Cam Newton. Given the fact that he had no help, it was actually a solid performance.
Matt Darr, Punter, Miami Dolphins
Matt Darr had six punts and only averaged 37 yards a punt for the Miami Dolphins in their 38-6 loss to the Baltimore Ravens, but he did nail three punts inside the 20. So he went for efficiency over average. It just didn't help.
Dustin Colquitt, Punter, Kansas City Chiefs
Dustin Colquitt played a crucial role in helping the Kansas City Chiefs beat the Atlanta Falcons with an average of 50 yards a punt on three punts. However, we have him below Matt Darr because two of those three punts simply rolled into the end zone for touchbacks, and he nailed none inside the 20.
Malik Jackson, Defensive Tackle, Jacksonville Jaguars
Malik Jackson had two tackles for the Jaguars in their loss to the Denver Broncos. Jackson, like the rest of the defense, has not been the problem for this team. There's not much they can do when Blake Bortles is so awful.
Ja'Wuan James, Offensive Tackle, Miami Dolphins
Ja'Wuan James doesn't deserve too much blame for the debacle that took place Sunday in the Miami Dolphins' 38-6 loss to the Baltimore Ravens. But Ryan Tannehill was sacked twice. Still, he nearly paved the way for four yards a carry on the ground. He wasn't great, but he wasn't terrible.
Morgan Cox, Long Snapper, Baltimore Ravens
Morgan Cox remained the long-snapper for Justin Tucker, who nailed a 55-yard field goal on Sunday. He also helped Tucker go a perfect five-for-five on extra points in that game. Once again, he remains a reliable long-snapper.
Dan Williams, Defensive Tackle, Oakland Raiders
Dan Williams started in the Oakland Raiders' 38-24 victory over the Buffalo Bills but just assisted in one tackle.
Former Vols Who Saw Limited Action During NFL Week 13
Justin Hunter, Wide Receiver, Buffalo Bills
Justin Hunter had one catch for four yards in the Buffalo Bills' 38-24 loss to the Oakland Raiders Sunday.
Curt Maggitt, Linebacker, Indianapolis Colts
Curt Maggitt was activated last week for the Colts and came away with a solo tackle in their 41-10 victory over the New York Jets.
Tony McDaniel, Defensive Tackle, Seattle Seahawks
Tony McDaniel played sporadically and only had an assisted tackle in the Seattle Seahawks' 40-7 win over the Carolina Panthers.
Luke Stocker, Tight End, Tampa Bay Buccaneers 
Luke Stocker suffered an ankle injury on the first play from scrimmage in the Tampa Bay Buccaneers' 28-21 victory over the San Diego Chargers.
Daniel McCullers, Defensive Tackle, Pittsburgh Steelers
Daniel McCullers played sporadically in the Pittsburgh Steelers' 24-14 victory over the New York Giants but did not rack up any stats.
Former Vols on Practice Squads During NFL Week 13
Matt Simms, Quarterback, Atlanta Falcons
NFL Week 13 Inactive Former Vols
Tyler Bray, Quarterback, Kansas City Chiefs
Justin Coleman, Cornerback, New England Patriots
NFL Week 13 Bye Weeks for Former Vols
Britton Colquitt, Punter, Cleveland Browns
Former Vols Still Not on an NFL Roster
Raijon Neal, Running Back
Marquez North, Wide Receiver
Brian Randolph, Safety
Dallas Thomas, Offensive Guard
This article originally appeared on