NFL Playoffs: Ranking All Former Vols in the Postseason
Caleb Calhoun/FanSided via All for Tennessee

Fansided
There are numerous former Tennessee football players who will be in this year's NFL Playoffs. Here is a look at all the former Volunteers and how they fare.
The Tennessee Vols have 13 players in this year's NFL Playoffs, good for second in the SEC behind the LSU Tigers (16). Those 13 players are scattered across seven of the 12 teams in the postseason.
The number is the same as it was last year as well, and it includes the active roster, injured players, and practice squad.
The Vols have a long history of key players in the NFL Playoffs, as they lead all SEC schools with 96 Super Bowl participants all time.
In the last Super Bowl, they had four participants. Denver Broncos won the Super Bowl with the help of three key former Vols: Malik Jackson at defensive tackle, Britton Colquitt at punter, and of course, Peyton Manning at quarterback.
As we get set to take a look at the former Vols in the NFL Playoffs this year, four teams actually have multiple players from Rocky Top.
And many of them are key players. So we will rank all 13 former Vols in the playoffs based on how crucial they are to their team's success and how talented they are.
Injuries will play a role in these rankings as well.
And for the first time since 2011, Peyton Manning won't be the most important former Vol in here. Heck, it's only the second time since 2002 that's the case.
So with the field more wide open this year, here is a ranking of all 13 former Tennessee football players in this year's NFL Playoffs.
13
Tyler
Bray
Quarterback,

Kansas City Chiefs
The Kansas City Chiefs' third-string quarterback behind Alex Smith and Nick Foles, Tyler Bray is likely not going to see any action in the NFL Playoffs.
But it's worth noting that he definitely has the strongest arm of the three quarterbacks, and the fact that he has been able to maintain a spot on the same NFL roster for four years now is pretty impressive.
And it's important to point out that he had arguably the greatest passing season in Tennessee football history in 2012 for a quarterback behind Peyton Manning's 1997 season.
Still, Bray did not accumulate any stats this year, and with Andy Reid's offense more based on accuracy behind Smith, it would likely be a disastrous scenario for him to come in and have to play.
After all, despite all the things he did in college and his physical attributes, everybody in Knoxville knows that Bray does not have the greatest set of intangibles.
He never rallied the troops the way you want your quarterback to, and he also struggled with accuracy in key moments.
That's not a good combination in the NFL Playoffs.
So for Tennessee fans' sake, it's probably better if he doesn't see action. But he still counts as a player there.
12
Justin
Coleman
Cornerback,

New England Patriots
Still playing a reserve role for the New England Patriots, Justin Coleman is going to be a key player off the bench in the NFL Playoffs. After all, teams will likely want to spread the field against them.
And Malcolm Butler and Logan Ryan can't do it alone as lockdown cornerbacks. So Coleman will have to see lots of action as a reserve, especially with the other backup cornerback, Eric Rowe, dealing with a hamstring injury.
However, the only question here is how much Bill Belichick wants to use Coleman. If this were earlier in the year, we would have had him much higher on the list.
But his reps have been significantly reduced over the past few weeks. He didn't play for three straight games and missed a fourth in Week 16, and Sunday was the first time he saw any reps on defense since the Patriots lost to the Seahawks back in early November.
So while he is a key player, his use is completely up in the air. Coleman will still see lots of action on special teams, and Rowe's hamstring combined with Cyrus Jones's injury might force Coleman to see more action in the NFL Playoffs.
But the uncertainty puts him down here at No. 12.
11
Dan
Williams
Defensive Tackle,

Oakland Raiders
Still going strong with the Oakland Raiders, Dan Williams is going to be even more crucial now with Derek Carr out due to injury.
For the year, Williams finished with 17 tackles and half a sack. But the 6'2″ 330-pound nose tackle has made a point to be as much of a cog in the middle as possible. Unfortunately, it hasn't worked too well with the Oakland Raiders ranked No. 23 in the nation in rush defense and dead last in total sacks.
As a result, the lack of production of Williams's unit overshadows how crucial he is. And it drops his ranking among former Vols in the NFL Playoffs to No. 11.
This was far and away Williams's worst year in the NFL. Before 2016, he never had fewer than 20 total tackles in a year, and four times he had between 38 and 48 total tackles. He did that each of the past two years.
But maybe he's saving his energy for the postseason this year. After all, he did have three tackles in his only postseason appearance. And the Raiders will seriously need him to step up this year.
Williams actually sees more action than two other defensive tackles on this list, but production matters, and that's why he fell to here.
Speaking of those other defensive tackles, we go to one next.
10
Daniel
McCullers
Defensive Tackle,

Pittsburgh Steelers
The second defensive tackle on the AFC side of the NFL Playoffs on this list with 17 tackles, Daniel McCullers has really found a niche in Pittsburgh's 3-4 defense.
He is technically a backup behind Javon Hargrave, but with Hargrave battling a concussion, McCullers is the man now.
Given the fact that he is a crucial player as a nose tackle not meant to rack up any stats in a 3-4 defense, McCullers does have a case to be much higher on this list. However, we can't say how much value he will bring as a backup throughout most of the year.
The 6'7″ 352-pound nose tackle already does have a sack this year along with a pass deflection, so he can clearly make big plays.
The Steelers have an average defense on both fronts, rushing and passing, in the No. 14 to No. 16 range everywhere. But that consistency has given them a Top 10 scoring defense, something McCullers will be tasked with upholding on Saturday.
And if he has a big game against the Miami Dolphins, we'll re-evaluate his positioning here. But first, he has to prove it.
Among other former Vols in the NFL Playoffs, we're sticking with the trenches but now moving onto the other side.
9
Zach
Fulton
Offensive Lineman,

Kansas City Chiefs
He's been a consistent interior lineman for the Kansas City Chiefs for years now, and Zach Fulton now has a divisional title. But the job is clearly not done.
The second former Vol on this list who is a member of this franchise would like to make a bigger splash in the NFL Playoffs. Fulton leads a line that has kept the Chiefs decent in the rushing attack with 109 yards a game.
That line also did a solid job protecting Alex Smith all year, ranked No. 11 for fewest sacks allowed this year.
With a first-round bye, Fulton and his unit have a chance to get fully healthy, and his team's opponent could be either the Houston Texans, Oakland Raiders, or Miami Dolphins.
Despite being the No. 6 seed, the Dolphins would likely be the worst match-up for the Chiefs. Still, Fulton and Co. should be able to hold their own against any of these guys.
He hasn't been a standout star, but he's been a model of consistency and reliability, and the 6'5″ 316-pound lineman will be a key part of Andy Reid's offense and what the Chiefs are able to do.
However, he's not the only key offensive lineman on this list in the NFL Playoffs. Another former Vol who played with him is also there.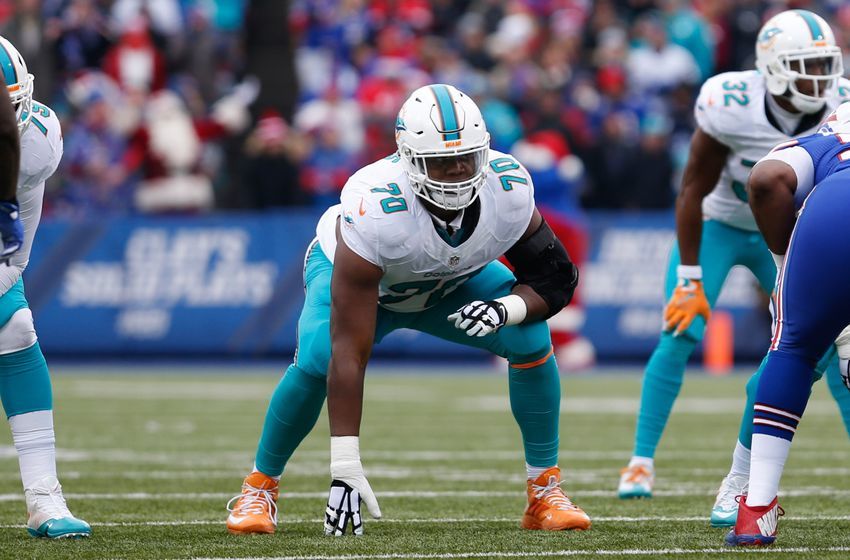 8
Ja'Wuan
James
Offensive Lineman,

Miami Dolphins
He's been another model of consistency on the offensive line coming from Tennessee into the professional ranks. And as an outside blocker, Ja'Wuan James is now tasked with continuing what the Miami Dolphins had been doing in recent weeks before their final game of the season.
That means blocking for Matt Moore, who has looked great with James and others protecting him.
For the year, Miami is No. 10 in the country in sacks allowed with 30, one spot ahead of the Chiefs. Meanwhile, they have the No. 9 ranked rushing offense overall, and it's No. 8 in yards per carry with right at four and a half.
And with quarterback changes added on top of that, James deserves credit for being slightly more productive than Zach Fulton has been. That makes him a better former Vol in these NFL Playoffs and a more crucial one to make up for the quarterback issues.
Going up against Daniel McCullers and the Pittsburgh Steelers will be a battle of old teammates on Saturday if both play, so that'll be interesting to see.
And both will play key roles.
But speaking of defensive tackles, we stay in the trenches and move back to the other side with our next player on this list.
7
Tony
McDaniel
Defensive Tackle,

Seattle Seahawks
It's always weird including Tony McDaniel in the list of former Vols given his dismissal from the team back in 2005, but to his credit, he has done the unthinkable and maintained an NFL career since then as a defensive tackle.
Now in his second stint with the Seattle Seahawks, he is having one of the best seasons of his career with 43 tackles, 20 of which were solo, a fumble recovery, and three passes deflected.
McDaniel is a huge part of the new Legion of Boom, which is ranked No. 7 in overall rush defense and No. 1 in yards per carry allowed at just under three and a half.
With McDaniel lining up in the middle, he is a huge part of that, and he will be a huge part of the Seahawks' defense in the NFL Playoffs as well.
Given his productivity, he definitely belongs the Top 10 on this list, and there's a legitimate argument to make that he belongs higher on the list.
However, McDaniel is part of an overall elite unit and not as crucial as other people may be to their respective teams. That's what brings him down to here as opposed to another spot higher on the list.
That and the fact that he's barely a former Vol make it hard for us to rank him higher.
6
Matt
Darr
Punter,

Miami Dolphins
Of course Punter-U would make its presence known at that position in the NFL Playoffs! That's right, Ja'Wuan James is not the only key Miami Dolphins player from Tennessee.
When you have quarterback issues and a defense ranked No. 18 in the league, the only way you could get to 10-6 is if you have other elite key players, especially on special teams. Matt Darr has been one of those key players.
Although it's a drop-off from what he did last year, Darr has averaged 44.3 yards a punt on 90 punts. And while his raw average is down, his efficiency is up.
The percentage of punts that Darr nailed inside the 20-yard line went up to 35.6 percent with 32 down in there.
He has been a key part of the Dolphins pulling out numerous close wins, so he definitely belongs near the Top 5 on this list.
And winning the field position battle against the Pittsburgh Steelers would be huge for the Dolphins to get their first playoff win since the end of the 1999 season.
But speaking of teams that have been in long droughts related to success, we go to a second player on another team in a similar situation.
5
Mychal
Rivera
Tight End,

Oakland Raiders
Mychael Rivera began integrating himself back into the Oakland Raiders' passing offense weeks ago, and now he's fully there. But just as he reached that point, Derek Carr suffered a season-ending injury.
Now, with the Raiders seemingly losing all hope in the NFL Playoffs, they will desperately need their weapons to step up and help Connor Cook, the third-stringer who will start the first game against the Houston Texans.
Oakland has a chance to win this game against an extremely overrated Houston team if Rivera steps up along with Michael Crabtree and Amari Cooper. But Rivera is even more important than those two guys.
As a tight end, he will have to do a solid job of blocking to protect Cook and establish the run while also confusing the defense on what he's going to do. The tight end is a crucial piece to helping any quarterback, and that's especially true for an inexperienced quarterback.
The 6'3″ 245-pound target could directly shape the Raiders' chances of advancing in their first appearance in the NFL Playoffs since the end of the 2002 season.
So despite only 192 receiving yards and one touchdown in this year's regular season, Rivera's importance is what puts him at No. 5 on this list.
4
Dustin
Colquitt
Punter,

Kansas City Chiefs
We're back to another punter, and it's a veteran who has been there plenty of times before. Last year, Dustin Colquitt watched his younger brother, Britton, win a ring with the Denver Broncos.
Now, Britton Colquitt is stuck with the Browns. What better way for Dustin to get revenge than seeing that and then winning a ring himself? You can bet that the 12-year punter is probably thinking about that. And with the Kansas City Chiefs, this is his best chance ever.
Make no mistake, Dustin Colquitt is a big reason the Chiefs have a first round bye in the playoffs. Without his leg, they likely would have lost to the Oakland Raiders on Dec. 8, the Atlanta Falcons on Dec. 4, and especially the Broncos on Nov. 27. With a loss on each side of those games, the Chiefs would've had a five-game losing streak without Colquitt.
For the year, Colquitt had 76 punts for an average of 45.1 yards per punt, and he nailed an astounding 50 percent of his punts inside the 20-yard line.
That is a huge weapon to have on special teams, and the Chiefs will definitely need him going forward in the NFL Playoffs. With Alex Smith as a game manager and Andy Reid's offense based on efficiency combined with a defense that focuses on getting turnovers, Colquitt will need to help them win the field position game.
3
Ramon
Foster
Offensive Lineman,

Pittsburgh Steelers
While Zach Fulton and Ja'Wuan James are very good former Tennessee football offensive linemen in the NFL Playoffs, Ramon Foster is the standout guy at that position.
It's not necessarily his talent alone. It's his leadership. The 6'5″ 328-pound guard is the outspoken leader of the Steelers' offensive line and one of the leaders of the team. He's a veteran who has been there for years, and Ben Roethlisberger heavily relies on him.
But let's not discount the fact that he actually does have lots of talent and is very productive.
Foster's impact was clear this year, as the Steelers averaged between four and four and a half yards per carry on the ground.
Meanwhile, with his protection, the Steelers gave up the second fewest sacks on the year, only 21, behind the Oakland Raiders. Keep in mind that he did that with Roethlisberger at quarterback. You know, the guy who holds onto the ball for a while looking to desperately make a play.
Foster's versatility is also a huge deal. He starts at guard, but he has been able to line up at tackle plenty of times when there have been injuries. And he can line up on either side.
So Foster is going to be a crucial part of the Steelers' offense in the NFL Playoffs if they are going to make any waves, especially with the weather getting cold.
2
Jason
Witten
Tight End,

Dallas Cowboys
Jason Witten had the fewest receiving yards he's had since his rookie season this year with 69 catches for 673 yards. He also only had three touchdowns.
But you could still make a case that this was his most impressive year.
Witten is making a strong case for the greatest tight end of all time after what he was able to do. After all, he is the truest combination of receiving and blocking ever seen at the position, and Jason Garrett relied heavily on him to do both this year.
Without him, the Dallas Cowboys would almost certainly have not been able to adjust to the news system with Dak Prescott at quarterback. But Witten's blocking and reliability contributed heavily to the success of Prescott and Ezekiel Elliott.
Now, the Cowboys need him more than ever as he gets set for another round of the NFL Playoffs.
Witten's blocking will be crucial for them being able to establish the run, and he will need to work to offset Prescott's inevitable struggles that every quarterback has in his first playoff appearance.
So when you combine talent and productivity, Witten is one of the top former Vols in these playoffs. But he's not No. 1.
That title now lies with the new greatest former Vol in the league.
1
Eric
Berry
Safety,

Kansas City Chiefs
Eric Berry has suffered a season-ending injury in his career, and he had to cut short another season to deal with lymphoma.
But somehow, the 27-year old is playing the best football he's ever played. And that's impressive for a guy who has made the Pro Bowl every year he was full healthy.
Now, he's clearly the best safety in the NFL. This year, he had four interceptions, two of which went for touchdowns, to go with nine passes deflected. Berry also had 62 solo tackles and 77 overall.
And he single-handedly led the Kansas City Chiefs to victories over the Carolina Panthers and the Atlanta Falcons this year. His pick-sixes were the difference in both games, and of course, he even managed to intercept a two-point play and run it back.
He also had help from fellow former Vol Dustin Colquitt, as we've already mentioned here.
Berry's incredible plays signal that this could be a special season for the Chiefs. They don't rack up the stats on offense all the time, but they make plays in key moments to win games.
And Berry is the biggest part of them doing that. That makes him the most crucial former Vol in this year's NFL Playoffs, and he could end up being the most valuable player in the playoffs altogether.
This incredible playmaking ability got the Chiefs a first-round bye, and it is one reason not to completely write them off as we have done in years past.
Berry is also a reason not to just hand the AFC to Tom Brady, as he's one guy who could present a major challenge to him.
He got hurt in the final game against the San Diego Chargers, but the Chiefs should have him back and fully healthy after their bye week in the playoffs.
And fully rested, his potential is unlimited.
More from All for Tennessee
This article originally appeared on