Big Picture: How Miami wasted so much NFL talent in 2014 & more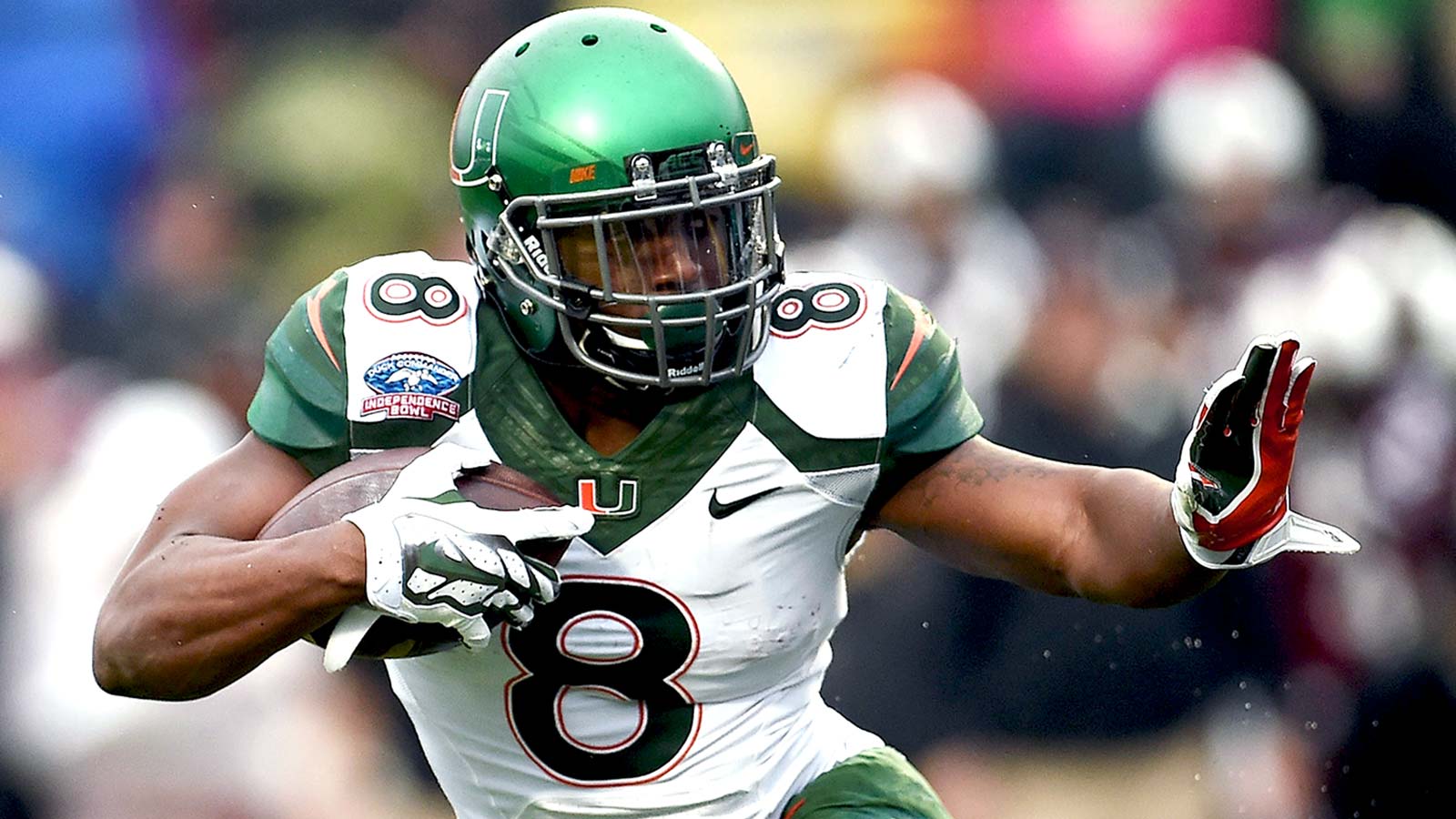 INDIANAPOLIS — One of the more intriguing questions at last weekend's NFL Combine was this: With eight players participating in Indy and many of them projected to go among the top 50 picks, how did Miami still finish the 2014 college football season with a sub-.500 record?
"They had one of the best running backs in college football (Duke Johnson); the best tight end (Clive Walford); the fastest wideout (Phillip Dorsett); one of the best O-linemen (Ereck Flowers); one of the top linebackers (Denzel Perryman); and the guy who was the most impressive player at the East-West game (DE Anthony Chickillo), and I know they got a young QB that's a stud too (freshman Brad Kaaya)," one longtime NFL scout told FOX Sports in Indy. "They had more front-line talent than half the teams in the SEC. They didn't have as much talent as Florida State, but they were still pretty loaded. How does that team not win at least nine games in that league?"
That question has become a common one around South Florida these days. That's what happens when a program that has won five national titles in the previous 31 seasons goes just 8-11 in UM's past 19 games, with seven of those losses coming against unranked opponents. In 2014, Miami was just 6-7 and 3-5 in the ACC. Worse still, five of the seven defeats came by double digits.
I asked some of the Miami players for their take on how a team with such talent could still have a losing record.
"I explain it by saying that it's the little things," Johnson said. "A lot of things that you don't do, that you just take for granted as a team, it shows up in games."
But Johnson said it's "not fair" to point the finger at head coach Al Golden. "At the end of the day, he's gonna take the blame because he's the head coach, but it's not on him."
Said Dorsett: "There were a lot of things we need to clean up. We'd go watch film the next day and there'd be certain guys out of place, and if the guy was in place, that play would've been made. Stuff like that. I'm not gonna blame any coach. Coaches coach. Players play. So that's on us."
It's commendable that all of the Canes we spoke to in Indy said it's more on them than it should be on Golden or the UM coaches, but there's also an old coaching axiom: You're either coaching it or allowing it to happen, and it's hard to get past a mediocre record, especially when you have a lot of talent — as all the NFL personnel folks can attest.
And that's a big reason why Golden enters 2015 on one of the hottest seats in the country among FBS coaches. The good news for UM: Kaaya was just a freshman, and his old teammates are convinced he has the talent to eventually become one of the best QBs to ever play at UM.
CLEMSON SHINES AT THE COMBINE
There wasn't a guy who did any better this week in Indy than Clemson's pass-rushing star Vic Beasley, who tested as fast as he looks on film. The 6-foot-3 Beasley weighed in about 10 pounds heavier (246) than he played at last season yet clocked an official 4.53 40-yard dash, with a 41-inch vertical jump, a 10-foot-10 broad jump and 35 bench press reps at 225 pounds. It was a fantastic performance by a guy who made a ton of plays in college, piling up 33 sacks and 52.5 tackles for loss at Clemson.
"He didn't surprise me," said trainer Tony Villani of XPE Sports, who in five weeks helped bulk Beasley up and produce those numbers above. According to Villani, Beasley's veritcal improved eight inches from when they began training in early January and his 40 dropped .15 seconds while gaining 13 pounds. "Those were all the goals, and in Indy it's very, very hard to hit your number. And then for him to hit everything out of the park like that is amazing."
Villani said one of the keys for Beasley packing on the size was having him eat all day, with it being a mixture of protein, carbs and fat. "We don't monitor calories, but we did weigh him in three times a week."
Beasley's Clemson teammate Stephone Anthony, who I'd heard from two NFL LB coaches in Indy really impressed in his meetings, also shined in testing, running a 4.56 40, which was two tenths off the 4.76 Villani said he ran when he began training in January.
THE MARIOTA VS. WINSTON DEBATE
The hottest topic around the Combine, of course, was the QBs. Here's an example of how fickle the nature of evaluating prospects can be. On Saturday night I chatted with three different NFL people, all very high up in their respected roles.
One loved Jameis Winston's talents and demeanor and was very skeptical about how easily Marcus Mariota could make the transition to the NFL game. "Jameis is way more intelligent than a lot of people like to believe, I think," the coach said. "I think he can be outstanding in our league and I love his temperament." He also pointed to how sharp Winston was in his very first college game at Pitt with star DT Aaron Donald, and the redshirt freshman shredded the Panthers. He began that game 17 of 18 with three TD passes in the first half.
The second guy liked Mariota but thought he'd take a lot of time acclimating to the NFL game, and he also was very down on Winston and very leery of trusting his character because of too many knucklehead actions.
The third guy was a big believer in Mariota's arm, athleticism and work ethic. He also liked Winston's talents quite a bit but was skittish on the FSU star's character. He added that the thing that scares him about Winston was the thing that scared him most about Johnny Manziel last year: Winston's greatest strength, his sky-high confidence and belief that he can overcome anything and get himself out of any situation, also is his greatest weakness. Then again — and this isn't a small thing — Winston did come from a pro-style system, had a lot of command in it and won't have to make huge adjustments in how he played like Manziel and some others need to do.
One thing none of them brought up was Winston's testing numbers. That seemed to be a non-starter.
Winston didn't run or jump well in Indy, but he looked excellent throwing the football. The slow 40-times and bad vertical jump were worse than expected. I'd heard from people close to him he'd be around 4.8, but in his case it doesn't matter much especially since he has such terrific pocket presence.
The only one more polarizing in Indy than Winston/Mariota was private QB coach George Whitfield. I chronicled Whitfield's rise to prominence in "The QB" and for the book heard that there were some college coaches who were not fans of the Ohio native. But after spending some time in NFL circles, the feelings about Winston's personal coach have intensified significantly in the past year.
Whitfield, who also helped Cam Newton get ready for the draft and assisted Andrew Luck at his Pro Day in addition to coaching Manziel and Logan Thomas last year, is also helping train Michigan State standout Connor Cook, a guy many suspect will be a first-round QB in 2016.
WHAT TO DO WITH DAWSON
The LB coaches I spoke to love TCU's Paul Dawson on tape. They love how he flies around and gets off blocks. His teammate DB Chris Hackett told me that he was surprised to hear reports questioning Dawson's character: "He is a great man and a great teammate."
Dawson's evaluation, though, got a little more muddled when he clocked in the mid-4.9s, which was at least three-tenths of a second slower than expected.
One other TCU item: DB Kevin White said that Ohio State deserved credit for winning the title but added that he has "no doubt" the Horned Frogs would've won it all if they were picked for the playoff.
"Braxton can really throw the ball, but Cardale has a different arm."
BELL BACKS BO PELINI
Nebraska WR Kenny Bell impressed scouts with his speed (4.42) in Indy. He also showed once again why he's one of the more intelligent and thoughtful interview subjects we've seen in college football the past few years. I asked him how tough it was seeing Bo Pelini, a guy he's been very supportive of, go out like he did at NU after getting fired and then having a profane rant in Pelini's final meeting with his players surface online.
"I was devastated to see my head man go," Bell told me. "I love coach Bo Pelini. He's taught me so much and I couldn't be more thankful for the time that I had with him. But I'm not naive to see there weren't mistakes made. It's a shame that audio recording came out like that. I actually couldn't attend that meeting that night, so it was devastating to see that.
"But on the other spectrum, to see how we were handled as a team, and how I wouldn't ever want to handle young men like that, communicating with emails and such. I just think the athletes at Nebraska deserve to be communicated with better." Bell's comment was in regard to the NU players being notified of Pelini's firing via an email from AD Shawn Eichorst.
"On one end, I look at my head coach, and I would ask more of him, just like he would ask more of me in that situation. On the other end, I ask more of the administration in that situation."
When asked if he had reached out to the Nebraska brass to talk about how things unfolded, Bell said he had not. "I'm removed from Nebraska right now," he said. "I'm hyper-focused on this journey. I love that university and I love those fans. I love all the coaches and all the players. I've got no qualms at all. I just wished that would've gone down a little differently."
Our annual Freaks list usually serves as a decent primer for the Combine, and I'll thank Kentucky strength coach Erik Korem for the heads up a few years ago on UK's Bud Dupree. All the 269-pounder did in Indy was broad jump 11-6, run a 4.56 40 and vertical jump 42 inches. Usually I'll hear from a few folks skeptical of the numbers after the Freaks list. In this case, Dupree exceeded those numbers, by broad jumping six inches more and vertical jumping 1.5 inches higher despite weighing two pounds more.
ONE THAT GOT AWAY
Biggest miss on the Freaks list last year: UConn CB Byron Jones. He broad jumped 12-3, which is almost a football length longer than anyone ever has at the NFL Combine. In fact, it might be the longest anyone has ever broad-jumped, at least on record. The event, also known as the standing long jump, was in the Olympics about 100 years ago, and Jones' leap was about a foot longer than anyone's back then. Jones' leap also surpassed, by an inch, the supposed world record, set in 1968 by Norway's Arne Tvervaag.
Count me in as a fan of the grit displayed by Quan Diggs. The Texas DB on Charlie Strong's biggest accomplishment in Year 1: instilling toughness. "You're either gonna buy in or you'll suffer and get kicked out of there."
DYER DOES WELL OFF THE FIELD
I asked the onetime five-star recruit what was the low point in a very up-and-down college career: "Having to leave Auburn. I really enjoyed Auburn. It's the place I wanted to be when I was growing up and Coach Malzahn was there and we had a great relationship throughout high school."
LESSON LEARNED
Memphis DL Martin Ifedi was one of the players in the middle of the Tigers' brawl with BYU in the Miami Beach Bowl. We asked about what happened and how that situation impacted him.
"I learned you can't let your emotions get the best of you," he said. "Don't retaliate."
Ifedi told me he was retaliating against one BYU player for his actions that had been going on throughout the game.
OREGON STILL LOOKS LOADED
Shameless plug: If you haven't checked out our story on new Oregon QB Vernon Adams, do so here because he had a lot of interesting things to say.
Adams' new team should still be pretty loaded in 2015, especially at the skill positions, but the Ducks do lose two very good O-linemen in OT Jake Fisher and center Hroniss Grasu. But Fisher said don't forget the Ducks get back former star OT Tyler Johnstone, who is coming off an injury that sidelined him for 2014: "He's up to 305 now (about 25 pounds more, according to Fisher) and has such great feet and agility."
PLENTY TO CHOOSE FROM AT WR
This WR class is very deep. I don't think it's quite as good as last year's bunch with the three fantastic guys at the top (Sammy Watkins, Mike Evans and Odell Beckham Jr.), but it's really impressive. The most underrated guy from my view after perusing a lot of people's mock drafts is ASU's Jaelen Strong. He's got good size and fantastic hands, and he surprised some folks by running a 4.44 40 to go with a 42-inch vertical, which proved he was a lot more explosive than many in Indy expected.
FSU'S NEXT STAR?
My first night in Indy I ran into an ex-college assistant coach. I asked him who was the best recruit he saw last year. He didn't hesitate.
George Campbell, the rangy wide receiver who signed with FSU.
A GOOD SHOWING FOR TULL
An update from our story last week on FCS star Davis Tull of Chattanooga. The DE/OLB wowed folks by vertical jumping 42.5 inches and broad-jumping 11-feet. The one knock on Tull, aside from playing against lesser competition, is that he doesn't have long arms (31.5 inches), but he proved to be a lot more explosive than personnel people expected.
USC DB Josh Shaw, who clocked a 4.44 40, did 26 reps on the bench with 225. That's more than 18 O-linemen did in Indy, and only 12 repped more.
QUOTE OF THE WEEK
Marcus Mariota: "My motivation isn't to try and prove anybody wrong. It's just to make a dream come true."
TWEET OF THE WEEK
Bruce Feldman is a senior college football reporter and columnist for FOXSports.com and FOX Sports 1. He is also a New York Times Bestselling author. His new book, The QB: The Making of Modern Quarterbacks, came out in October, 2014. Follow him on Twitter @BruceFeldmanCFB.
I'm an awesome football player. The best/most productive linebacker in this draft. Not a track Star. #meetmeonthefield

— Paul Dawson Jr (@PjDawson47) February 22, 2015