New College Football Playoff Ranking Makes Vols a Near Lock for Sugar Bowl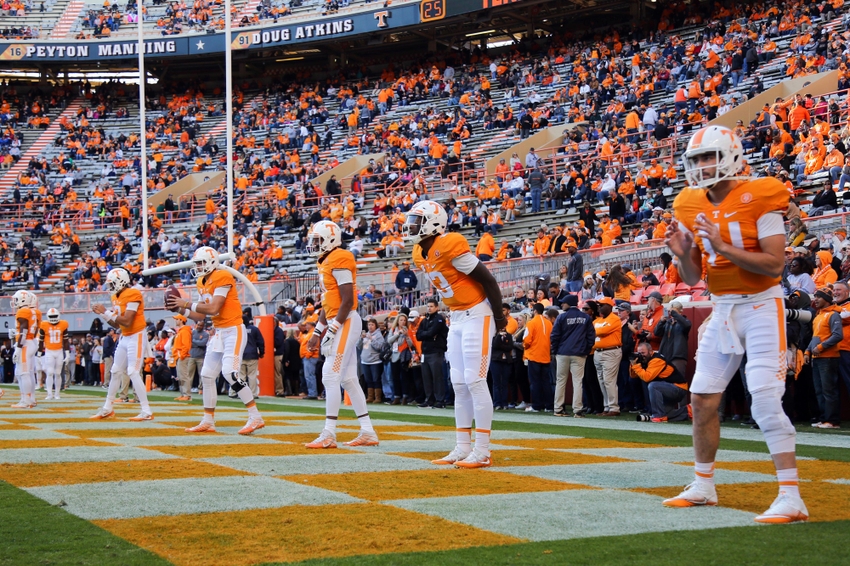 The Tennessee Volunteers could be heading to the Sugar Bowl. Their standing in the College Football Playoff after Week 12 gives them a great chance.
Before Tuesday's College Football Playoff rankings came out, the book on Tennessee was that they would need the Florida Gators to lose both games over the next two weeks, they would need the Alabama Crimson Tide to win the next two weeks, and they would need the LSU Tigers to beat the Texas A&M Aggies.
Oh, and they would need to beat the Vanderbilt Commodores.
If all that happened, the Vols would finish 9-3 and be the highest ranked team in the SEC, guaranteeing them a Sugar Bowl berth as long as Alabama made it into the playoff.
Well, we can cut those necessary things in half after the rankings that came out Tuesday. Tennessee is No. 17 in the College Football Playoff rankings, behind only Florida, Auburn, and Alabama.
The Vols are within five spots of both Auburn and Florida, and they both have to play Alabama over the next two weeks. So with that in mind, the Vols have to hope both lose that game. But Florida losing to Florida State is no longer a necessity.
However, how many people think the Gators or the Tigers even have a chance against the Tide?
Provided Alabama wins both games and Tennessee beats Vanderbilt, the Vols are now in. Those are all three likely to happen.
Meanwhile, LSU and Texas A&M are both out of the College Football Playoff Top 25, so neither team will jump over the Vols by winning this week.
You could make the argument that it's not fair if A&M wins, since they and the Vols will both finish 9-3 if both win and Texas A&M beat the Vols.
But the CFP sees it differently.
So for Tennessee football fans, the message is now clear. Win out, and root for Alabama over the next two weeks.
Doing that will get them into the Sugar Bowl, their first appearance at the Superdome since the end of the 1990 season, when they beat the Virginia Cavaliers 23-22.
With no championship in play now, that would be a great send-off for Joshua Dobbs and the other Vols seniors.
And it would once again show that Butch Jones is slowly but surely improving the program.
More from All for Tennessee
This article originally appeared on