PHOTO: Nebraska WR withholds tip from waiter who apparently bashed 'Huskers
Nebraska finished a disappointing 5-7 in its first regular season under Mike Riley, so there might naturally be some detractors out there.
Junior wide receiver Brandon Reilly says he encountered one of those detractors — a waiter — when he went out to eat Monday. The waiter apparently didn't realize who was sitting at the table.
Rather than tip "Trey," Reilly left him a note. Here's a screen grab of his since-deleted tweet: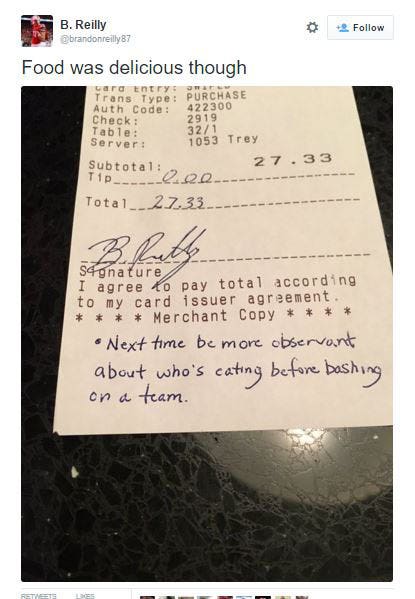 Reilly pulled down the tweet after catching some heat, and got defensive.
@m_f_oley @JohnBishop71 People can have an opinion, but I feel they should at least be respectful about it

— B. Reilly (@brandonreilly87) December 1, 2015
@lobr33zy Sorry you feel that way..all I ask for is respect

— B. Reilly (@brandonreilly87) December 1, 2015
Social media these days 😐😐 For all those tweeting opinions, don't be quick to judge when you don't know many details.

— B. Reilly (@brandonreilly87) December 1, 2015
Nothing wrong with an opinion, there's just a way to say things and a way you shouldn't.

— B. Reilly (@brandonreilly87) December 1, 2015
Phone couldn't handle the madness..don't regret posting it. People can't be disrespectful & expect things in return https://t.co/IMJXD4U3NC

— B. Reilly (@brandonreilly87) December 1, 2015