NDSU reverses SDSU to move into FCS semifinals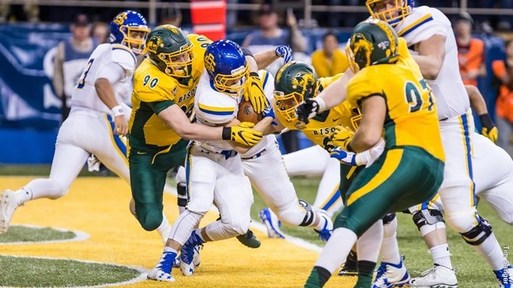 (STATS) – A safety, a couple field goals, some explosive plays on offense, numerous key defensive plays and a big advantage in time of possession. It sure sounds like a typical win for North Dakota State's FCS dynasty.
But it didn't amount to being quite that Saturday as the top-seeded Bison advanced in the FCS playoffs with a 36-10 quarterfinal-round triumph against a rival South Dakota State squad that handed them their only loss in the regular season.
NDSU (12-1) overcame its first double-digit deficit of the season to overpower the eighth-seeded co-champion from the Missouri Valley Football Conference. The Bison are two wins away from extending their record run of five straight FCS national championships, but the semifinals figure to be tough as well when they host No. 4 seed James Madison (11-1) at the Fargodome next weekend.
In the only previous meeting, NDSU beat James Madison 26-14 in the second round of the 2011 playoffs – the first win in the Bison's run of FCS championship seasons.
It helped that NDSU has never lost at home in the FCS playoffs – an 18-0 mark this decade – because SDSU won 19-17 with a last-second touchdown at the Fargodome on Oct. 15.
On Saturday, the Jackrabbits jumped to a 10-0 lead by scoring on their first two possessions, but NDSU eventually settled into its usual style of physical domination. Sophomore quarterback Easton Stick ran for two touchdowns and threw for one and the Bison rushed for 302 yards while controlling the ball for 40 minutes, 55 seconds. It included a second-quarter touchdown drive that lasted 12:09.
It was vital that coach Chris Klieman's squad kept SDSU's potent offense on the sideline. Quarterback Taryn Christion had 444 yards of total offense in the Jackrabbits' regular season win, but he gained only 139 Saturday.
No possession epitomized the game, if not the Bison season, like their vintage touchdown drive that provided their first lead of the game. The Bison held the ball for 20 plays while going 82 yards before Stick scored on a 3-yard run to make it 14-10 with 1:48 left in the first half. SDSU's gassed defense bit on a faked handoff and Stick rolled right on a bootleg to the front corner of the end zone.
The lead stayed that way into the third quarter and SDSU safety Nick Farina intercepted Stick at the Jackrabbits' 1-yard line. But that staved off a score only momentarily as on the second play of the Jackrabbits' ensuing drive, Bison defensive tackle Grant Morgan tackled running back Brady Mengarelli in his end zone for a safety, which extended the lead to 16-10 with 9:13 remaining in the quarter.
The Bison got the ball right back and Cam Pederson kicked a 35-yard field goal at the 5:27 mark to put them ahead 19-10. He added a 45-yard field goal before the third quarter was over.
In the fourth, Stick ended a 90-yard drive with a 14-yard run and he later connected with running back Bruce Anderson for a screen pass that resulted in a 67-yard touchdown pass.
Stick completed 12 of 21 attempts for 188 yards, rushing for 83 yards on 16 carries. King Frazier carried the ball 15 times for 101 yards and Lance Dunn finished with 13 carries for 91 yards, including a 49-yard first-quarter touchdown to pull the Bison within 10-7.
SDSU, which has never had a 10-win season, got everybody's attention with its 10-0 lead. The Jackrabbits capped the game's opening drive with one of the more unique touchdowns of the college football season. Coming out of a timeout, they lined up in a deceptive formation of upright linemen, and a squatting Mengarelli took the handoff down low and emerged untouched for a 5-yard run.