Mullen, Bulldogs Just More Victims for Alabama Defense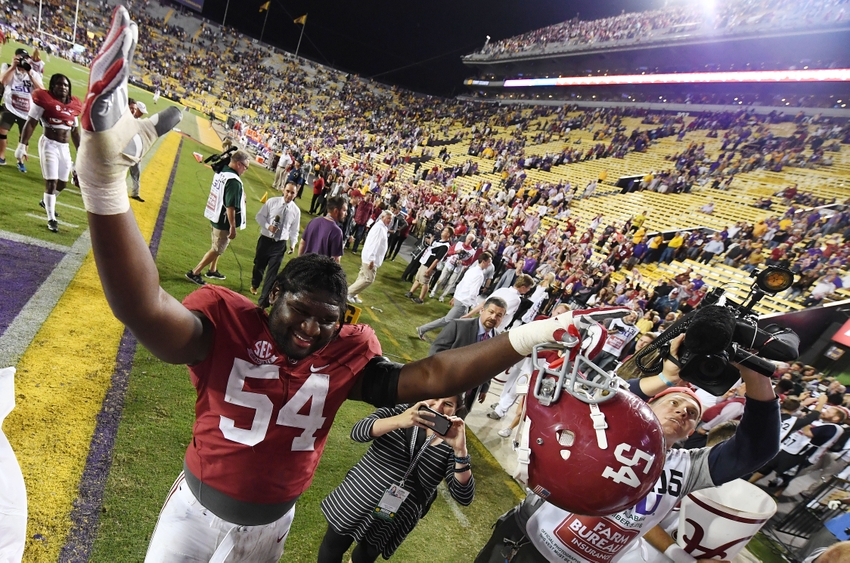 Even with Nick Fitzgerald's recent success, it doesn't matter – because he and the Mississippi State Bulldogs are just another victim for No. 1 Alabama.
When I think of Mississippi State, the first thing that comes to  is their politically incorrect nickname Starksvegas. Not knowing much about Starkville since I've never been there, I decided to let Google tell me how many casinos Starkvegas actually had. The way they speak of it, you might be like me and picture a mini Las Vegas setup complete with a Vegas Strip or something. With a nickname like Starkvegas I figured they has at least 20 casinos up there, when in reality they don't have any. I don't know what's more pathetic, Starkville being called Starkvegas or the 4-5 record the Mississippi State Bulldogs bring to Alabama and Bryant-Denny Stadium to try the No. 1 team in the country this weekend.
Dan Mullen looks like the mean orderly dressed in all white walking the halls of an insane asylum. To me, he also looks like a sausage-necked dirtneck goober extra in the movie "Deliverance". Really, he looks like everything but a head football coach in the SEC. Hey Dan, NFL rookie sensation Dak Prescott ain't walking through that door. If he is lucky, maybe Mullen can pull a Nick Saban and see if Jerry Jones and Jason Garrett will loan him for the scout team against Alabama.
ICYMI: Coach O's Death Valley Dreams Will Be a Nightmare
Dan Mullen should wake up every morning and thank God for two people: Tim Tebow and Dak Prescott. If I were Dan Mullen, I'd send them both a boutique of flowers every week. Why, you may ask? Because they made Dan Mullen a very rich man and he can afford it. That silly, gimmick-filled Auburnish PlayStation offense doesn't work too well without a stud QB, does it? As if stud QBs grow on trees around here. Besides, even if Miss State had access to a stud option style QB (see: Hurts, Jalen), he would go to Alabama over Miss. State any day of the week and twice on Sundays.
Good Luck Figuring Out Kiffin
Speaking of insane asylums, the entire Mississippi State defensive coaching staff might want consider booking a couple of rooms at once around Thursday of this week. That's about when their brains are going to fry trying to figure out what Lane Kiffin is doing with the Alabama offense to be producing such dynamic results. I'd imagine trying to decipher Kiffin's offensive psychology is like trying to figure out some space alien language or something. Do you know why Lord Saban hired Lane Kiffin? It's because he has no freaking clue what he's going do on offense next … none of us do.
It probably makes Nick Saban want to pull what's left of his prestigious hair out. Lane Kiffin is playing a game of human chess, and with Lord Saban has his guru/advisor/overseer, he's Garry Kasparov and you are not. If Saban can somehow explain to Kiffin that the football is supposed to go down the field and not sideline to sideline, I think the No. 1 team in the country will do a little better than 10 points vs. Mississippi State.
I guess the media hype machine got fed some snacks this weekend when Mississippi State beat the No. 4 team in the land – the Texas A&M Aggies. No, people, it's not that Mississippi State is all of a sudden good and A&M stinks. It is called the Alabama Effect. Ask Butch Jones, he knows. Ask Ed Oregon, he's going to find out Saturday. Texas A&M was two weeks removed from having their dreams shattered by Alabama. No more daydreaming of SEC title appearances, and gone are the playoff hopes and dreams. All of those shattered hopes and dreams showed up on the field against Mississippi State, and it was evident in their lackluster play.
But I suppose lackluster play has become common in Starkvegas in 2016 with that 4-5 record. After starting the season with Damien Williams and shuffling quarterbacks around, Mississippi State is currently on an impressive (for Mississippi State, anyway) two-game winning streak that they plan on extending this weekend against the No. 1 team in the country. The guy leading this two-game win streak is some mini-goober named Nick Fitzgerald, and I'd imagine he's going be having some fits on the sidelines after he throws a couple of picks against the Jeremy Pruitt-coached Alabama defense.
Even with Fitzgerald's recent success, it doesn't matter – because he and the Bulldogs are just another victim.
More from Bama Hammer
This article originally appeared on