MSU Armchair QB: Shootout Edition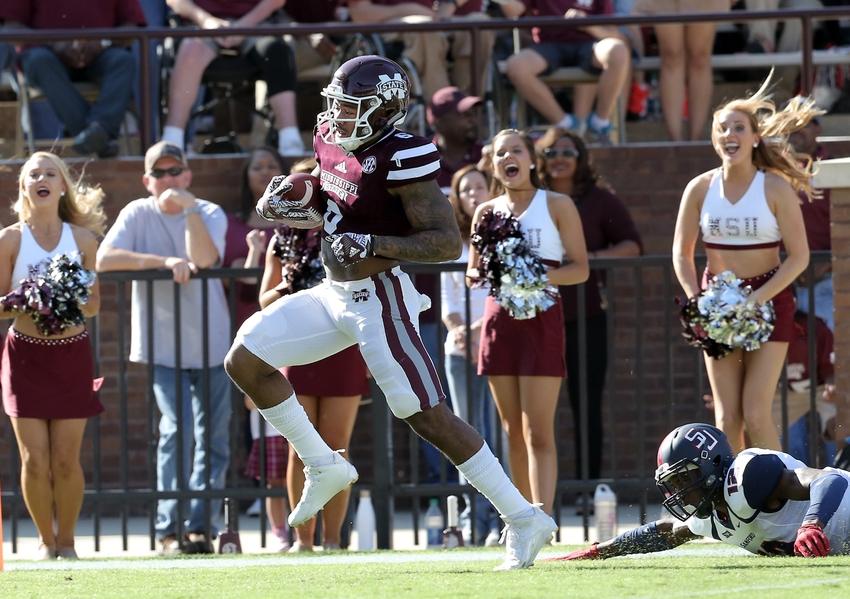 MSU Armchair QB – positioned and ready to analyze the 56-41 win over Samford.
56-41. It wasn't pretty on Saturday, but a win is a win. Considering the 2016 season so far, I'll happily take it. The problem is that nothing happened to make anyone think we can be competitive in our final four games of the season. But that isn't to say there weren't some positives on the day. There absolutely were. Here's what I saw:
Defense:
1. I don't even have words to describe how bad our defense is right now. We gave up 41 points to an FCS. They were able to run over 100 plays offensively. Samford gained 627 yards of total offense. They put up 468 passing yards and 159 rushing yards. Samford averaged 4.7 yards per rush. Perhaps worst of all, Samford was 4/5 on 4th down conversions. Simply put, we had no answer for them.
2. We are the worst tackling team I've ever seen. It's embarrassing how bad we are at wrapping up and putting guys on the ground. We'd rather try to knock them down or push them out of bounds – and fail at that, too. It's completely lazy and a total lack of effort. You have to want to tackle and we don't. It's disgusting.
3. Our secondary is a complete joke. They are FCS atrocious. They might even be a bad Division II secondary. I'm fairly certain good D-II teams like Delta State could throw for 200+ against them.
4. Defensive line generated almost no pressure. Samford threw it 70 times and we had just 3 sacks, 10 QB hurries. We didn't have AJ Jefferson, but that shouldn't have mattered. A SEC DL should dominate an FCS OL, even missing one starter. The only guys who really stood out to me were Nick James, Cory Thomas, and Jeffery Simmons. Simmons was particularly impressive.
5. Linebackers are mostly ineffective. Richie Brown has struggled all year. He makes a bunch of tackles, but name one impact play he's made. I can't. Leo Lewis & Gerri Green hustle and are physical. JT Gray has regressed and Traver Jung is kinda just there.
6. Helmet sticker for DeAndre Ward. He isn't that talented, but if everyone on the D played with his effort, we'd be pretty good on that side. He's a wide open, balls to the wall guy. Loved seeing him complete the pick-six.
7. Maurice Smitherman looked ok prior to being injured on his INT. What we really needed was an injury to ANOTHER DB.
Special Teams:
1. Another day of special teams being ineffective. Other than punt and KO coverage, we were pretty poor.
2. Westin Graves missed a 24-yard chipshot FG. After being consistent last season, he's regressed this season. The USA miss has really screwed with his head. The positive is he was perfect on his PAT attempts.
3. Logan Cooke only punted 3 times, which is a positive. He averaged just 38.7 yards per punt, but that isn't as bad as it sounds. He had one bomb of 58 yards and a touchback that was nearly downed at the 1. Unfortunately, he had another shank and it came at the worst possible time.
Offense:
1. Offense had a huge day. They ran up 669 yards of total offense, 417 passing and 252 rushing. 7 offensive TDs ties a school record. State ran 81 offensive plays, 46 rushes to 35 passes. That's a run/pass ratio of 57/43. Still not as run heavy as I'd like, but I can't complain about throwing it when we had over 400 yards in the air.
2. MSU QB Nick Fitzgerald had a huge day. He threw for 417 yards and rushed for 119 with 7 total TDs. 5 of the 7 came in the air, 2 on the ground. Those 7 TDs tied Dak Prescott's school record. Fitz became just the 3rd QB in SEC history to have a 400/100 day. The other two? Johnny Manziel and Archie Manning.
Fitz is improving every week. His reads are coming more quickly and he's finding open receivers. You could see the accuracy on the deep balls Saturday when he actually had time to set his feet and throw for a change instead of running for his life. Fitz did have a couple of INTs, but most of his mistakes are either inexperience or the OL being awful.
It's time for everyone to get on board and realize Fitz is the guy at QB.
3. Donald Gray came to play on Saturday. Absurd stat of the year: Gray averaged 51.2 yards per catch against Samford. He had 4 catches for 207 yards and 3 TD. His third TD was the best of the bunch, featuring a ridiculous catch to bail out a poor throw from Fitz.
4. Fred Ross continued his assault on the MSU receiving record book. He had 9 catches for 107 yards and 1 TD. The TD moved him into sole possession of 3rd place all time, if I'm remembering correctly. I can't find it in print, but I believe that's what I heard Jim Ellis say during the game.
5. The running backs had a nice day. Let's take an individual look:
a. Ashton Shumpert: Shump had 7 carries for 39 yards and averaged 5.6 YPC. But that doesn't tell the whole story. Shump had a long carry of 21, which means he gained just 18 yards on his other 6 carries. That means he averaged just 3 YPC on those 6 carries. 7 touches is about 4 too many for Shump. Give it to more productive RBs and let him block.
b. Aeris Williams: Aeris out-touched the other RBs with 8 carries. But he gained just 21 yards and averaged a paltry 2.6 YPC. You shouldn't have days like that against an FCS D if you're capable of toting the rock in the SEC. Games like Saturday are why I'm convinced he's just a slightly better version of Shump and not the bellcow RB we're looking for.
c. Nick Gibson: Gibson had just 4 carries, but he made them count, gaining 33 yards and averaging 8.3 YPC. He had a long run of 14. Gibson showed excellent burst and vision, finding the holes and accelerating through them. And he was physical, running through tackles and facing forward for extra yards. It's time to turn him loose, give him 15+ carries, and see what happens. He looks like a guy capable of getting stronger as a game goes.
d. Dontavian Lee: D-Lee had just one carry for three yards. Really wish he'd get the touches of Shump & Aeris, but it seems we're reluctant to use him. I still believe Gibson should be "the guy" going forward, though.
6. Keith Mixon had another big day. He's been the breakout player offensively so far this season. Mix had 5 rushes for 38 yards and 7.6 YPC with a long rush of 15. He had his only reception, a long TD, called back by a (bogus) penalty. It's a shame we never went back to him in the air. That said, we're using him perfectly for his skill set. It's the way we should have been using Holloway: Throw it to him, give it to him on the speed sweep, toss sweep…and not a single carry on the inside zone.
7. Our OL is hot garbage. It was sobering on Saturday when I realized they are barely a high level FCS OL. They struggled to open holes for the RBs. Samford managed to get some pressure to Fitz.
Worst of all are the continued assignment screw-ups. I believe it was on the possession where Samford stopped us on 4th and goal, Justin Senior made a horrendous mistake. The rest of the OL fired off to run block, but Senior took a chop step like he was going to pass block. It completely blew up the play, got our RB destroyed, and resulted in a loss.
Coaching/Intangibles:
1. MSU HC Dan Mullen had a solid day calling plays on offense. We ran more than we threw, although it certainly didn't feel like it. But he took deep shots and we focused on getting the ball to our best playmakers, Fred Ross & Donald Gray.
2. MSU DC Peter Sirmon has major problems. Guys are loafing and quitting on plays. Basic effort is an issue. Tackling is an issue. There's some talent in the front 7, but we aren't producing. I think it's partially attributable to the switch from a 4-3 to the 3-4. And we also have to consider the effects from the revolving door that is the DC under Mullen. We're on the 6th guy in 8 years? Torbush, Diaz, Wilson (2 years), Collins, Diaz x 2, Sirmon. That has to catch up at some point. Guys are out there thinking about where they're supposed to be instead of just playing. They aren't running to the football.
The problem I have is that we just don't look coached. Poor tackling form, lack of effort, etc. We have major talent issues at CB, but the rest of the D should be better.
3. When "leaders" like Brandon Bryant are barely giving effort, you have a major problem. No one who actually plays hard has the talent to make an impact and lead defensively. And conversely, the truly talented players like Bryant are quitting. It's sickening.
We're Mississippi State. We're used to some really bad seasons. We can handle teams that suck, so long as they're playing hard. But if you suck and aren't leaving everything on the field, don't whine on social media when you hear about it from we the fans.
4. The officiating crew sucked. They took 2 TDs off the board on VERY questionable calls. The first was an offensive pass interference. Samford's safety initiate contact with our TE who was just running his route. Our TE is nearly 300 pounds, their safety is maybe 170. Needless to say, he got trucked. Ref throws a ridiculous flag for a "pick" and brings back Mixon's TD.
The second was a rush TD from Fitz. Samford DL pulled off Fitz's helmet. Should have been a flag, but it wasn't thrown. Play goes to review, TD comes off the board because by rule the play is dead when the helmet comes off. Doesn't matter that it's completely against the spirit and intent of the rule. They should have just looked at each other, said "We missed it and screwed up, TD stands."
Final Thoughts:
Enjoy the win. The next 4 games are likely to get very ugly. If our defense doesn't at least play hard, Texas A&M and Northern Miss may score 100. And I'm not really exaggerating much. Neither coaching staff is known for calling off the dogs in a blowout. They're known for running it up as much as they can. It's sobering to realize our talent in key areas has fallen so far. And even with JUCO players, there's no quick fix. All the misses and laziness in recruiting is now on full display. I fear for Fitz's life against the aTm and Bama D-Lines. He's just starting to gain some real confidence and the beatings he'll take the next 4 weeks could crush it.
I don't know what we're going to do at DB. We barely have enough warm bodies to field a unit. And it wouldn't be right to pull redshirts this late in what will be a 3-9 season. Plus you have to think if the guys who've been playing are so bad, can the guys behind them really be an improvement? But we've got to have players to fill the depth chart. Going to be some hard decisions for the staff this week.
More from Maroon and White Nation
This article originally appeared on