MSU Armchair QB: Return of the Golden Egg Edition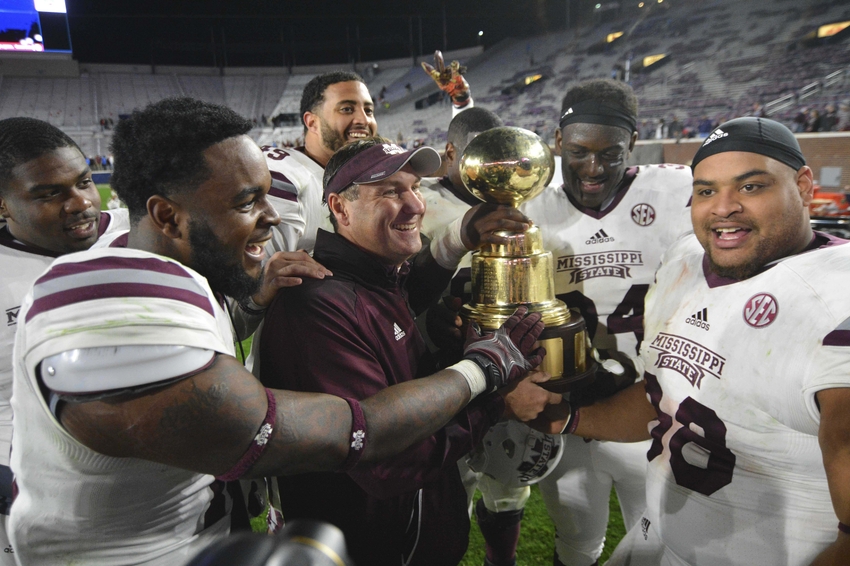 What. A. Game. I gotta admit, I didn't see that one coming. Mississippi State pummeled Northern Miss 55-20 in Oxford to win the annual Battle of the Golden Egg and it could not have been any more sweet. MSU Head Coach Dan Mullen avoided a three game losing skid to our archrival and returned the Golden Egg to its home in Starkville. So how did the Bulldogs wipe the floor with the Black Bears? Here's what I saw:
Defense:
1. The D got off to a very shaky start in the first half. After a stop on the opening, the Bulldog D allowed 20 points. Every problem we've seen all season was on display in the first half: Awful tackling, lack of effort, inability to stay in your run lane, busted assignments, lack of pass rush, etc.
2. Hats off to defensive coordinator Peter Sirmon. I don't know what he said at halftime, but the Dawgs were a completely different unit in the second half. They played with an aggressive, nasty attitude. They ran to the ball and tackled. But most importantly, they pitched a shutout. By the end of the game, State forced 10 stops.
3. Turnovers were a huge part in the outcome. State benefitted from a 14 point swing on two INTs of Northern Miss QB Shea Patterson. The first pick came in the endzone to deny the Bears a TD. The second was a 74 yard pick six by Cedric Jiles.
4. Since I already mentioned him, Cedric Jiles had a solid day. He had 3 total tackles, all solo, plus the pick 6. He really stepped up big in the second half and really iced the game with his score.
5. Jamal Peters was everywhere and was a big reason the D had a good day. He had just two tackles, but he also a PBU and the INT to save a TD. The INT was a really good individual effort where Peters tipped the ball to himself with his left hand while making sure to keep not one, but both feet, in bounds. It was a nice display of skill and athleticism.
6. Johnathan Calvin was a grown man on the DL, especially in the second half. He had 2.5 TFLs and 2 sacks to his credit to go with 3 tackles. Calvin harassed Patterson all afternoon, especially in the second half, and was a big reason the Bears were unable to move the ball when it mattered.
7. Mark McLaurin was quietly good. He finished with 7 total tackles, 5 of them solo. He did have the soft personal foul call against him, but that was an effort penalty I can live with. I'll admit I'm a homer, but I do not believe it should have been a flag. Mac was already engaged with the ballcarrier and started to sling him down while they were still inbounds. I'm assuming it was flagged because the officials were trying to keep things from getting out of hand and a play like that can cause emotions to run even higher. Still, I thought it was extremely weak to throw it.
8. Kivon Coman had a great day. He led the team in tackles with 8 total, 5 solo. He also added 1.5 TFLs and 1 PBU. He stepped up and took charge, clearly being a vocal leader on the field. It was a great way to end his career.
9. After enduring a week of sniping by the Bear Cultists, Leo Lewis showed up and had a big day. He recorded 6 total tackles, 4 solo, 1.5 TFLs, and 1 sack. He stepped up and absolutely stuffed Northern Miss on a key 4th down in the second half. And he let them know it while he was doing it. Keep running that mouth, BearSharks. You expose how clueless you are about what is coming your way in the near future.
Special Teams:
1. As usual, the Special Teams was a very mixed bag. Thankfully, more good than bad for a change.
2. Punt returns were non-existent. State was forced to fair catch or let the ball hit every time.
3. KO returns were poor on the whole. Brandon Holloway returned 2 for 39 with a long of 20, but made a poor decision to run the ball out of the endzone instead of letting it go or taking a knee and having the ball at the 25. Malik Dear had one return for 7 yards and clearly didn't want to get hit. The bright spot was Keith Mixon with one return for 37. The kid has game breaking speed and has the moves to go with it.
4. Punting was very good. Kody Schexnayder continued to handle the job in place of the injured Logan Cooke. He punted just 3 times on the day but had 140 total yards, a long of 50, averaged 46.7 YPP, and 1 downed inside the 20. It's great to see him bounce back strong after rough games against Bama and Arkansas.
5. Kicking was its usual disaster. Westin Graves missed his first PAT of the day and didn't attempt a FG. He's got the yips something fierce and it gets worse every week.
Offense:
1. The Bulldog offense was nothing short of spectacular. They rolled up 566 yards of total offense, the most a Black Bear D has ever allowed. The vast majority of the damage came on the ground with 457 rushing yards. State added another 109 through the air. The Dawgs were actually lost TOP because so many of our scores were quick strikes on big plays. We just never really had that long, methodical, clock-eating drive. If you didn't watch the game, the stats just don't accurately tell the story. Just goes to show how fickle stats can be.
2. The Dawgs ran 64 plays from scrimmage and rushed it 47 times while throwing just 17. State ran it on 73.4% of the time on Saturday and it paid off big. State averaged 9.7 YPR. Basically, we brought back the Chris Relf-fense/Relf Coast Offense. It was absolutely beautiful and what we've been dying to see with Fitz & Aeris. When we commit to running the football, good things happen for the offense.
3. Gotta give some serious love to the OL. They brought their lunch buckets and did work all day against the Northern Miss front 7. From the first play of the game they punched the DL right in the mouth and kept punching all day. The big fellas mauled the Bears at the point of attack and created huge lanes for QB Nick Fitzgerald and RB Aeris Williams to run through. Of 47 rush attempts, I'd be willing to bet fewer than 10 of them were for less than 5 yards.  For someone who loves the running game as much as I do, it was a beautifully dominant display of physical football.
4. Fitz went Beast Mode on the Bears and had one of his best days yet. He was just 8/17 for 109 and 3 TDs throwing. The completion percentage is an ugly 47%. But he averaged 13.6 yards per completion. He did enough to stretch the D vertically and keep them from loading the box with 9 or 10 for fear of being beaten over the top. Obviously you'd like to see the completion percentage be higher, but he did have a couple of drops. But considering what we were doing in the run game, Fitz did exactly what you need him to as a passer in that situation.
Fitz really did his damage as a runner. He rushed then ball 14 times for 261 yards and 2 TDs. He averaged a gaudy 18.4 YPR and broke a long rush of 70. He was physical when appropriate while still protecting himself from taking unnecessary hits. The 261 yards breaks his own single game record for a QB that he set against South Carolina and breaks the single game school record set by Boobie Dixon against Kentucky in 2009, Mullen's first year as boss. Fitz also broke Dak Prescott's record for rushing yards in a single season by a QB. He had 985 coming into the game and added 261 to finish the season with 1,246 yards rushing. He averaged 7.04 YPR for the season. That's just absurd.
5. Aeris Williams had another monster game himself. A-Train rushed 25 times for 191 yards, 2 TDs, averaged 7.6 YPR, and ripped off a long run of 36. I can only remember 2-3 rushes of fewer than 8 yards. He showed what we've seen from him ever since he took over as the feature back. He was a load inside, broke tackles, nice ability to cut and go downhill, good vision, patience, really sells the option when he doesn't have the ball, and falls forward for the extra 2-3 yards. He lacks true breakaway speed, but he does everything else well. He's a great complement to Fitz. It's a shame it took Mullen most of the season to figure out what the rest of us already knew about Aeris.
A-Train ends the season with 656 yards rushing and averaged 5.24 YPR for the season. That's a solid number and reason to be excited moving forward.
6. WRs didn't do much in the pass catching department due to the success of our running game. But they were huge in the success of the run game, getting downfield to throw blocks and turn 5 yard runs or 10 yard runs into 12 and 15 yard runs. Hats off to them for being unselfish and doing the dirty work.
7. Fred Ross had just one catch, but he made it count. Ross got open on a crossing route and took it 38 yards for a crucial score. Love seeing this guy go out on a good note. He's been a great one.
8. Malik Dear likewise had one reception for a TD. He ran a seam route out of the backfield and was all by himself due to an option fake by Fitz, who made a perfect throw. Dear did the rest and found the land of milk and honey.
9. Elgton Jenkins deserves a special mention on the OL. He was a grown man all day at LG. Jenkins dominated his assignments and showed great athleticism when pulling and running downfield to throw blocks. Love how physical he is.
Coaching/Intangibles:
1. Mullen had the team ready to play this game for the first time in two years. They played with emotion and guts, displaying real fight after the Bears climbed back into the game at 27-20. We saw the Dan Mullen that initially arrived at MSU and had fire in his belly. It made a major difference. He still had a few of his usual issues, like pulling Aeris for the drive right after Northern Miss had cut the lead to just 7, but he managed to minimize them on the whole. We need more of that from him and less attempts to prove he can plug anyone into the system and make them productive.
2. Loved the offensive gameplan. Run it straight at the Bears' D, throw the bubble screen to force them into running side-to-side and keep them from bunching up in the middle, deep shots off play action. It was the perfect way to attack their D.
3. The halftime adjustments by Sirmon can't be overlooked. After a rough first half, the Dawgs pitched a shutout. That half is something to build on next season.
4. We finally saw some leadership emerging from the players and the seniors. It only took 12 games, but it was still good to see.
5. Gotta give some props to John Hevesy. He continues to prove what I believe: He's a solid coach that can develop his players. The problem is that he can't get anyone above a 2-star to come play for him. If he had legit SEC talent to work with, we'd be scary good.
6. Regardless of this game, it is non-negotiable that Mullen break up the #CountryClub in the offseason. The staff needs fresh blood and guys who want to hit the trail and recruit. The #CountryClub is the antithesis of what Mullen built his program around when he arrived. If you're demanding relentless effort from your players, then demand it from your entire coaching staff on the recruiting trail.
Final Thoughts:
I loved how physical we played. Rushing for 450+ yards was an epic achievement. By the end of the game, we had beaten up the Bears physically and emotionally. We made them quit. It was glorious. Nice to see some young guys step up and have big days. It's an encouraging sign for the future. The D getting 10 stops, 2 TOs, and a score was a big deal. Fitz has steadily developed over the course of the season and become one of the best QBs in the conference. He's much more complete and runs the system very well. I'm so excited about his development moving forward. I can't name 3 other SEC QBs I'd rather have right now. Hurts might be the only one.
Perhaps best of all, we are sending these seniors out as winners. They've been part of a bunch of big wins the last 4-5 years, despite this season's debacle. Guys like Richie Brown, AJ Jefferson, and Ashton Shumpert deserve to go out with the Egg. I'm really happy for them.
We also got to send off Freeze as a loser. For my BearShark readers, and I know you're out there, enjoy being Probation Plantation. You've earned what coming. You thought you were more than you are and reality is about to punch you in the face. #ShowCause #HappyProbation
There might not be a sweeter substance known to man than the tears of Northern Miss Black Bears. And believe me, they are plentiful right now. My Twitter feed and Facebook timeline overflows with their deliciousness. Enjoy them, because I certainly am. Drink up, me hearties!
Hail State!!!!!!!
More from Maroon and White Nation
This article originally appeared on