Mississippi State vs. Alabama Point Spread Announced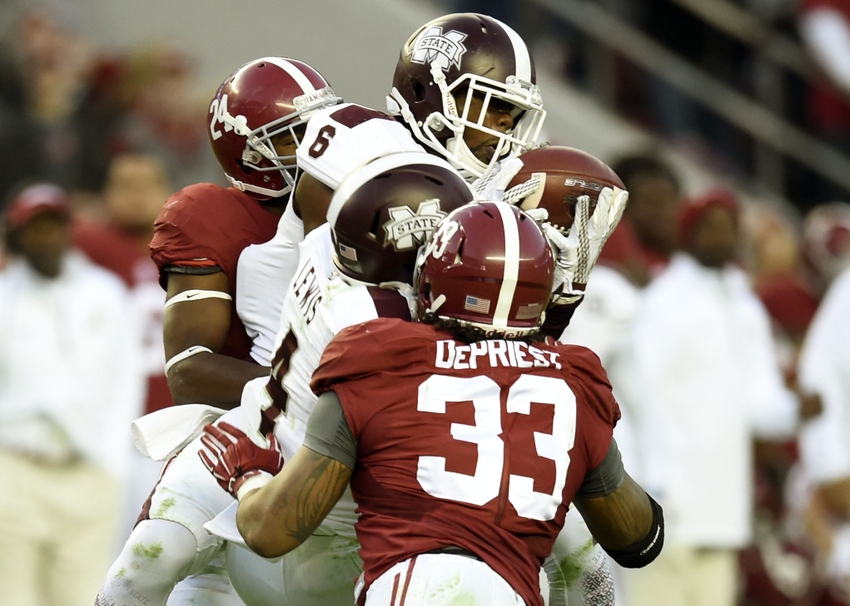 Mississippi State will travel to Tuscaloosa to play the Alabama Crimson Tide on Saturday, November 12th.
Mississippi State opened as a 29 point underdog vs. Alabama.
That point spread is rather large, especially considering the Bulldogs just knocked off No. 4 Texas A&M. For that win against the Aggies, MSU got some "#StreitCred".
I only mention it because a lady named Samantha Ryan has e-mailed me at least three times in the last week about "#StreitCred". Sounds pretty stupid, but he, Ms. Ryan – I'm mentioning it now so you can stop with all the e-mails!
It's official: Miss State gets #StreitCred for scoring the big win of the day in the upset of No. 4 Texas A&M, @Allstate #ad pic.twitter.com/NVU1IeSXxR

— Kirk Herbstreit (@KirkHerbstreit) November 6, 2016
During Dan Mullen's tenure at Mississippi State, the Bulldogs have routinely been destroyed by Alabama, but only once by as much as 29 points. Alabama is the only team Mullen has yet to beat while at MSU. The margins of the losses have been: 28, 20,17, 31,13, 5, and 25 last year.
So will Alabama completely destroy a team that just got #StreitCred? We've spent all year trying to get #StreitCred, and now that we have it, Nick Saban is going to destroy us…..according to Las Vegas?
Alabama is 6-0 in the SEC right now. A win in this game and an Auburn win at Georgia next week would set up the Iron Bowl for a winner-take-all game in the SEC West. And really, the SEC.
This game will kickoff at 11:00 and be broadcast by SEC Network.
More from Maroon and White Nation
This article originally appeared on