Mississippi State QB breaks record, fans break SEC noise rule in Liberty Bowl
Forecast for Tuesday's AutoZone Liberty Bowl in Memphis: 45 degrees and sunny, with an extremely high chance of cowbell.
Mississippi State's offense exploded behind sophomore QB Dak Prescott as the Bulldogs topped the Rice Owls 44-7 in the SEC-meets-Conference USA matinée.
And when the Bulldogs put up points — or sometimes if they're just snapping the ball —that means one thing:
Ring them bells
From Mississippi State's campus, the Liberty Bowl Stadium is less than a three-hour drive northwest up the 78 and across the state line. Bulldog fans showed up in a big way on Tuesday.
It's kinda maroon at the Liberty Bowl! #hailstate #libertybowl pic.twitter.com/SJQ2jpEPMt

— Bill Simmonds (@billsimmonds) December 31, 2013
And the loved (or loathed, depending on where your allegiance falls) traditional noisemakers also made the drive:
Just now entering #LibertyBowlMemorialStadium and all I hear are those damn cowbell! @MHunter_GAMME must be in heaven. #HailState

— Conrad Hurt, Jr. (@Conradicalness) December 31, 2013
Fans didn't seem to care that Mississippi State received a $25,000 fine from the SEC last month for ringing away during inappropriate times of gameplay. The clanging sound that could be heard throughout Tuesday's contest might have been a hint that the slap on the wrist from the conference didn't resonate much with Mississippi State fans. Listen up for yourself:
Prescott to Perkins ties the game at 7 in Memphis. #LibertyBowl http://t.co/vuvdhHoA3r

— College GameDay (@CollegeGameDay) December 31, 2013
But the biggest problem they faced wasn't the rowdy crowd…
… His name is Dak Prescott
Down on the field, the Bulldog QB threw for 228 yards and three TDs in the first half, looking, well, "in the zone."
Prescott's prettiest pass was one he squeezed into a small window in the end zone to highly-covered WR Artimas Samuel.
In the second half, Prescott decided to give his scoring plays a little variety, used his legs to extend the Bulldogs' lead by two more touchdowns.
Mississippi St leads Rice 27-7 at the half of the #LibertyBowl. Dak Prescott #MSST 12-19, 228 yards, 3 TD http://t.co/0LhWsnpWvN

— ESPN CollegeFootball (@ESPNCFB) December 31, 2013
That was good enough for a bowl record.
After Prescott suffered multiple injuries on the field and lost his mother to cancer earlier this season, it was nice to see him finish the year on a high note in a campaign he called a "bunch of up and downs" during an on-field postgame interview with ESPN. We'll be looking forward to seeing what he brings for the Bulldogs in 2014.
State's QB #15 Dak Prescott has set the #AZLB record for touchdowns accounted for with five #AZLB55 #RICEvsMSST

— AutoZoneLibertyBowl (@AZOLibertyBowl) December 31, 2013
Copycat alert?
Whether or not Mississippi State will be hearing from the SEC Conference again remains to be seen, but some on Twitter were calling foul play on Rice's special Liberty Bowl lids.
Here's Oregon's take on the winged design, sported below by Ducks QB Marcus Mariota in Oregon's loss to the Arizona Wildcats on November 23. Go ahead and compare for yourself:
Look at Oregon's new helmets… actually they are Rice's. Appears as if a copyright lawsuit is imminent #GoDucks pic.twitter.com/gXQOPlZyH3

— Comcast SportsNet NW (@CSNNW) December 31, 2013
Where did Rice's rush offense go?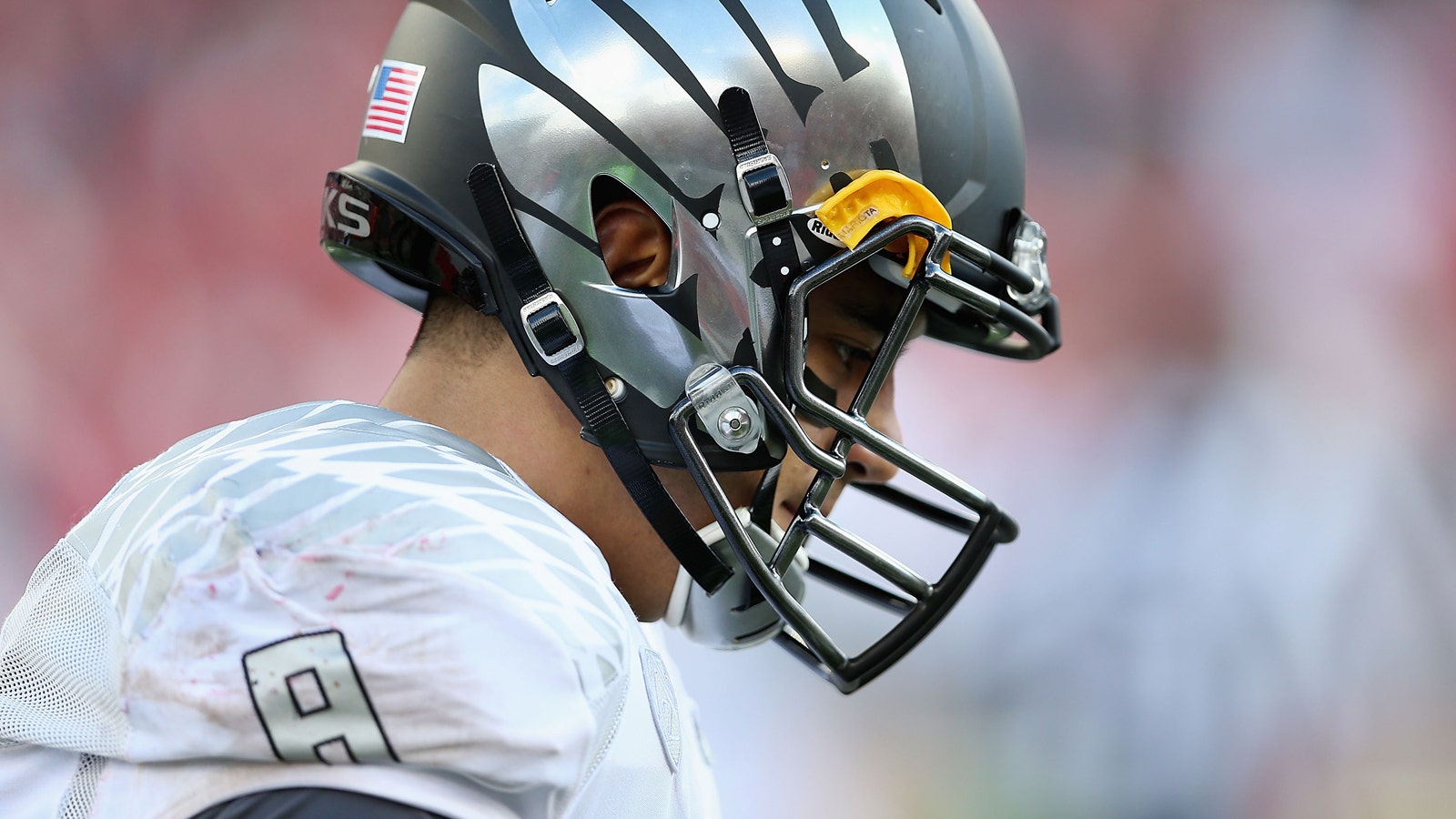 Rice's rush attack ranks 14th in the NCAA in yards gained. However, the team managed only 43 against the Mississippi State D in the first thirty minutes.
Believe it or not, the Owls' ground numbers worsened in the second half, as the team collectively squibbed out 18 yards for the remainder of the game.
It was a sour note to end on for an Owls team that captured its first conference crown in 56 years.
The perfect trophy
How do you reward fans who love their cowbells above everything else? With another bell, of course.
Artimas Samuel and Kivon Coman with the bell! #HailState pic.twitter.com/A3gaCcmkYR

— MSU Football (@HailStateFB) January 1, 2014