Mississippi State loses a weird one to LSU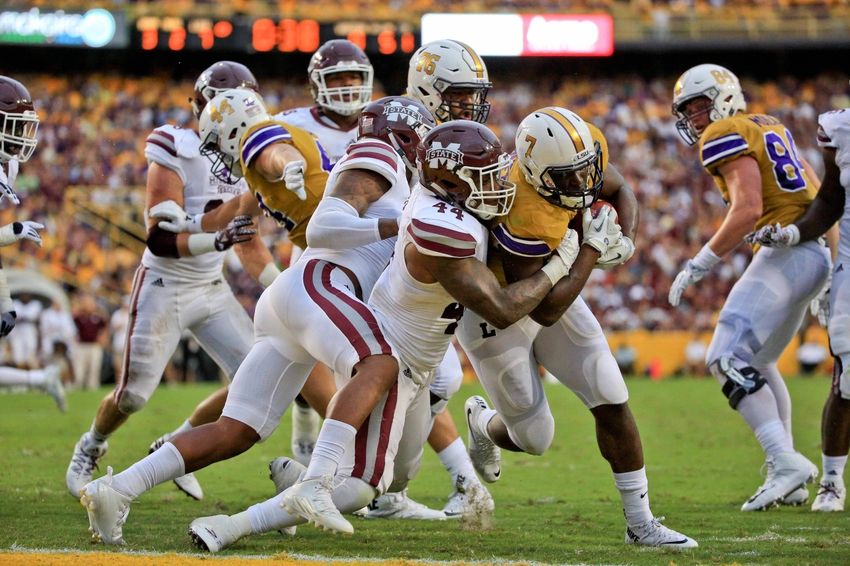 Mississippi State lost to LSU 23-20 on Saturday night in a really weird finish just like what happened two years ago.
In 2014, Mississippi State came to Baton Rouge and led 34-10 in the second half before putting in all the subs and after a few goofy things happened the Tigers were heaving a Hail Mary on the last play of the game which would've won it.
In 2016, LSU was up 23-6 with under five minutes to go when Damian Williams entered the game after Nick Fitzgerald's helmet popped off. He completed one pass and then another. The Bulldogs recovered an onside kick then scored again and it was 23-20.
State got the ball back with two minutes left and one timeout remaining, just needing a field goal to tie. But alas, they failed to get a first down and turned the ball over on downs.
The story of the game for the Tigers was all in the first half. Leonard Fournette was his usual self as a man among boys, although you could say MSU did pretty well containing with as he had ___ yards on ____ carries. LSU scored quickly in the 1st quarter and jumped out to a 20-0 lead and it was 23-3 at halftime.
Despite being down by three scores for most of the game, Dan Mullen elected to punt four times inside LSU territory. State was unable to take advantage of good field position when they had it, and the offensive play-calling was questionable at best.
What looked like a potential blowout turned into a competitive game in the second half due to some great play by Peter Sirmon's defense. On the first three drives of the 3rd quarter, State's D held LSU to 32 yards and forced two punts and a fumble. Yet the Bulldogs offense sputtered and was only able to muster a field goal in that time frame.
It was certainly a game of missed chances for Mississippi State. LSU seemed to keep giving the Bulldogs opportunities to get back in the game but they couldn't do it until the very end. If they could have turned some of those punts in LSU territory into field goals it would have been a different outcome.
Side note – for the second straight time we've gone to Tiger Stadium and the crowd has emptied out for the 2nd half. These have been weird finishes I know, but still you don't leave a SEC game when it's still in doubt. Best fans in the country? I think they care more about their cocktails at the tailgate than the game in the stadium.
More from Maroon and White Nation
This article originally appeared on