Mississippi State Football Weather Forecast: Blackout Edition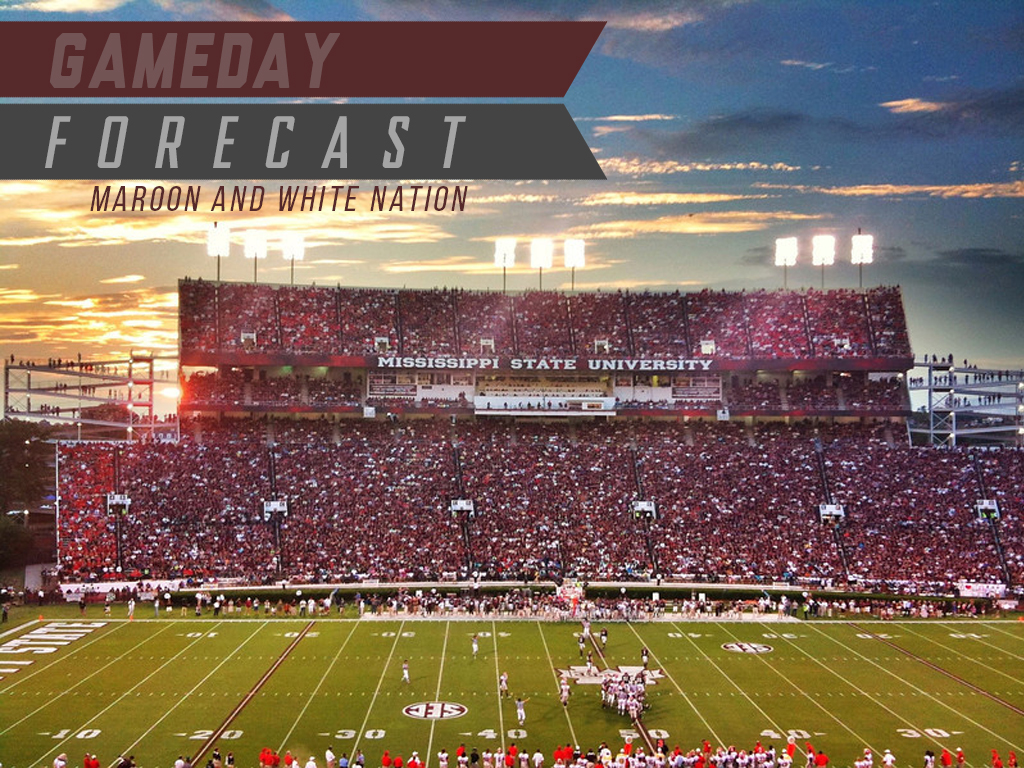 The Mississippi State football season hasn't exactly gone as planned for 2016. But, the Bulldogs get a chance at redemption against #4 Texas A&M.
Starkville is usually winding down and bundling up for the winter by this point of the Mississippi State football season. However, this year had other plans as we have remained in short-sleeve weather into November. With this in mind, hunters have been staying home due to the warmth and deer wanting to bed down more. This is not the hunting article, but simply a backstory for the forecast.
Now onto the actual forecasting part of the article. Old Man Winter has been sleeping in for this year. It's been unusually warm and dry across the state. Add in pretty much a statewide burn ban, and you have the makings of the worst tailgating conditions ever. With that in mind, remember that open flame grills are not allowed on campus this weekend. The only exception would be propane grills. So keep that in mind for your tailgating plans.
Numbers you want to know
Preparing the Tailgate with Coffee in hand (7:00 AM CDT): 45 °F, clear skies, winds from the NE below 5 MPH
Davis Wade Stadium is open (9:00 AM CDT): 52 °F, clear skies, winds from the ENE around 5 MPH
Flyover and Kickoff on SEC Network (11:00 AM CDT): 61 °F, clear skies, winds from the ENE at 5-10 MPH
Halftime and the Veterans Appreciation Show (12:30 PM CDT): 68 °F, partly cloudy, winds from the ENE around 5 MPH
Wrapping the game in the CORRECT Maroon and White (2:00 PM CDT): 75 °F, partly cloudy, winds from the NE around 5 MPH
Closing Remarks
For those of you REALLY curious about rain coming back to the Magnolia State, look no further than next week. It seems that there's a model consensus of rain next week. The only question is to when and how much rain will we actually get. That's always the most difficult part to find out. But I'm fairly confident in saying that we'll actually get some rain next week.
In other news, remember to set your clocks back an hour when you go to bed Saturday night. That's right, everyone. Daylights Savings ends Sunday morning at 2 AM, which means we "fall back" an hour. Extra hour of sleep for those of us who are actually sleeping at that time. With that in mind, I don't want anyone showing up an hour early to their work/event/church on Sunday. So be kind and go back an hour Saturday night.
More from Maroon and White Nation
This article originally appeared on