Mississippi State football: re-living the 2014 Auburn game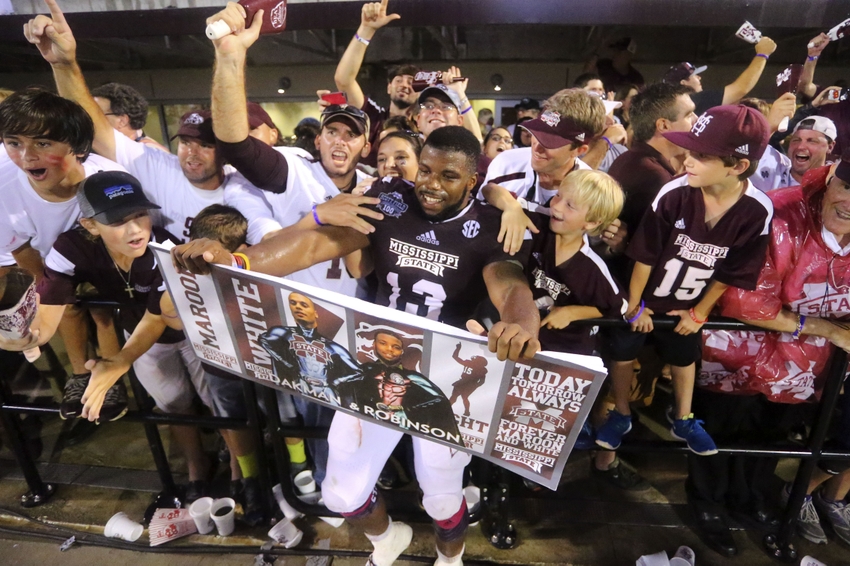 Mississippi State's 2014 game vs. Auburn was a spectacle unlike any other we've seen in the history of Scott Field.
The Auburn Tigers will visit Starkville this week for the first time since October 11, 2014 when they were in the top 5 and so were the Bulldogs. It was a game to remember, so we'll do just that today.
Setting the stage…
The week prior was quickly referred to as the 'greatest football day in the state of Mississippi's history' when MSU stomped #6 Texas A&M and Ole Miss beat #3 Alabama (#1 in the Coaches poll). Those wins vaulted the two teams into a tie for the #3 national ranking.
Mississippi State would have no time to celebrate, however, as #2 Auburn was coming to Starkville the next week. Pundits who were projecting their own College Football Playoff top four (because the official ones were a couple of weeks away from being released) universally ranked Auburn #1 and Mississippi State #2 due to Florida State being perceived as vulnerable.
At no time in history before this game had MSU been ranked in the top five – but now they were number three. Rather obviously, this was the first ever top five match-up in program history.
To make things even more exciting, ESPN's College Game Day set up in Starkville for the first time ever.
The game was also broadcast by CBS – the first time in nine years MSU hosted the SEC game of the week on that network.
This was the moment which seemingly only existed in the dreams of State fans. The defending SEC championship and national runner-up was in town to play the biggest game Scott Field had ever seen.
If I ask you to recall how the game started, you'd probably never remember the Bulldogs went three and out on their first possession, right? They did: incomplete pass, seven yard reception, loss of one on a Josh Robinson run, then punt.
That was quickly forgotten because of what happened next.
Ryan Brown tipped a Nick Marshall pass that was intercepted by Jay Hughes. Two plays later Dak Prescott hit Bear Wilson on a 3rd & 11 for a 34 yard touchdown reception that proved why he was called "Bear".
Auburn got the ball back after the kickoff, but Traveze Calhoun blasted Duke Williams forcing a fumble which Benardrick McKinney recovered. Four plays later Josh Robinson was in the endzone on a one year TD run. 14-0 Dawgs.
14-0 was a great start – unbelievable really – but then Dak Prescott and the boys really flexed some muscle on the next drive: 71 yards on 7 plays in 2:24.
The drive ended on a two yard touchdown run by Prescott, but earlier in the drive there was a 15 yard reception to Robert Johnson that we'd like to take a closer look at….
Play action, pull guard….
Pulling the guard is done to bait the defense into committing to the run even more than they would be with a standard fake hand-off. If you can get a safety to take a step or two up it could be all you need for a wide receiver to get open.
The following are two plays which utilize play-action and pull the guard. MSU is lined up in different formations, but the receiver's routes Dak Prescott throws the ball to are the same in each play. Let's take a look (click image to enlarge any shot)…
As you can see on this first shot, MSU is lined up with four wide. Robert Johnson is wide to the left with Malcolm Johnson in the slot. On the right side Bear Wilson is wide with Gabe Myles in the slot. While there are two WR on either side of the line, the ball is on the right hash leaving the Johnson's with the biggest area to work. Now you can see the play action. Dak Prescott fakes the hand-off to Josh Robinson, and Ben Beckwith pulls to the left side to block the defensive end who is crashing down. It's good defense though – Auburn's safety doesn't bite (you can see him back-peddling). As Prescott surveys the field he sees Bear Wilson in tight coverage on the bottom of the screen and and same for Robert Johnson at the top. The safety is still the key – will he pick up RoJo or MoJo? If he picks up MoJo then the option will likely be Gabe Myles on the underneath route, but he stays with RoJo, and why Malcolm makes his break he shakes the  defender out of his shoes to get open.
Also you can't see it on this shot, but that crashing DE has a full head of steam and Ben Beckwith wasn't able to hold it for long, but Josh Robinson helped him out to give Prescott enough time. Dak hits Malcolm Johnson for the first down. Later in the first half the skies over Davis Wade Stadium opened up and some unusual things happened.
Up 21-0, Dan Mullen decided it was a good idea to fake a punt in our own territory using true freshman Logan Cooke to throw the ball. This was after Auburn had just missed a field goal and every ounce of momentum was on our side. He threw an interception which led to the Tigers actually making a field goal.
On the next possession Dak Prescott threw an interception himself which led to another Auburn field goal, making it 21-6.
State was fortunate to escape those mistakes only giving up six points, especially considering how two turnovers cost Auburn 14 points. MSU then marched down the field for 62 yards on eight plays…..but then the ninth play came and it was another interception – this time in the endzone.
As if we can't possibly have any more turnovers, we do. State's defense forces a punt only to have Jamoral Graham muff the return and Auburn recovers. Four plays later Duke Williams is in the endzone to make it 21-13.
Order was restored, however, on the next drive as MSU drove 75 yards on eight plays in 1:28 to score a touchdown. There was a third down play which Gus Walley converted, then fumbled, but luckily it bounced out of bounds before anyone recovered. Could have been five straight turnovers.
We went into the half with a nice 28-13 lead but not without some headache. At least we could go into the locker rooms laughing about this….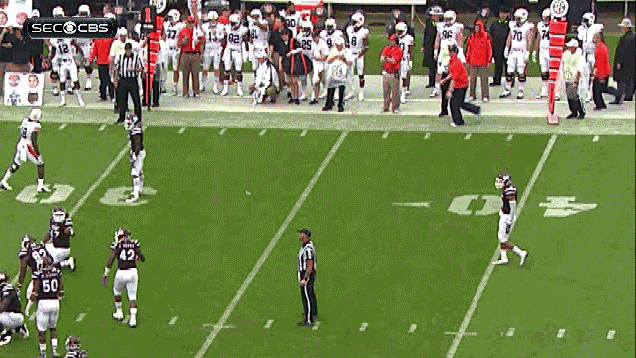 Auburn got the ball first in the second half, and MSU got a fortunate break when a 68 yard catch by Sammie Coates was called offensive pass interference on what could've been a no call. Instead of 1st & Goal it became 3rd & 20 from their own 15. The drive ended in a punt with the score remaining 28-13.
A great punt by Logan Cooke didn't matter on Auburn's next drive, however, as they drove 99 yards in 10 plays – finally scoring on a Duke Williams 15 yards touchdown catch. All of the sudden it was a ball game: 28-20.
The score stayed that way for the rest of the 3rd quarter as both teams exchanged a number of punts.
As the 4th quarter began play, MSU went on a long drive aided by a great 37 yard run via Josh Robinson and an Auburn pass interference on a 4th & 8 inside the red zone. The 10 play, 75 yard drive ended in a field goal. This relieved some of the pressure the Tigers had put on MSU by making the score 31-20.
On the ensuing kickoff, Auburn kick returner Ricardo Louis fumbled and it was recovered by Tolando Cleveland. This set the Dawgs up with 1st & 10 on the 15 yard line – all it took was a 14 yard pass to Malcolm Johnson and a one run TD run by Robinson to score. 38-20.
Auburn drove down the field to pick up a field goal making it 38-23, then got the ball back after forcing State to punt.
Nick Marshall and company drove down to the Mississippi State 11 yard line with just under three minutes remaining but Justin Cox was able to intercept a pass to seal the victory.
STATS
Passing: 
Dak Prescott -18 of 34 for 246 yards, 1 TD and 2 INT
Rushing:
Dak Prescott – 21 carries for 121 yards, 2 TD
Josh Robinson – 19 carries for 97 yards, 2 TD
Receiving:
De'Runnya Wilson – 4 catches for 72 yards, 1 TD
Malcolm Johnson – 5 catches for 60 yards
Gabe Myles – 3 catches for 35 yards
Tackles:
Taveze Calhoun – 6
Christian Holmes – 6
Tackles for loss:
Will Redmond – 1
Ryan Brown – 1
Matt Wells – 1
Ryan Brown – 1
Jamerson Love – 1
QB Hurries:
Preston Smith – 4
Nelson Adams – 3
A.J. Jefferson – 2
Turnovers:
These were the story of the game. Auburn turned the ball over four times, and three of those times it was deep in their own territory allowing MSU to score a quick touchdown. Mississippi State turned it over four times as well….and it could have been more – the Bulldogs fumbled five times but only one was recovered by Auburn.
It was pretty clear that, as the #3 ranked team, after beating the #2 ranked team MSU would vault to the top spot in the rankings.
That is exactly what happened the very next day. Both the AP and Coaches poll ranked Mississippi State as the number one team in the country on October 12, 2014….for the first time ever.
This was beyond the dreams of every lifelong MSU fan. Sure, it was only at the midway point of the season, but this was a new frontier. And we had two full weeks to enjoy the new spot before playing another football game.
The next week, after State's bye week, the College Football Playoff committee released their initial rankings. The first ever CFB Playoff poll saw Mississippi State sitting on top as #1.
MSU went on the beat Kentucky and remain at #1. Then Arkansas and UT-Martin as well.
For five straight weeks the Bulldogs held the #1 ranking in the AP and Coaches poll.
The week after beating Auburn is the mountain top of MSU football history to this point. There have been big wins before like 1980 vs. Alabama or games with more impact like the 1998 SEC Championship or actual banners to hang like the 1941 title – but never before had a MSU team reached the top spot. They didn't just get there, they dominated top 10 teams on their way and did it on the biggest stages.
This article originally appeared on