CFB AM: Dan Mullen gives 'walk-on MVP' scholarship in cool moment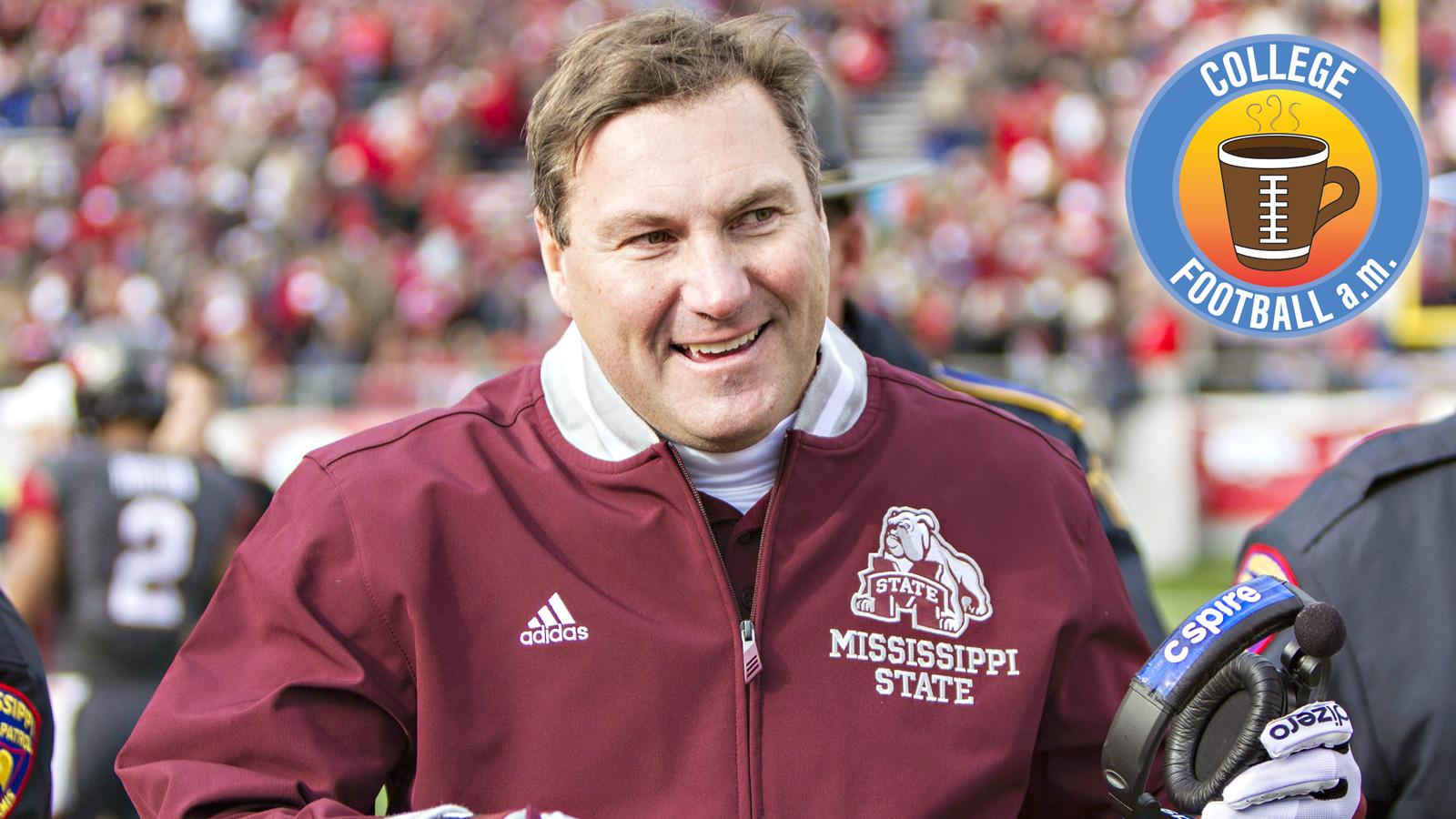 DeAndre Ward arrived in Starkville from Wetumpka, a sliver carved out near the center of Alabama, which provided a home for less than 7,000 people the last time the U.S. census calculated populations four years ago.
He played linebacker and ran track, winning a team captain award and a scholar athlete award and a most valuable defensive player award. He attended a Baptist church, where he served as an usher and sang in the youth choir.
Ward's Twitter bio reads, "Chasing my dreams & I'm only yards away!!!"
On Sunday, Ward got a little bit closer.
After spending his freshman season in 2013 as a walk-on at Mississippi State, head coach Dan Mullen decided Ward had earned a scholarship. So in a team meeting, he called the linebacker to the front of the room and said, "We've got something for you tonight – open that up," handing him a white envelope with a single sheet of white paper inside.
When Ward opened the paper, the same message flashed on the projector in the meeting room: "You are now on scholarship." Everyone erupted, and Ward took this great photo of him holding the note with Mullen smiling in the background:
That moment you get put on scholarship… #Special #ChangingLives #Grind pic.twitter.com/myA3rAe3Ze

— MSU Football (@HailStateFB) August 18, 2014
That's one to frame and remember forever.
Here's a video of the moment. Congrats, DeAndre.
THREE THINGS YOU NEED TO KNOW
1. The Associated Press released its Top 25 on Sunday. Here's a side-by-side comparison of the AP poll and the coaches poll. There are no drastic differences. The AP has Oregon No. 3 and Oklahoma No. 4, while the coaches have that flipped; the AP has Ohio State No. 5 and Auburn No. 6, also the opposite of the coaches. The other change to note is at the back end: The coaches put Texas No. 24 and left off Missouri, while the AP put Mizzou No. 24 and left off the Longhorns. Here's our FOX Sports Top 25 from last week as well if you want to compare how our panel voted.
2. Unless you were on vacation or taking a mental health break from the Internet last Friday, you surely heard about the major news. If not: Bruce Feldman reported Notre Dame did an internal investigation that uncovered academic fraud, and four players – including three starters – won't be back with the program. After this academic scandal, Notre Dame's haughty self-image falls flat, writes Stewart Mandel. Brian Kelly addressed the media over the weekend, saying he had (or has) no role in the investigation and will be informed of the findings after it's complete. It's then his job to simply make do with the players still on the team.
3. Texas A&M coach Kevin Sumlin has picked the successor to Johnny Manziel in College Station, and it's sophomore Kenny Hill. He beat out freshman Kyle Allen, a five-star recruit in the Class of 2014. It's important to note this doesn't necessarily mean the competition is over. Yes, Hill will be under center next Thursday when the Aggies open the season at South Carolina, but Sumlin said, "There's an expectation for you to do your job, and if not, that's why we recruit." When Sumlin and OC Jake Spavital met with Allen to tell him the news, they also said, "You're one step away from playing, whether it's sub-par play or injury."
When asked if redshirting is still an option for Allen since he's a true freshman, Sumlin said, "No – it never was." Here's video from Sumlin talking about the QB decision if interested:
THREE THINGS YOU SHOULD KNOW
1. There's a ton of suspension, transfer and other news that prevents guys from playing this time of year, and here's a note that might get lost in the shuffle but is noteworthy: Florida State sophomore receiver Isaiah Jones was ruled academically ineligible and will practice with the Seminoles this season but can't play. Jones played in only five games last season, but he starred in the spring game (five catches, 81 yards) and was projected to start opposite senior Rashad Greene and help replace first-round pick Kelvin Benjamin. Is this going to significantly alter FSU's season? Probably not.
It still has Greene, tight end Nick O'Leary, sophomores Jesus Wilson and Kermit Whitfield, a stud freshman class of receivers that includes Ermon Lane and Travis Rudolph, senior running back Karlos Williams and anticipated freshman RB Dalvin Cook, among others, to put around Heisman-winning QB Jameis Winston. So, yeah, that's still a ton of weapons, but as we know, the rosiest projections rarely ever come to fruition in full.
2. Alabama held its final scrimmage of the season on Saturday, and there's no update on the QB race between Jacob Coker and Blake Sims. "Until someone clearly wins the job, we're not going to make a decision," Saban told reporters. We're 12 days from the Crimson Tide playing West Virginia. Some are speculating Saban could take all of that time to announce a starting QB, and maybe that's true in terms of a public announcement. I'd expect a decision this week sometime, though, because it would seem less than ideal to go begin the first week of game prep next Monday with the team not knowing who will be under center.
3. Gunner Kiel has finally arrived as a starting quarterback, as he'll lead Cincinnati in 2014. It's been a long road for the No. 1 quarterback in the Class of 2012. He originally committed to Indiana in July 2011 before decommitting. In December '11, he committed to LSU … before decommitting. In January 2012, Kiel joined Notre Dame as an early enrollee and spent his freshman fall on the Irish's scout team as Everett Golson led Notre Dame to the BCS national title game. Kiel then decided to transfer and sat out the 2013 season. At last, we can actually find out if Kiel is a good quarterback.
THREE THINGS YOU MAY WANT TO KNOW
1. I know, the Ice Bucket Challenge phenomenon is a little old now, but I wouldn't be a good friend if I didn't pass this one from Kliff Kingsbury along: He challenges Beyonce and then the entire Texas Tech team gets doused by a firehose that's up on a crane. Just watch:
2. Tennessee practice in Neyland Stadium on Saturday and opened it up to the public – and 40,000 fans showed up.
We talkin bout practice… Not a game. Not a game. Not a game… We talkin bout Practice. #40k pic.twitter.com/TMs03Ef7pw

— Jacob Carter (@DoctorCarter3) August 17, 2014
Here are some additional photos of the practice, Vols fans. Less than two weeks until it's football time in Tennessee.
3. Four-star defensive tackle Jonathan Ledbetter flipped his commitment from Alabama to Georgia over the weekend. Ledbetter's brother, Joseph, is a tight end who's not as highly touted but has great potential as a 6-foot-5, 220-pound former hoops player, and he committed to Georgia in July.
Want to thank all my recruiting coaches and the entire staff at Bama but I've decided to stay home and rep my state. #Dawg4Life #GoDawgs 🐶🐾

— Big Led (@LedbetterDE15) August 17, 2014
LASTLY
* Last week, we mentioned UCLA wide receiver Devin Lucien and the scary moment he had in camp, being taken to a hospital after suffering a head injury. Well, here's some great news: Lucien passed a concussion test and is set to return this week.
* PSA: If you want to get all technical about it, the college football season actually opens up this Saturday, Aug. 23, as Rodger Sherman points out. That's when FCS No. 1 Eastern Washington hosts No. 17 Sam Houston State to begin their 2014 seasons (3:30 p.m. ET, ESPN).
* Good chuckle of the day: Bret Bielema grabbed a microphone at Arkansas' open scrimmage this weekend and told fans if they saw someone in an Auburn shirt taping the practice to "knock the s— out of them."
* Auburn's backup quarterback, Jeremy Johnson, "knows for a fact" that starting QB Nick Marshall will win the Heisman Trophy in 2014. "He led us to the national championship, and we were 13 seconds away," Johnson told AL.com Auburn beat man Brandon Marcello. " And this year he got better at passing, better at running, better at making reads. He's become a leader on this team and I've never seen him so amped at practice every day the way he is, the way he comes out. So, I know for a fact he'll win the Heisman."
* Nice story from Dennis Dodd on Nebraska star wide receiver Kenny Bell and the bartending job he held last summer to keep his lights and water on.
* Texas coach Charlie Strong showed a softer side and took the Longhorns bowling.
* Look, I don't want to watch every hype video that hits the Internet, but I can't not watch them. It's a weakness. I liked this one from Nebraska's media team:
Have a great Monday, all.
Teddy Mitrosilis is an editor and writer for FOXSports.com. Follow him on Twitter @TMitrosilis and email him at tmitrosilis@gmail.com.