Mississippi State Armchair QB: Tusked Edition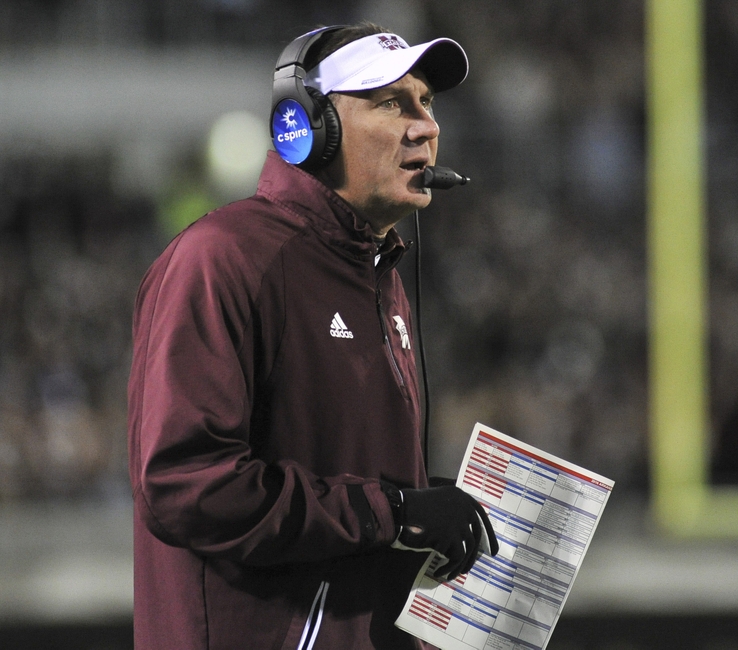 The Mississippi State Bulldogs fell to the Arkansas Razorbacks on Saturday night, 58-42.
It wasn't as close as the score might indicate. To be honest, the game was over at halftime. And that's when I left. I believe my words to a few friends were to the effect of "I'm not sticking around for anymore of this Croomtastic garbage." Here's what I saw and then heard:
Defense:
1. The defensive effort was non-existent and completely unacceptable. We had the worst defensive game I've ever seen. Our only "stop" was a missed FG. The only times Arkansas didn't score were halftime and the victory formation. Every time they touched the ball, points went on the board. Complete failure of coaching for that performance to happen.
2. As I said, Arkansas ran wild on offense. They finished with 661 yards of total offense, 304 passing and 357 rushing. They averaged 9.87 yards per play. At halftime they were averaging 13.7 yards per play. They did not punt the entire night. Almost every play was a big play. Arkansas didn't just do whatever they wanted, whenever they want. They made it look easy.
3. One of my Keys to Victory this week was tackling. Safe to say we completely failed at tackling. On Arkansas RB Rawleigh Williams first TD run, I counted 3 broken tackles. He broke at least 4 tackles on the second TD run. Two plays, 7 broken tackles. I stopped bothering to count after that.
The one missed tackle that really exemplified our problems happened on that second Williams TD, I think it was. He had already broken 3 tackles, but Mark McLaurin was in position to make the TD saving tackle. Instead of squaring up, breaking down, and wrapping up Williams, Mac dove and tried a weak arm tackle. Williams ran right through it and scored easily.
We are the worst tackling team I've ever seen. It's pathetic. I'm making a concerted effort to not cuss, but this defense deserves a dog cussing they'll never forget. I don't know who's teaching our players how to tackle, but they suck at it. Fire them yesterday.
4. No one gets recognition on D this week. When you give up 58 points, 661 yards and were on pace to give up 1,000 yards at halftime – no one deserves praise. Either decide you want to play football or quit. Enough of this no effort BS. Stop embarrassing the jersey. That's what you're doing right now. Every last player on the D. You all bear responsibility.
Special Teams:
1. Special Teams were once again "special." Missed FG, poor punting night, average at best coverage on kicks.
2. Westin Graves died when he missed the USA FG. He's completely done mentally. MSU HC Dan Mullen should be horsewhipped for continuing to send the kid out there. He's embarrassing himself and it isn't his fault. Our $4 million dollar man should have the common sense to try someone else or to start going for it on 4th down, because we are never in FG range. The kid nearly missed at PAT, for crying out loud.
We have to have a backup K on the roster. Whoever it is, it's time for us to see him in Oxford. If that's Wall, send him out there. Just save Graves a little bit of dignity.
3. Kody Schexnayder only had to punt 4 times on Saturday night. That's the good news. The bad news is he only punted for 151 yards and averaged just 37.8 YPP. Hurry back, Logan Cooke.
4. Don't even get me started on the overturned onside kick recovery. We're the Oakland Raiders of the SEC. We will never get a call.
Offense:
1. The Dawgs' offense had another big night on Saturday. State rolled up 48 points and 533 total yards. The Dawgs had 328 passing and 205 rushing. That kind of offensive day should win every time. But it wasn't enough on this night.
2. MSU QB Nick Fitzgerald continues to prove that he's an absolute beast. He was 23/33 passing for 328 yards and 2 TD. He completed 69.697% of his passes and averaged 14.26 yards per completion. That's a big time passing night no matter how you slice it.
But what makes Fitz special is his legs. And once again, Fitz did his thing in the run game. He had 17 carries for 131 yards, 4 TDs, and averaged 7.7 YPR. He had several very nice reads and fakes in the option game. But what continues to stand out are his toughness and desire. His second rush TD was pure effort, carrying at least 4-5 Hog defenders the last 4 yards for the TD. Fitz needs just 15 yards rushing against Northern Miss to crack the 1,000 yard mark on the season.
To be honest, he's ahead of where Dak was at the same point in his career. He may not have Dak's intangibles, but very few players period have what Dak has in that area. And what should scare opposing DC's is that Fitz still has two years to improve.
3. We've finally figured out Aeris Williams is our starting RB. Unfortunately, he laid a bit of an egg on Saturday night. It's why I keep saying he's the platinum version of Shump. Aeris had 13 carries for 63 yards, a long rush of just 10, and averaged a subpar 4.4 YPR. Some of that is the OL, but some of that is Aeris himself.
The one big positive is that he rarely loses yards. He's consistently going to get 3-4 yards and fall forward for that extra yard or two at the end of his runs. And he's got really good chemistry with Fitz at the mesh point of the option. He also sells the option extremely well when he doesn't have the ball.
But I still don't see the burst or breakaway speed to be a true bellcow RB at this level. He's the best of the options that Mullen is willing to use, though. I still think Nick Gibson is the best back I've seen us use this season, but we all know he isn't a "program guy" over Aeris yet. He's got to learn to pass block.********
4. OL had a nice game. They still struggle to open holes consistently in the run game, but their pass blocking has improved. They give Fitz plenty of time to throw. But we still have too many stupid mental errors, usually from (Justin) Senior(s). Hopefully Dion Calhoun isn't hurt too badly and can play in the Battle for the Golden Egg. We need him badly.
5. Fred Ross absolutely went off on Saturday night. He had 10 catches for 171 yards and 2 TDs. He averaged 17.1 YPC and had a long catch of 40. He needs 3 TDs to tie Chad Bumphis for the all-time school record and 4 to break it. I don't think he gets it, but you it's not entirely out of the question. We're going to miss him badly next year.
6. Donald Gray had a big night, hauling in 7 for 92 and averaging 13.1 YPC. He's become a legitimate big play threat and should be poised for a big senior campaign.
7. Keith Mixon was a non-factor Saturday. He had two rushes for -3 yards and didn't have a catch. How does arguably our most explosive playmaker not touch the ball more than that? Unacceptable use of personnel.
8. Malik Dear had 1 rush for 10 yards and 2 catches for 20. He's starting to have flashes of the explosive player we saw last season.
Coaching/Intangibles:
1. I've already talked about our lack of effort on D. I won't rehash it except to reiterate it's completely unacceptable. It is also a direct reflection of our coaching, beginning with Dan Mullen and flowing down to every member of the defensive staff.
MSU fans are used to losing and sometimes losing badly. We survived the Croom Error, for crying out loud. We can handle it, provided you are leaving everything you have on the field every game. But does anyone believe this defense is doing that? Not in the least.
2. We are in a huge mess on D. And the worst part is there is no easy, clear cut fix to the problem. Prior to Saturday night, I was thinking we needed to bring back DC Peter Sirmon for another season and give him time to further implement his system. But frankly, that performance against Arkansas was a fireable offense.
Unfortunately, a large part of the problem on D is the revolving door of Das under Mullen. This is year 8 and we're on our 6th or 7th DC. It's one of the main reasons we had to hire Sirmon in the first place rather than getting an established or young up-and-coming DC like we did with Manny Diaz and Geoff Collins.
Because of the revolving DC door, the players are constantly confused. Our seniors are on their 4th DC in 4 years. No one knows where they are supposed to be. The system has changed every year. It's why we bunch up and let two offensive players block four defenders and why we have so many busted assignments. Guys are out there thinking about where they are supposed to be and what they are supposed to be doing instead of knowing those things and just running to the ball. It's also a big reason why our effort sucks or appears to suck. We're slow because we aren't able to play instinctively.
Then you have the problem of Mullen micromanaging his DCs. He's all but admitted it this season. Mullen is a control freak who has to have his fingers in everything. That's why no matter who the DC is we continue to employ a bend but don't break philosophy. Mullen doesn't trust his DC enough to hand the guy the keys and let him run that side of the ball. That's another major reason we had to settle for someone like Sirmon.
3. We've started to use our personnel a little bit better. Aeris as the feature back, feeding the ball to Ross & Gray, McLaurin starting at safety.
4. Officiating was atrocious. I didn't bother finding a replay, but apparently the overturned onside recover was BS. And don't even get me started on the holding/no holding calls.
5. We still need to break up the #CountryClub on the offensive coaching staff. Their failure to recruit is glaring. Bring in some young lions hungry to coach and recruit.
6. We had 19 seniors on the field last night. Almost all of them are big parts of this team: Fred Ross, Brandon Holloway, AJ Jefferson, Richie Brown, Nick James, Jamaal Clayborn, Kivon Coman, Nelson Adams, Ashton Shumpert, etc. That whole "We're a young team" BS that Mullen has been spewing this season was just that – BS. And I've been telling you that all year.
6. We are the worst team in the SEC. South Carolina and Kentucky are going bowling. Vandy still has a chance to go bowling and would murder us right now. I repeat: We. Are. The. Worst. Team. In. The. SEC. Let that sink in then understand it won't get better next season. Remember: 19 seniors. Next year is another 2-4 win season with all our swing games on the road.
Final Thoughts:
We were totally unprepared and unmotivated on D. It's a reflection of coaching. We needed to win out to get bowl eligible and you show up completely uninspired? What makes me mad is the rush D. We all knew we would struggle to stop the pass. But we've been solid against the run this season. Defense is mostly about effort. You've got to want to tackle. You've gotta want to run to the ball. We didn't.
I have no idea what we should do with Sirmon. Part of me says fire him immediately. We're regressing, can't tackle, have no emotion or effort, and just gave up 661 yards. That's all fireable. But as I laid out above, we had to settle for Sirmon because of Mullen's micromanagement and revolving door. The lack of DC stability has caught up hard. Changing DCs aGAIN would only exacerbate the problem with another change of scheme. And the candidates pool would be even worse than the one that just gave us Sirmon. We're in one hell of a conundrum.
Next up is the Battle for the Golden Egg. All we have left is spoiling the Bears' hope for a bowl. Like most, I'm not feeling very confident about our chances of making it happen. But that's why we play the game. I'll be watching and hoping for the miracle.
Hail State!
More from Maroon and White Nation
This article originally appeared on