Missed Opportunities Cost Texas Football vs West Virginia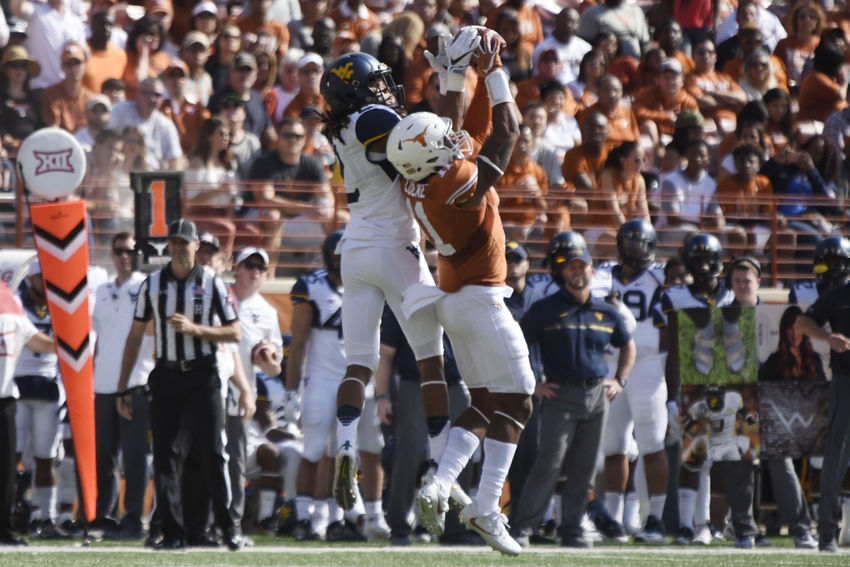 Texas football took the field on Saturday looking to knock off West Virginia and keep their perfect home record intact. However, the Longhorns (5-5, 3-4 Big 12) came up short 24-20 against the Mountaineers (8-1, 5-1) largely due to their own mistakes. Despite multiple opportunities to take control of this game, Texas cost themselves and gave this win away.
Following a promising opening drive that stalled out, Texas spun their wheels while West Virginia built a 17-3 lead. The Texas defense stiffened and the Horns were able to claw back into the game before halftime, closing the game to 17-13. It appeared that Texas was building some momentum to take control of the game after the break.
However, the second half was a frustrating series of blown opportunities. Despite forcing four turnovers from the Mountaineers, Texas managed just seven points off those turnovers. In the third quarter, Trent Domingue had a field goal blocked which would have closed the gap to 17-16. In the fourth quarter, trailing 24-20, Texas failed to convert a 4th and 6 deep in West Virginia territory when Collin Johnson ran a route a yard short of the sticks.
Despite that mistake, Texas got the ball back with an opportunity to win the game. They drove the length of the field and had the chance to win the game with a throw into the end zone from the West Virginia 27. However, Shane Buechele got pressured (as he was all day long) and heaved a prayer into coverage that fell incomplete, ending the game.
At the end of the day, Texas failed to capitalize on a very impressive performance from their defense. The beleaguered unit generated four turnovers on the day, including three interceptions. Their inability to take advantage of opportunities right in front of them doomed their chances in this game. Inevitably, Texas should have won this game but failed to seize their opportunity.
Moving forward, Texas needs one more win to get bowl eligible this season. With games against Kansas and TCU still on the docket, their chances are good. However, it would have been sweeter to take care of business in this one.
More from Hook'em Headlines
This article originally appeared on