Mike Weber On Pace To Break Ohio State Freshman Rushing Record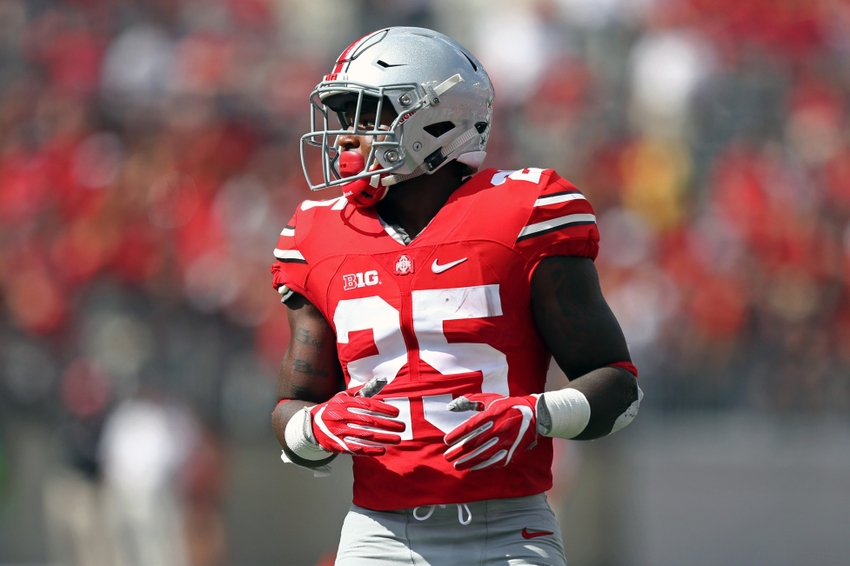 Ohio State freshman Mike Weber is having a terrific season.
We have seen a lot of different things out of the Ohio State football team this season. Curtis Samuel has emerged as a star, Marcus Baugh has made big plays at the tight end position, and Malik Hooker has emerged as one of the best safeties in college football. Perhaps what's more impressive, however, is the play of red-shirt freshman running back Mike Weber.
The Detroit, MI. native became just the fourth player in Urban Meyer's 15-year head coaching career to rush for over 1,000 yards in a single season. Weber hit the 1,000 yard mark on a 52-yard scamper mid-way through the third quarter in Ohio State's win versus the Michigan State Spartans in East Lansing Saturday. He winded up with 111 yards on the day, giving him 1,046 yards on the year.
Before the season began, I predicted that Weber would break Maurice Clarrett's school record for rushing yards in a single-season by a freshman, and now he is just 191 yards shy of Clarrett's 1,237 yards.
More from Scarlet and Game
Ohio State will play at least two more games this season (versus Michigan and in a bowl game). If he runs for his season average of 95 yards per game in those two games, he'll end up with 1,235 yards on the year, well within reach of Clarrett's record.
If Ohio State makes a run at the playoff or represents the Big Ten East in the Big Ten title game, that will give Weber more games to reach that feat. Keep in mind the fact that when Clarrett set that record, he did it in 14 games.
That was during the 2002 season when Ohio State went undefeated and upset a heavily favored Miami Hurricanes team in the 2003 BCS national title game. The Buckeyes can only hope that their season will end on a similar note, and once again the program will rely on a freshman running back to help get them there.
This article originally appeared on