CFB AM: The perfect Michigan response to cocky Ohio State fans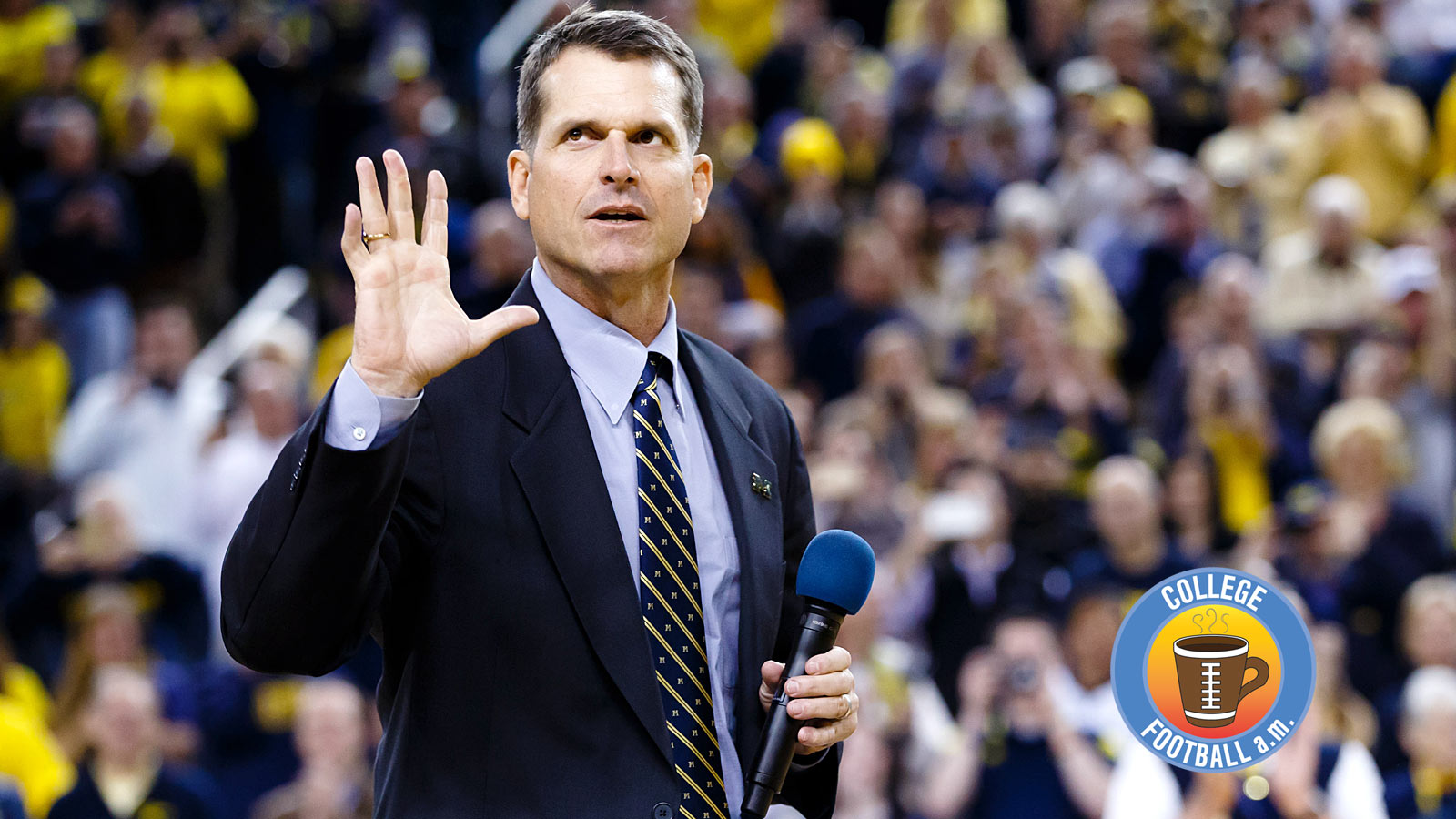 The other day, former Ohio State coach Jim Tressel made some comments at a luncheon about the Michigan-OSU rivalry.
They were polite and respectful, and Tressel did not mean to disrespect the Wolverines. But Ohio State fans loved them, presumably, because the message was so direct and matter-of-fact.
In short, Tressel's message was this: Michigan isn't close to being as good as Ohio State, currently, and has a lot of work to do before this rivalry heats up again.
"Personally, I think they're a ways away from being at the level where there's going to be a Ten Year War," Tressel said, according to ohio.com. "I think they've got some work to do to get to that. But if anyone can do it, Jim Harbaugh can."
Tressel pointed to recruiting as the difference between the two programs in the last 10 years or so, saying that it's key for Urban Meyer to continue to dominate the state of Ohio and keep Michigan far behind in his rearview mirror in terms of acquiring top talent.
So, OK, fair point and Ohio State fans had a nice moment to gloat. They do deserve it, having just won a national title and 12 of the last 14 games against Michigan. But if we're going to give Buckeyes some ammunition, it's only fair that we do the same thing for Wolverines.
So if you're a Michigan fan, here is one suggested response to any Ohio State fan giving you crap: "We could lose the next 10 games against Ohio State — 10! –€" and still have two more wins than you in the series. Call me when 58-46-6 evens out a little bit more. Until then, don't forget who owns this rivalry."
Really, what more needs to be said? Cue the music:
THREE THINGS YOU NEED TO KNOW
1. TCU is sending some staff members to Tuscaloosa after spring practice to study how Nick Saban's Alabama staff attacks recruiting. In turn, the Tide are picking up some offensive knowledge from Gary Patterson and the Horned Frogs. This is one of the most fascinating parts of college football for me –€" the trend of opposing staffs making offseason visits to learn from each other. I wish they would open up a bit more about the insights they share.
2. On another Alabama note, Saban has hired former Tide player Rob Ezell to his support staff. Ezell is known for his Saban impersonations when he was on the team. Check this out:
3. Get this: The 410-pound offensive lineman who scored for Baylor in the Cotton Bowl? Art Briles is experimenting with him at tight end and H-back, because I guess Briles wants to terrorize the entire Big 12. This is gonna be great.
THREE THINGS YOU SHOULD KNOW
1. Seven more schools are holding their pro days today, including Clemson, Arkansas, Nebraska and Ole Miss. Clemson's Vic Beasley and Nebraska's Randy Gregory will both attract high interest as two of the top edge rushers in this year's draft. Here's a full schedule of pro days.
2. Bruce Feldman had WWE legend and diehard Oklahoma Sooners fan Jim Ross on The Audible for a two-part conversation. Here's part one of the podcast (part two runs today):
3. Dana Holgorsen noted last season that having Clint Trickett on West Virginia was like having another coach on staff, because of the QB's intellect and instinct for the game. Trickett is now officially beginning his journey as a coach and has his first coaching job.
THREE THINGS YOU MAY WANT TO KNOW
1. In case you missed it, South Carolina coach Steve Spurrier is now on Twitter. Consider this a public service announcement.
2. Athlon Sports has spring previews out for the SEC West, where Jacob Coker's time is now at Alabama, and the Big 12, where Texas is relying heavily on QB Tyron Swoopes in 2015.
3. A young Georgia Tech fan wrote a funny letter of support to the Yellow Jackets.
LASTLY
* A former North Carolina offensive lineman is on the street, battling and looking for help, writes Juliet Macur.
* A senior offensive lineman will transfer from Notre Dame after being told his role would be reduced this season.
* Some good news for Idaho: The NCAA lifted the program's bowl ban after it made academic progress. The bad news for Idaho: The Vandals have won six games or more only twice in the last 15 seasons, so it's not like they were missing out on bowl trips due to the sanctions.
* Bud Elliott has some notes from the Nike Opening camps in Florida recently, where a lot of top recruits participate.
* Bill Connelly's team-by-team offseason preview series is rolling through the MAC. Here's his piece on Akron, where the Zips are ready to break through and go bowling.
* This has nothing to do with football, but you need to see this Russell Westbrook coast-to-coast dunk from Wednesday night. The explosiveness and competitive rage Westbrook plays with is unparalleled in the NBA.
Have a great Thursday, everybody.
Teddy Mitrosilis works in content production at FOX Sports Digital. Follow him on Twitter @TMitrosilis and email him at tmitrosilis@gmail.com.