CFB AM: Michigan will never catch Ohio State with blunders like this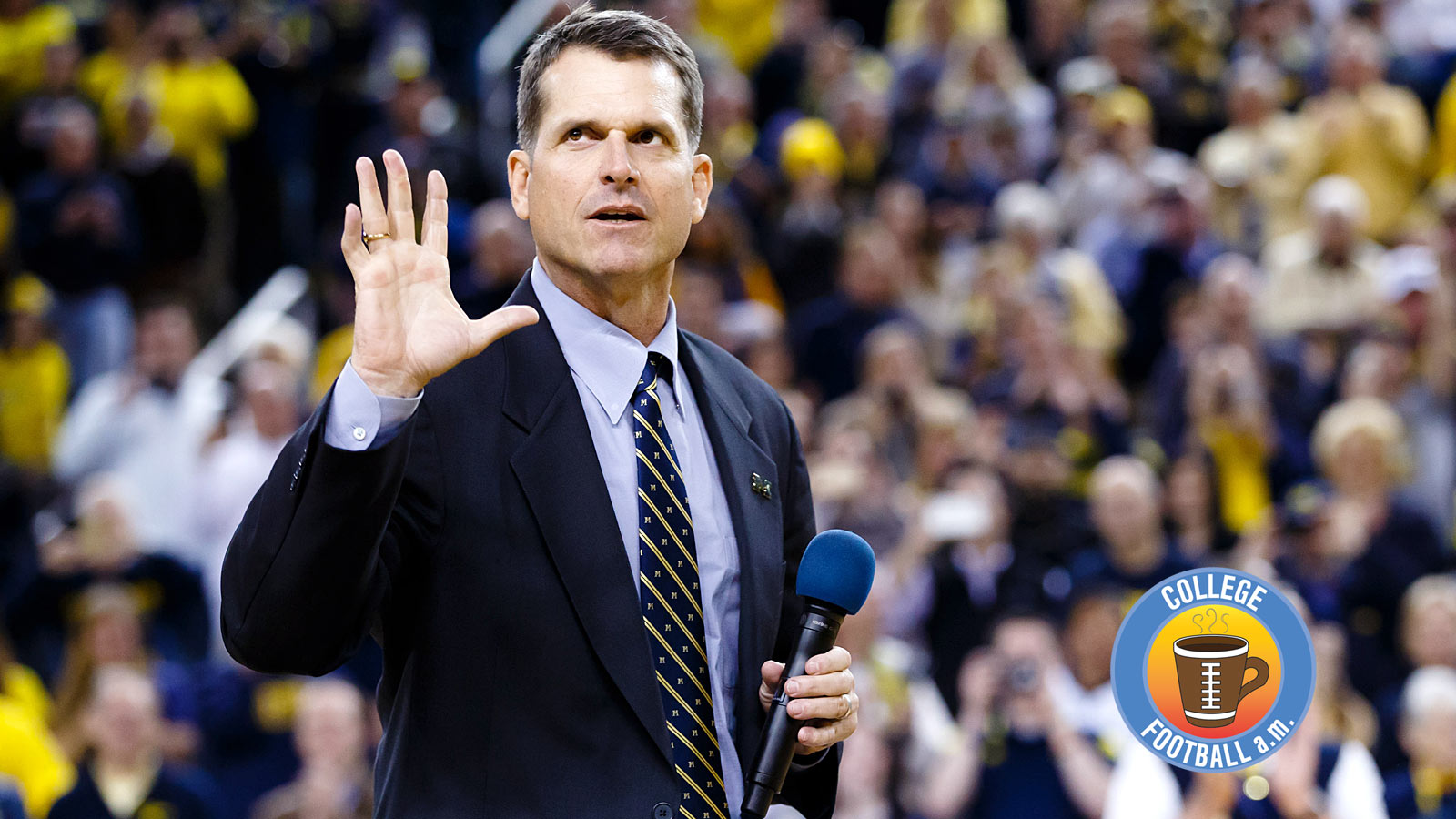 Michigan has a ton of work to do to get on equal footing with Ohio State again.
The Wolverines know this, and hiring Jim Harbaugh was the first step towards becoming a national power again.
But what happened earlier this week on the recruiting trail is one reason why the gap between Ann Arbor and Columbus is still as wide as ever.
Michigan defensive line coach Greg Mattison, who is a holdover from the former staff and served as Brady Hoke's defensive coordinator, made a visit to the home of Daishon Neal, a Nebraska recruit.
In the process of trying to woo Neal to flip from the Cornhuskers to the Wolverines, Mattison apparently offended the kid and his family.
"Michigan was a powerhouse, they came in and they stormed us, they made one bad statement and it was over," Abraham Hoskins Jr., Neal's father, told 1620 The Zone. "They said without football, Daishon wouldn't be able to go to Michigan. Like we couldn't afford to send him there, or that we couldn't get him in academically. Once he said that, we pretty much escorted him out of the house."
Neal, a three-star defensive end, said Mattison "basically tried to call me stupid in front of my face."
In fairness to Mattison, he's not allowed to comment on any unsigned commit, so he can't offer a rebuttal to what Neal and his family are saying. It's certainly possible that his pitch to Neal wasn't actually offensive but rather taken the wrong way, but we have no way of knowing that.
What we do know is that Michigan sent in a veteran coach to steal a recruit and GOT KICKED OUT OF THE HOUSE.
Would this ever happen to Urban Meyer and the Buckeyes? That's almost unfathomable. Meyer is putting the finishing touches on what could be a top-five class, while Michigan is currently 70th in the 247 Sports composite rankings. Harbaugh will do much better than that, of course, in the coming seasons — and flipping four-star QB Zach Gentry from Texas last week is a start — but if there's anything that shows the disparity between the two programs currently, this blunder is it.
THREE THINGS YOU NEED TO KNOW
1. The Vanderbilt rape case has come to an end for two former players, as Brandon Vandenburg and Cory Batey, both 21, were convicted of four counts of aggravated rape, one count of attempted aggravated rape and two counts of aggravated sexual battery. They will be sentenced on March 6 and could face "decades" in prison. Defense attorneys claimed the men were "too drunk to know what they were doing" and also attempted to cast responsibility on a culture of binge drinking and sex prevalent on college campuses. If you want more details about the case, you can find some here.
2. With National Signing Day a week away, Bruce Feldman ranked the top 10 hottest recruiting battles that will play out leading up to Feb. 4. The battle between Texas and Texas A&M for five-star QB Kyler Murray is No. 1 and could have quite a ripple effect.
Lars Anderson writes more about the Texas recruiting war going on for Murray.
3. Penn State and Pitt will resume their in-state rivalry in 2016, and we can already tell it's going to be fun as James Franklin and Pat Narduzzi compete for bragging rights in Pennsylvania. We're still more than 18 months from the teams playing, and their recruiting coordinators are already trading barbs on Twitter. Franklin reportedly had to tell Penn State O-line coach and recruiting coordinator Herb Hand to cool it on Twitter a bit after he was indirectly rebutting brash tweets from Pitt recruiting coordinator John Peterson. Here's an example:
#H2P pic.twitter.com/OHRuE3oJdY

— john peterson (@coachjpete) January 22, 2015
Win bowl game✔️ Better record vs common opponents✔️ More seats full on game days✔️ Higher academic ranking (US News&W/R)✔️ (#PssstOurState)

— Herb Hand (@CoachHand) January 22, 2015
Come on, Franklin! Let 'em go at it.
THREE THINGS YOU SHOULD KNOW
1. So TCU coach Gary Patterson has a towel girl who follows him around everywhere on the sideline because he, I guess, sweats so much that he needs someone to commit all of their time for three-plus hours to wiping his brow. Interestingly, that towel girl, Ashley Stamp, wore a pedometer to track how far Patterson walks during games and posted the results. The highest mark: 3.3 miles during the Baylor game. No wonder Coach P sweats his ass off!
How much does Coach P walk per game? I wore a pedometer this year as I assisted him 🙂 @TCUSID @TCUFootball #gofrogs pic.twitter.com/vKKpPJ7wtT

— Ashley Stamp (@Astamp22) January 27, 2015
2. Kentucky's recruiting class took a hit when four-star twins flipped to Michigan State the other day. Look at Mark Dantonio raiding the SEC's kitchen.
3. Nearing his first signing day as a head coach, Chad Morris is striving to build SMU's program on homegrown Texas talent, writes Ralph D. Russo. Morris on the Dallas-Forth Worth talent pipeline (per Russo): There are enough good players to recruit on $10 of gas. That'll make high school coaches happy to hear.
THREE THINGS YOU MAY WANT TO KNOW
1. This is hilarious: Over the weekend, a Tennessee commit took a visit to Auburn, which had Vols fans worried that he might flip to the Tigers. But apparently, the recruit was sent home early because he was trying to convince recruits on the Auburn visit to come with him to Tennessee. The audacity of teenagers!
2. It's become known, after Jay Harbaugh revealed the story about his dad, that Jim Harbaugh once poured Gatorade into his cereal because he didn't have milk. So now the Michigan alumni association has turned that gross proposition into a challenge for students. Take a look:
3. Would you like to look ahead to 2015 in the ACC? Why, here ya go. Florida State loses a ton of talent, but the Noles still bring back more than anyone else. How the quarterback job solidifies after Jameis Winston's departure will determine if Clemson, or someone else, has a real shot of running them down in the Atlantic.
LASTLY
* UCLA QB Josh Rosen is on campus and hoping to start his college career fast, writes Chris Foster.
Have a great Wednesday, everybody. And please, for the love of God, limit how much time you're spending obsessing over teenagers' social media accounts leading up to signing day.
Teddy Mitrosilis is an editor and writer for FOXSports.com. Follow him on Twitter @TMitrosilis and email him at tmitrosilis@gmail.com.