CFB AM: Michigan AD tells fan pick a new team, 'have a happy life'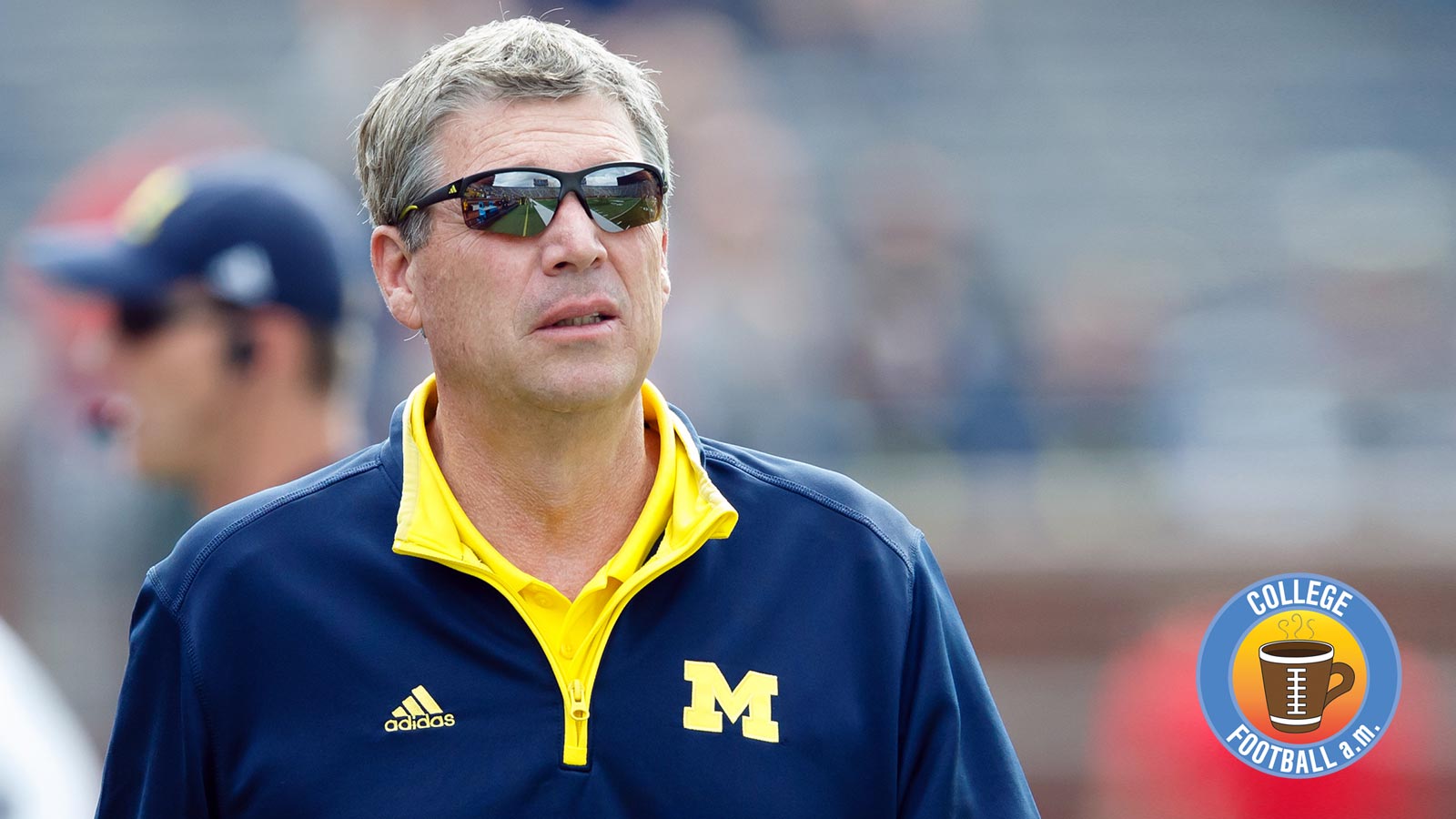 It'd been a difficult week for Michigan, which probably didn't get any easier Thursday night while watching a former exile celebrate in the Pacific Northwest (we'll get to that). Athletic director Dave Brandon has been under siege, with a "Fire Brandon" rally even being held on campus earlier this week.
He's had to defend head coach Brady Hoke against poor performance and the mishandling of QB Shane Morris' concussion last Saturday against Minnesota.
Rumors have swirled that both Hoke and Brandon will be gone sometime this year, and Brandon is getting bombarded with messages from unhappy fans and boosters. Apparently, his patience is starting to run thin.
(Update: According to a MGoBlog user, the exchange between Brandon and the fan mentioned below "if real … is from December of 2013." The rest of this post remains as originally written.)
According to the popular MGoBlog, one woman emailed Brandon to express her frustration with what's happening around the football program. Here's what Brandon wrote back:
I suggest you find a new team to support.
We will be fine without you.
Have a happy life …
Yes, assuming this is real and not a fake, the leader of Michigan's athletic department is now using middle-school retorts with fans who have every reason to be frustrated. This week can't end fast enough in Ann Arbor.
THREE THINGS YOU NEED TO KNOW
1. We had our first real stunner of the season involving a team that was a favorite for the College Football Playoff entering the season. Arizona went to Eugene on Thursday night and upset Oregon, 31-24. Everyone will spotlight one play in particular for the Ducks' failure: After stopping Arizona on third down with less than five minutes to play, Oregon's Tony Washington was flagged for unsportsmanlike conduct for doing this in celebration of his big tackle:
That gave Arizona an automatic first-and-goal, and the Wildcats punched it in with 2:54 left to go up seven. While that's a brutal penalty to take in that situation, it also wasn't the sole reason Oregon lost. Arizona was just better, particularly on defense. The Cats held Oregon to 3.5 yards per rush and 9.2 yards per pass, both well below its season averages. The Ducks converted on only four of 14 third downs and needed to pull out tricks like this to score points:
The stars of the night were Arizona running backs Terris Jones-Grisby (27 carries, 115 yards, one TD) and Nick Wilson (13 carries, 92 yards, two TDs), and the Zona D that mauled Oregon's beat-up offensive line and caused two turnovers, including this Scooby Wright sack-fumble on Mariota that would seal the win for now 5-0 Arizona:
There were a ton of Rich Rodriguez-Michigan jokes Thursday night on Twitter, but the reality is Rich Rod has a contender in the Pac-12. Redshirt freshman QB Anu Solomon is a player, their wide receivers are among the best in the country and if their defense can go to Autzen on a Thursday night and handle the Ducks' speed and crowd, then they can beat anybody on the right night. What a fun game and dagger for the Pac-12 and playoff storylines.
Stewart Mandel writes that this likely won't be Oregon's only loss of the season and recalibrates the national landscape after Arizona's upset. Now the Ducks go looking for answers on defense and the offensive line, with Mariota being sacked 12 times in the last two games. But how do you fix injuries? Oregon's ball boy even looked at Mariota and thought, "Dude … what in the hell."
2. There were two other games Thursday night as well. Florida International beat Florida Atlantic 38-10 in a game you probably didn't watch, and UCF won at Houston 17-12. Here's what you need to know about that second game:
Sigh … Knights win.
3. Back to Michigan athletic director Dave Brandon for second, as he made other comments on Thursday that weren't exclusive to snarky emails: He reiterated that, for now, Brady Hoke will be the head coach of the Wolverines, and that's unlikely to change before the end of the season. "We feel strongly at the University of Michigan athletic department that coaches deserve every opportunity to compete through the season that they have prepared for and that their student-athletes are committed to, and then we evaluate coaches at the end of the season," Brandon said in an interview with The Associated Press. "We do that with every one of our 31 coaches. It's no different for football."
How it could change, of course, is if Brandon is removed from his job, and then the university's board decides to act on its own regarding Hoke. Michigan is at Rutgers this weekend and then has Penn State at home before a bye. Both of those games are losable for the Wolverines, and if they're 2-5 (0-3 Big Ten) heading into the bye week, there would be a lot of momentum for firing Hoke at that time. He'd be a lameduck coach playing out the year at that point.
In that link above, Brandon also commented more on the Shane Morris situation and the responsibility Hoke does (and doesn't) have in cases like that.
THREE THINGS YOU SHOULD KNOW
1. So this is poor timing for the Rebels on the biggest weekend they've had in probably forever: Ole Miss is under investigation for possible NCAA infractions. According to Yahoo Sports, multiple programs are being investigated, but the football team and women's basketball team are the focus. This is never good news, but it sounds like the football part of it is related to the previous staff and current head coach Hugh Freeze isn't presumed to be part of any major violations.
2. How loud is Oregon's Autzen Stadium (except when Arizona visits)? Every employee who works at Autzen has to sign a waiver about the sound levels. Yes, head coach Mark Helfrich signs it every year, too.
3. West Virginia had a WWE-style brawl in its locker room. It was awesome.
THREE THINGS YOU MAY WANT TO KNOW
1. At least Oregon had this going for it Thursday night: Freshman running back Royce Freeman is a grown-ass man.
2. Bud Elliott runs through some of the notable prospects Ole Miss will be hosting this weekend and how the Alabama game could shape the Rebels' future for years.
3. Ole Miss QB Bo Wallace said that those who cover the Alabama Crimson Tide are "like fans of Bama." I'd say this: Every program has a contingent of local media who are favorable to the team, and a contingent of local media who hold the program to the appropriate standards. At al.com, the best source for daily Alabama coverage, Andrew Gribble and Michael Casagrande are rigorous and consistent in handling the Tide beat every day. They're fantastic at what they do, as are others on the Bama beat.
LASTLY
Catch your breath today. See the sun. Do some real-life things with real people. Because tomorrow, we hibernate and relish the madness Week 6 will unleash.
Have a great weekend, all. Thanks for another fun week of CFB AM.
Teddy Mitrosilis is an editor and writer for FOXSports.com. Follow him on Twitter @TMitrosilis and email him at tmitrosilis@gmail.com.