Michigan vs Ohio State: The Pressure Is on Don Brown and the Defense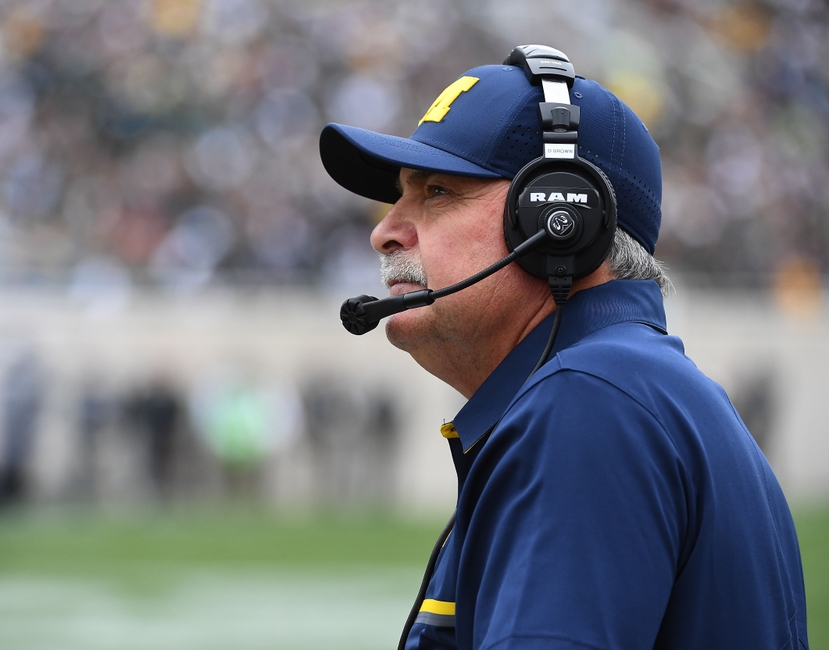 With some uncertainty at quarterback, Michigan football is going to need a big day from the defense to beat Ohio State.
The Ohio State game is why Jim Harbuagh snatched Don Brown from Boston College. He seemed like a great hire at the time and an ever better one now, but it's impossible to make a true evaluation until his defense goes up against an OSU offense. Ohio State is Michigan football's one true rival and coaches on both sides are judged swiftly and harshly for their showings in The Game (ask John Cooper), so Brown has that to worry about.
Jim Harbaugh's first game against OSU was a disaster on every level; the 29 point margin of defeat didn't convey how viciously the Buckeyes beat Michigan football down. The defense looked as unprepared for Urban Meyer's power read offense as any Brady Hoke or Rich Rodriguez team ever did.
Zeke Elliott ran for 214 yards and JT Barrett added another 139 and four total touchdowns en route to 42 easy points. The carnage started early and just didn't stop and for that Saturday most Michigan fans felt the crushing impotence that the Hoke era radiated. There aren't many experiences more disheartening than to watch your team fall victim to a seemingly predetermined blowout.
Knowing Jim Harbaugh and seeing what DJ Durkin's defense could do even against good competition throughout the season made this game even more soul crushing. They came out flat and then were unable to make any adjustments. The defense stayed in its Cover One base set and let Barrett and Elliott torch them.
It seemed odd and bad at the time, and the revelation that DJ Durkin was flirting with Maryland provided some measure of an explanation. Still, the new era of tenacious Michigan defense seemed defanged after the OSU thrashing, exacerbated by the fact that this all seemed so damned familiar.
The spread offense and Michigan football have a bad relationship.
Lloyd Carr's teams steadfastly refused to adapt to opponents that ran said offense, leading to some thoroughly embarrassing games (see September 2007) that seemed avoidable were it not for stubbornness.
"The spread can't work in the Big Ten" was a thing people thought and said out loud until recently; Michigan teams under Lloyd and Hoke thought repeating that incredibly misguided opinion frequently enough would make it true and they then wouldn't have to prepare for it (they were wrong).
Of course, Michigan hired the pioneer of the spread offense in 2007 and–I'll spare you diving into that can of worms–we can just say that that didn't go well for a myriad of reasons. So, for one reason or another, spread teams with running quarterbacks have just killed modern Michigan football.
Harbaugh's hiring signaled a change in that maddening pattern, and I'm confident that this coaching staff can actually defend the type of offense that most every college football program runs some form of.
Of course, that's what made last year's Game so exasperating; this was a problem that should have been shored up. OSU is gonna run on you no matter who you are, but defensive performances like last year's can only be explained by the complete confusion of the coaching staff, something that you don't say very often about a Harbaugh-led team.
That all leads us to this year. A new defensive coordinator renown for his system's dynamism and aggression will match up against an offense renown for its ruthless efficiency. Brown was hired to emphatically snuff out Urban Meyer's offense, something no one–even the great Nick Saban–has ever been able to do consistently.
Yes, he was hired for this game, but he was also hired for this game. The 2016 matchup, that is. This defense has a collection of talent comes along once in a decade at best. Seriously, everyone currently under Brown's tutelage will probably get drafted. There are twelve (!) seniors that get meaningful snaps and potential All Americans at every level.
Case in point: Jourdan Lewis is arguably the best corner in the country, and there are rumblings that he'll spend time matched up against RB/WR dynamo Curtis Samuel:
Moving Lewis around the field and having him shadow a player that lines up in the backfield for a significant amount of his snaps would be a brand new look.
It makes sense in a lot of ways, though, and is a good example of the advantages the embarrassment of riches at Brown's disposal affords him. OSU uses Samuel to create matchup nightmares against linebackers on the edge or safeties up the middle, so to have two or three guys (Lewis, Peppers, Gedeon) that can plausibly stick with him one on one is a luxury no one else has outside of Tuscaloosa.
Brown was hired for a lot of reasons, not the least of which was the fact that he could implement his system quickly. DJ Durkin's aggressive Cover One isn't too different from what Michigan ends up running most games, which is why the transition from Durkin to Brown has been as smooth as it has.
That all adds up to make this year the year to show up not only prepared (though that in itself would be an improvement), but with a gameplan that can effectively shut down the offense that has Urban Meyer undefeated against Michigan (more on the X's and O's specifics later this week).
Talent, scheme, and experience coalesce infrequently in college football, but that's where we are with this defense. They could have more difficult tests in front of them than behind them at this point, starting with Saturday. All signs point to a good showing, but recent history is enough reason to be more than a little nervous.
To put it succinctly, if OSU runs roughshod over the defense again on Saturday, we might as well all just get used to it and hope that every couple of years the offense is good enough to put up half a hundred, because we won't see a Michigan defense like this for a long time.
This article originally appeared on